Adena Schutzberg
The GeoData.gov portal, also known as Geospatial One-Stop, will be officially announced on Monday, June 30, 2003. But, it's up and running now (June 25), so I had a look. Since it's designed and hosted by ESRI, it looks surprisingly like The Geography Network (TGN). Unfortunately, it also has all the of ESRI "branding" that the Geography Network does: detailed discussion of using ArcCatalog and ArcExplorer with the website, access to ESRI hosted datasets, and other ESRI-centric materials, including what some might consider an advertisement for ArcWeb for Developers.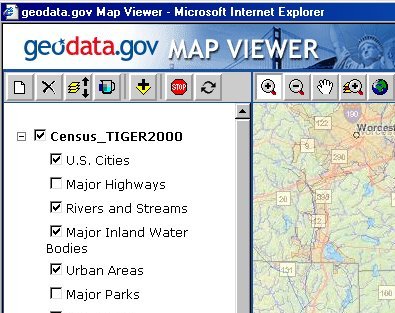 There's a sort of odd dichotomy: if you want to make a map, you are pointed to The National Map as a starting point. The viewer offered from GeoData.gov is not the same as the original or latest Map Viewer available on the National Map website. The National Map website, by the way, also depends on ESRI technology. The GeoData.gov help reports "Map Viewer is a custom mapping application that lets you view one or multiple ArcIMS map services in your Web browser." You also learn, "The geodata.gov Map Viewer application is available as a hosted web service to be customized for use on your own site." To save a map for future use, "you must login to your ESRI Global Account."
According to the GeoData.gov FAQ, The Map Viewer is "is a customized version of ArcExplorer Web" and "allows access to ArcIMS image services only." The help for adding a service however, says you can access any data service on GeoData.gov, many of which are not ArcIMS servers (for example, one hosted by CubeWerx). I imagine this confusion will be cleared up by the time the website officially launches.
While Map Viewer is relatively easy to use, there is room for improvement. I kept forgetting to push the "refresh map" button to draw the recently added data layers. Because there's significant use of Java only recent browsers support the Map Viewer. According to the FAQ, "The supported browsers are Netscape 4.7 and 6.1 and Internet Explorer 5.5 and 6.x. Recommended browsers are Netscape 6.1 and Internet Explorer 6.x."
If you want to search for data you use a browser-based tool very familiar to users of TGN. The interface is neatly separated into "where" "what" and "when" columns. The "where" uses either a place name or a map to define the geography of interest. On the U.S. map presented you can draw a box to zoom in. That makes the button below the map labeled "Launch Map Viewer to Draw Box" seem curious. You can also search for data using a long list of categories. I chose Administrative and found a TIGER 2000 map service hosted on the Geography Network. I could view it, using Map Viewer, or get more details. Other services cannot be added directly to Map Viewer, such as one titled National Ocean Service from NOAA. The website stated, "Look for the new NOS Data Explorer in Summer 2003!" I couldn't add data from the National Atlas, even though details about that service stated, "We have partnered with ESRI in order to deliver the best online mapping services possible." I was also pointed to data I could purchase, included FEMA flood maps, available in shape file format from ESRI.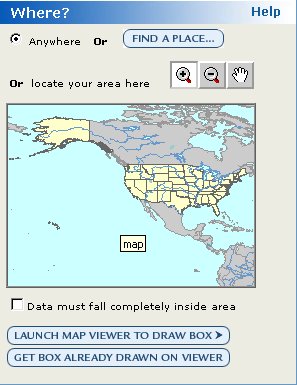 Just like the Geography Network, data providers can publish metadata or map services to GeoData.gov. The process for adding a service is similar to that on TGN, requiring a log in and details of the ArcIMS or WMS service to be added.
The portal also offers the opportunity to find data projects planned for the future using the same tools as noted above. All federal agencies were asked to fill out reports on planned data gathering. Of the nearly forty entries just four or five currently available are not federal. And, local, state and other jurisdictions are asked to submit their planned acquisitions.
In all, the portal, though still only lightly populated, shows promise. As a GIS user, and someone fairly familiar with the Geography Network I found getting around relatively easy. I'm not sure those unfamiliar with GIS would feel as confident. I'm also concerned that the ESRI-centric focus of the website takes away from the standards that underlie it, including:
� Both Federal Geographic Data Committee (FGDC) and International Standards Organization (ISO) metadata standards
� NSDI and Geospatial One-Stop data models (work in progress)
� OpenGIS Web Map Service