With dissolution top of mind, it is important to take the time to understand how a corporation dissolves or abandons its corporate status.
The dissolution process in most states is similar and includes filing a document with the state secretary's office. Then there are several other steps that must be accomplished before a business ownership transfer or a dissolution can be completed.
Steps to Dissolving a Corporation or Obtaining a Corporate Dissolution
Step 1: Call a Board Meeting
The corporation board of directors will need to adopt an order for dissolution and file it with the state secretary's office.
(In some states, instead of a board resolution, you may be required by law to publish notice based on your corporation status or in the newspaper. Check your local jurisdiction for specific requirements.)
Step 2: File a Certificate of Dissolution With the Secretary of State
Once the board adopts and files a resolution for dissolution, or completes any required notice requirements, you may dissolve by filing the corporation's Certificate of Dissolution with the state secretary's office.
Step 3: Notify the Internal Revenue Service (IRS)
While most state dissolve procedures do not require it, you will still need to notify the IRS of your corporation's dissolution.
Step 4: Formal Notice of Dissolution
Many states require the corporation, or its shareholders within a certain time period after filing for dissolution, to notify business creditors of the pending dissolution by publishing a notice in a newspaper or by sending formal written notice.
Formal written notices may be required for federal contracts and other government agencies were notifying them of the impending dissolution is mandated.
Step 5: Settle Claims with Creditors
After formal written notice has been provided to creditors, the corporation must settle all known claims and outstanding debts with its creditors.
If debts are not settled, the corporation's dissolution may be contested and a new corporation would have to form.
Step 6: Liquidate All Assets
If the corporation has any assets remaining, they must be liquidated.
If there are insufficient funds from dissolving to meet all known claims, the shareholders may have to contribute additional money towards the settlement of the claims against the corporation.
Step 7: Distribute Funds to Shareholders
The funds left after all liabilities have been settled are distributed to the shareholders in proportion to their ownership interests.
This distribution may be in the form of cash, or it can take the form of a cancellation of their stock certificates.
Step 8: Close All Accounts
The corporation must close all its bank accounts and other accounts, such as credit cards.
Step 9: File Company Tax Returns and Tax Documents
The corporation must file any final income tax returns, including any extensions for filing that it has been granted.
The corporation must also file a final state tax return and any other tax forms or documents required by federal, state, or local law.
Step 10: Dissolve the Corporation in Writing
The final step is for the board of directors to approve a resolution formally directing that the corporation be dissolved.
The state-required form may need to include specific information, such as the date dissolution was approved and filed with the secretary of state and other details.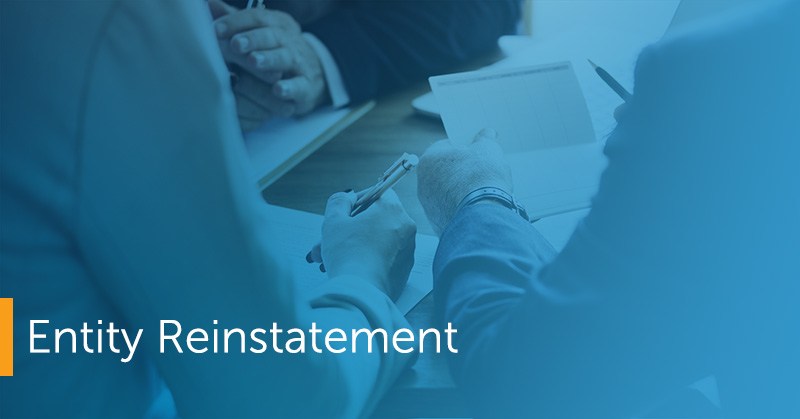 Can I Reinstate My Corporation?
There are situations when you may wish to dissolve the corporation but then possibly re-organize and continue. This is called a corporate "reinstatement". For example, you may wish to reinstate your corporation if:
The procedure for reinstating an existing corporation depends upon the state's laws.
You will need to consult with a power of attorney in your state to obtain advice on the reinstatement process and specific requirements for re-organizing.
What if I don't have enough money to dissolve my corporation?
Some states (such as Florida) allow the corporation to simply surrender its corporate charter (in lieu of formally dissolving the corporation). This allows you to avoid paying fees for formally filing a Certificate of Dissolution.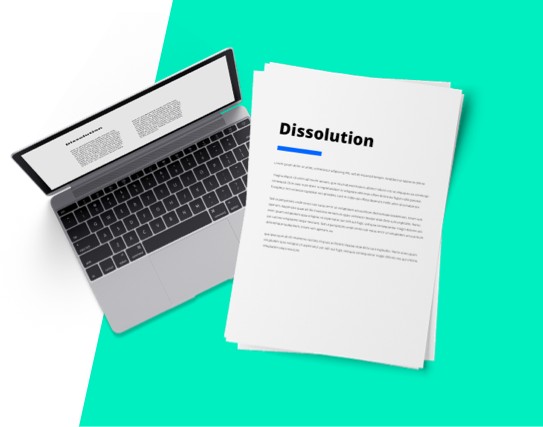 How much does it cost to file the Articles of Dissolution?
The fee for filing the Articles of Dissolution with the state varies widely from state to state. Some states charge a flat fee, while other states assess a varying percentage of the corporation's total assets at dissolution (called an "assumed value" assessment).
Usually, fees for dissolving your corporation will run in the $100 to $300 range. This cost can be reduced, however, if your corporation has less than $50,000 in total assets and no liabilities.
The exact fee for dissolving your corporation will be determined by the state in which you are filing your documents to dissolve.
You may wish to contact several different states for a "price quote" on the dissolution of your corporation. This will allow you to compare the fees that are charged, and possibly save you money.
How long does it take to dissolve my corporation?
The length of time required for dissolving a corporation varies by state, as well as by whether or not there is any corporate debt (loans or other obligations owed by the corporation) that must be paid off.
Most state laws require a minimum of 21 days or more, from the date your corporation files its Articles of Dissolution with the Secretary of State until the date it is officially dissolved.
If there is any corporate debt (loan obligations), however, you should allow as much time for the corporation to pay its creditors as is required under the law of your state. (Typically, this will be either 60 or 90 days.)
How can I find a reputable online company that can help me dissolve my corporation?
Finding an online service provider to assist you in dissolving your corporation may seem like a simple task until you actually start looking.
You will quickly find that there are literally dozens of different providers (also called "for-profit" services) and hundreds of thousands of customers who claim their service was a scam, rip-off, or simply too expensive.
Can I Dissolve a Business With Debt?
Yes, but your corporation will first need to pay off any business debts that remain.
You must make arrangements with the creditor to pay back all outstanding obligations owed to them by the corporation.
If the debt is not paid within 120 days after filing your Articles of Dissolution, most states require that the corporation be reinstated. This avoids problems with creditors who might not otherwise have been paid.
If you are unable to pay off the debts owed by your corporation, you may wish to file for bankruptcy protection.
State law may also allow you to obtain a court order of "reorganization", which will provide additional time for paying off outstanding debt.
How to Dissolve a C Corporation?
To dissolve a C corporation, the shareholders must approve an agreement to wind up the affairs of the corporation. This involves carrying out various statutory responsibilities such as filing tax returns and paying state taxes.
The shareholders then distribute assets to each shareholder using agreed formulas or other terms. After these final decisions have been made, all creditors have been paid, and all outstanding obligations to the government have been satisfied, the corporation formally dissolves.
How to Dissolve an S Corporation?
An S corporation requires that shareholders and the board of directors approve the dissolution. The process for dissolving an S corporation is similar to a C corporation, but many state statutes do not give as much direction or oversight responsibility to the government when they dissolve. This means more work is required by shareholders and often results in additional fees associated with dissolution.
Of the two types of corporations, C corporations are typically more involved in dissolution. Many states require more steps and approvals before a corporation can dissolve as an S corp, as opposed to a C corp.
However, both types involve more formal requirements than partnerships and limited liability company (LLC). As such, it's important for you to understand all your legal obligations when dissolving your corporation.
What if My Business is a Partnership?
If your business is a partnership, it's important to understand that the Internal Revenue Service (IRS) considers you and any partners personally responsible for all taxes owed by the partnership. As such, if you're considering dissolving a partnership this means each partner will need to liquidate their share of the business and pay any taxes due in order to dissolve.
Because of the additional tax burdens associated with dissolving a partnership, it's important to make sure that you understand all tax obligations before filing for dissolution. Otherwise, you could find yourself in even more debt and unable to pay off outstanding bills.
What if My Corporation is Under Contractual Obligations?
If your corporation is bound by contracts, such as contracts with suppliers or customers, you may have additional restrictions that prevent you from dissolving your corporation. In some cases, the company's services are under a non-compete clause.
This means the service provider requires you to continue operating your business because their livelihood depends on it. Because of these clauses in contracts, it's important to carefully read the terms of any contracts you enter into.
What Happens to My Existing Customers and Contracts?
Your customer contracts may not be transferable when you dissolve your corporation. Your customers will need to contact the new business owners and negotiate new terms for their services.
They can't simply assume that they'll be getting the same terms from a new owner; this is particularly important in situations where the existing service provider has a non-compete clause that prevents a new company from offering the same services.
For example, let's say you're a business law attorney who has represented many clients and built up an impressive client base. In your will or trust, you name different family members to take over your law practice when you die or retire.
However, when these family members inherit your practice they have the legal obligation to divest the business, not transfer it. Instead of inheriting your business and taking it over for you, they must sell all their clients' information and pay them back any money that they've received from client fees paid after you died or retired.
What if My Corporation is Out-of-Business?
If your corporation is out of business operations, you may already be aware that this means you are no longer operating the company and owe no more taxes. However, if your corporation is officially declared an inactive business entity, there are additional steps you need to take in order to close out tax obligations.
What Happens to My Employee Identification Number (EIN) and Insurance?
If you dissolve your corporation, the Internal Revenue Service (IRS) requires that your EIN and Taxpayer identification number be changed to reflect this change in status. Otherwise, it's possible that both you and the new business owners could be held liable for any unpaid taxes or outstanding financial obligations.
As a business owner, you need to understand that your corporation has a separate insurance policy from that of any of the corporation's owners. This means that when you dissolve your corporation, its assets are sold off and not absorbed by the business owners.
If you want to sell off company assets or close outstanding financial obligations, it is important to review all contracts in place in order to avoid violating any terms of service.
Conclusion
When dissolving a corporation, there are many things you need to take into consideration. This includes how the dissolution will impact your employees, existing contracts, and any outstanding financial obligations. If you have out-of-date insurance policies or hold outstanding loans with the department of labor, for example, these debts must be paid off before dissolving a corporation.
As a business owner, it is your responsibility to make sure you dissolve the corporation in a legal manner that ensures debts are paid off, no taxes are evaded and your business' employees have access to unemployment benefits if needed.