DEPARTMENTS:
Letters, Points of Interest, Week in Review, Back Issues, Advertise, Contact, Subscribe/Unsubscribe


THE FREE TRIAL EFFECT
.
The free evaluation of software has become a key marketing tool in nearly every area in which computers are used. This month two of the major GIS vendors are offering free trials, not of tiny add-ons, but of their flagship desktop products.
MapInfo is offering a 20-day free trial of MapInfo Professional 7.0. Those interested will have to register first, which is fair. I had trouble logging in because, in addition to providing a log-in and password, each time I visited the download website, I had to not only give a user name and password, but also select from a pulldown as to why I was logging in. Interestingly, there was not a choice that said "free download."
After agreeing to the license, I learned whether or not my operating system supported the downloadable software. MapInfo 7.0 is certified on Windows 2000, Windows XP Home, Windows XP Professional, and compatible with Windows 98 Second Edition and Windows NT 4.0 with Service Pack 6. The download of the program itself is over 90 Mb. Thankfully, there are options to pull down one huge file or six smaller ones. Manuals, tutorials and data samples are between 2 and 30 additional Mb.
ESRI offers a 60-day evaluation of ArcView 8.2 and requires a shorter registration form. ESRI includes supported platforms before registration is required and offers, rather than a download, a CD "set" mailed to requestors in the U.S. that includes 30-day evaluations of extensions. International visitors are asked to contact their distributor.
I applaud both companies for making their latest products available to just about anyone for a trial run. Still, I have to wonder how many folks will download the 90 Mb+ file from MapInfo. On the other hand, it's very easy to collect demo CDs and never install them. The trick to these types of marketing, it seems to me, is to get the user to actually install and try the software. Perhaps, for a chance to win a free copy, users could be encouraged to produce a map and return it to the vendor. Or perhaps users could be challenged to fill out a "treasure hunt" puzzle that requires exploring the software. Just some ideas.
As we go to press there has been discussion on Manifold-L about making that software available in an evaluation version.

THE STATE OF GIS AND COST/BENEFIT ANALYSIS
.
The latest issue of GEOWorld includes results from a recent study on the benefits of GIS conducted by Sharper Insight, J.D. Wilson's company. While Mr. Wilson offers his interpretations in the article, I want to offer my thoughts.
According to the article, "about half the respondents no longer conducted any formal cost/benefit analysis prior to implementing a GIS project." Wilson argues that "Vendors no longer have to educate users and sell them on the value of GIS." I found the statistic surprising. My sense was that organizations, especially those that are government related, require some type of cost/benefit discussion before funding expenditures, especially technology purchases. Furthermore, I'll note that at the recent NSGIC conference, when four state GIS projects were described (Delaware's DataMIL, Arkansas' GeoStor, Utah's gis.utah.gov and an imaging pilot in Wyoming), the first question after each presentation was about staffing and cost.
Shelby Johnson, State Land Information Coordinator for Arkansas, made it 100% clear that the only way his state's project received support was through the use of hard numbers. Alan Leidner's arguments for GIS support amounted to totaling the cost of lives saved via its use in fighting crime and West Nile Virus in New York City. And, can we know how many lives were saved during the rescue and recovery effort by knowing where flammable storage tanks were kept? Granted this is all anecdotal. Perhaps there is a difference between the use of cost/benefit information at the local vs. state vs. federal levels? Or in commercial organizations?
I'm not sure that the statistic noted above supports the suggestion that vendors no longer need to educate users, though perhaps other results in the study do. I will suggest that the "burden" of education has changed a bit. Now instead of the vendor making the sale, it's an insider GIS or information technology leader, often teamed with a management champion, who is responsible for that work. There is no doubt in my mind that these individuals rely on vendors for support, but ultimately, my sense is that insiders are selling GIS.
That practice, I believe, supports another statistic from Wilson's article: "Eighty-four percent of respondents said they conducted their up-front evaluations with internal resources. Only 16 percent sought the help of a consultant prior to developing their system." I'd suggest that this is good news for the GIS industry as a whole, but perhaps bad news for some consultants. The bottom line: GIS users are more savvy than ever. And, that's not a big surprise. With GIS celebrating its 30 something birthday, the second "generation" of GIS users is now in decision-making positions. Many already have experience with more than one GIS package, and have lived through at least one procurement. Some hail from the very consultancies that used to provide these services!
I do agree with Wilson's suggestion that the move away from paying consultants for this pre-implementation work has helped shift "traditional" GIS consultants to new roles in system integration (the actual implementation). If that motion continues, what will consultants do when those in-house can handle the integration? Or will that time never come?


LETTERS
.
• Tina Cary, of Cary and Associates, and the exhibit coordinator for GIS In the Rockies, found a bad link in last week's issue.
"Many thanks for mentioning the GIS in the Rockies announcement of Tina Cary as luncheon speaker in this week's GIS Monitor. The link to the conference web site is http://GISintheRockies.org, not .com."
• John Pound is a career changer entering GIS.
"This is just a note of appreciation to you personally. I am a newcomer to GIS, just now embarking on a master's program after careers in law and business. With my sense of having a late start, I am very appreciative of also having found in GIS Monitor an entry point that offers me both historical orientation and current developments. I appreciate the broad coverage and I particularly appreciate the sense I get -- from the nature of your writing -- of careful judgment and fair-minded presentation.
"Beyond that (and this may sound like a contradiction to the sober adjectives I just used, but it's true), I find the overall sense of the field that I get from the newsletter to be downright exciting. In fact, it is the sense of excitement which I just got from your September 12 issue that has prompted me to send you this overdue fan letter."
The editor replies: "Part of the excitement of that issue comes directly from the NSGIC conference I was covering. I had a conversation with a fellow NSGIC-er in the airport on the way home and we agreed it was the best GIS conference we'd ever attended (save perhaps vendor conferences, which fall into another category entirely). I should have said that last week, but I was still digesting the conference."
• Charles L. Merry of the University of Cape Town (UCT) wrote to comment on the eSuds technology from IBM that monitors the progress of clothes washers and dryers using the Internet to let those washing or waiting to wash, when loads are done or machines are available.
"Just a comment on your article regarding the eSuds program - Students at UCT's Smuts Residence have been using their own home grown Internet software to check on the status and availability of washers and dryers in the residence for the past year. As you say - a great boon for college students!"

POINTS OF INTEREST
.
• The Associated Press reports that a recent study found that two out of three 8- and 9-year-old New Zealanders can't locate their own country. I figured if you were from an island nation, a country that "stands alone" you'd be more likely to know its location.
• The National League of Cities (NLC) has developed two guidebooks for local security based on lessons learned from 9/11. "Homeland Security: Practical Tools for Local Government" is a 36-page guidebook from NLC that provides detailed advice such as creating mutual aid agreements with neighbors. "Homeland Security: Federal Resources for Local Governments" is a 37-page directory that describes numerous federal agencies, offices, and programs. The group also details twelve specific suggestions including the use of technology including GIS.
• According to Unstrung, a website focusing on wireless, the folks at Intel have begun researching a technique to locate individuals in an emergency by using the strength of wireless signals reaching their handheld devices. Basically, the stronger the signal, the closer the device is to the access point. And, with several access points, it's possible to triangulate a reasonable location, even indoors. The vision is that this technology will complement GPS. But the article points out that to date there are currently no WLAN supporting phones or PDAs because the technology has high power consumption. Still, the technology is being used in specialized applications, such as having the "electronic" tour guide describe a painting or exhibit at a museum. I'm not sure if that's exactly how they do it at the Mashantucket Pequot Museum and Research Center in Connecticut, but I found the handheld "phone" a very effective way to tour the displays.
• Geographer James Lein of Ohio University received a grant from NASA to study the use of satellite data to identify areas that could be at risk of terrorist threats. Using data from Landsat and Aster satellites, the project will inventory chemical and power plants, utility lines, key public buildings, and measurable parameters such as population density. Lein intends to make the satellite data available to state and local government officials as a resource for security planning and response programs. The work grew out of discussions with an Ohio policy maker, according to the press release. That individual could be yet another champion for spatial data use for homeland security.
• ABC television has a new series called "Push, Nevada" that debuts this week. Last week, according to the Seattle Times and my favorite local media criticism TV show, "Beat the Press," a group of young men dressed in Push, Nevada hockey shirts stood behind weatherman Tony Perkins on Good Morning America (ABC's morning show). He accepted a gift of a jersey and touted their 12-1 record from last year. ABC stated that neither the news division, the entertainment division (hard to tell them apart, isn't it?), nor Good Morning America had any knowledge of the stunt arranged by ABC-hired ADD Marketing. Other geographically inappropriate stunts: sending mail from the Push, Nevada Chamber of Commerce, and hiring folks to hold hitchhiking signs indicating they were heading to Push, Nevada. GIS Monitor has not received any such mail.
• Bentley has submitted paperwork to withdraw its IPO filing, submitted April 23, 2002, due to the challenging market. CEO Greg Bentley notes that should conditions change, the company may consider another filing in the future.
• SunSpot reports that two geography instructors in Maryland recently spent their free time mapping the 170 miles of trails in Patapsco Valley State Park using a GPS. The result: a new hardcopy map of the park. Next up: Gunpowder Falls State Park. Did I mention these folks are in their late 50s and married to each other? Kudos!

WEEK IN REVIEW


• Announcements
.
Mobility Technologies President David L. Jannetta testified in favor of Congress creating a national "infostructure" program to develop a common standard to link the nation's varied intelligent transportation systems that could also be utilized to enhance homeland security objectives. Mr. Jannetta also testified about opportunities to use its Traffic Pulse data collection infrastructure to enhance homeland security.

MapInfo Corporation announced a global partnership with Swedish Mobile Internet positioning specialist, Mobilaris. Through the partnership, the companies will combine MapInfo's miAware location-based services platform with Mobilaris' positioning middleware, Pacific Ocean, to provide mobile operators with faster implementation of complete, end-to-end location-based services (LBS) solutions.

Strathcona County was presented with an Award of Excellence at ESRI Canada's fourth annual ESRI Regional User Conference in Edmonton.

The U.S. Geological Survey (USGS) and its cooperators are launching a 5-year study in the Great Lakes basin to identify and map unprotected areas of substantial richness in aquatic animal species, and to determine how free those habitats are from human disturbance.

Four government agencies, the Local Government Information House (LGIH), and Royal Mail will work together to develop a single national infrastructure for definitive addresses and related property information for Great Britain. The organizations have agreed a Memorandum of Understanding on a joint program for this purpose, known as the Acacia programme. The new single infrastructure is intended to facilitate major economies, efficiencies, convenience, and service improvements in the many public and business services which rely on definitive, up-to-date addresses, street names, and other land and property information. Ordnance Survey plans to hold all the information as a layer of OS MasterMap. A detailed Q & A and the agreement are published here.

MAPPS supports a new amendment to the Homeland Security Bill from Senator Wayne Allard (R-CO) to create a geospatial information program within the new Department of Homeland Security. The amendment establishes a geospatial entity in the Chief Information Officer, provides responsibility for coordination with other federal, state, and local governments and the private sector, requires promotion of interoperability, authorizes grants and data sharing agreements, and authorizes and encourages contracts with the private sector.

Intergraph Mapping and GIS Solutions announced the Intergraph Open Interoperability Grant Program, a new international grant program that promotes and emphasizes the use of Open GIS Consortium (OGC) interoperability specifications for accessing and applying geospatial information from a local to a global level. Each of the 100 grants includes Intergraph's GeoMedia Professional and GeoMedia WebMap, a Web map server (WMS) adapter kit for GeoMedia WebMap, a GML data server, GML export command, a maintenance program, Team GeoMedia Subscriber membership, technical support, and membership in the Intergraph GeoSpatial Users Community (IGUC).

SWEGIS has become a reseller for Cadcorp.

Data quality services provider Melissa Data announced a licensing agreement with Tele Atlas North America, a provider of digital mapping software. The agreement allows Melissa Data to incorporate Tele Atlas' U.S. Postal Points data into Melissa's MAILERS+4 GeoCoder, GeoData and GeoCoder Object.

The Geospatial Information & Technology Association (GITA) announced that it has formed an Educational Outreach Committee to promote GIS, GPS (global positioning systems), and remote sensing technology in schools, colleges, and universities across North America. Specifically, the committee will encourage educational institutions to offer GIS as standalone programs. Ashok Wadwani, president of Applied Field Data Systems, Inc., in Houston, Texas, was named chair of the committee. Wadwani is president of the GITA's Gulf Coast Chapter, one of 19 regional GITA chapters in North America.

RMSI's e-mail facility and website are now available on a new domain name "www.rmsi.com".

The Ordnance Survey (OS) announced that 40 new central government organizations are beginning to harness the power of geographical information (GI) following the launch in April of a pilot agreement aimed at spreading the word about the power of geography. The OS' network of business partners is flourishing since the launch of its new Partner Initiative in September 2001, with 76 innovators developing location- or mapping-based applications or service ideas for market.

CellPoint Inc., a provider of mobile location software technology and platforms, announced that it has evolved its Mobile Location System (MLS) location product to operate in the Code Division Multiple Access (CDMA) environment.

The organizers of the My Community, Our Earth (MyCOE) project, which included the National Geographic Society, the Association of American Geographers, the United Nations Environment Programme, and ESRI, announced those projects selected for exhibition at the recent World Summit on Sustainable Development (WSSD), held in Johannesburg, South Africa.

Trimble revised its expected earnings for the third quarter (ending Sept. 27) to $0.04 -$0.07 from $0.10 - $0.15. The inability to ship the hot new Explorer CE handheld GIS/GPS unit and a charge due the bankruptcy of a Japanese distributor were cited as the reasons for the revision.

• Contracts and Sales
.
Intergraph Germany, a business unit of US-based Intergraph Corporation, announced that PLEdoc GmbH purchased Intergraph's G/Technology as the software enabler behind its new innovative business model that extends comprehensive GIS capabilities via the Internet to small gas distribution companies. PLEdoc, a company within the Ruhrgas AG group and a leading IT services company in Germany, specializes in geoinformation management and business services, including implementation of corporate information technology, workflow development, and e-business solutions.

Intergraph China, a business unit of US-based Intergraph Corporation announced that AnShun Electric Bureau has purchased G/Electric, Intergraph's next-generation geospatial information management system for electric utilities.

Kivera Inc. and VoltDelta are partnering to deliver custom driving directions to wireless customers. The service expected to be used by Verizon LiveSource operators is in trails. Customers of the wireless carrier who call directory assistance for a listing can receive detailed driving directions to businesses or residences.

The City of White Plains, NY, purchased CityView Enterprise in order to automate its Building Department business processes using a SQL Server backend database integrated with existing ArcView GIS data.

LocatioNet announced that it has won two contracts from Ituran Do Brasil in Brazil, and Ituran Location and Control Ltd. in Israel, to supply its newly developed Web-based fleet management application.

GE Network Solutions announced that Country Energy, Australia's largest regional energy business, has selected the ENMAC distribution management system and the Smallworld Core Spatial Technology software from GE Network Solutions to manage the operations of its extensive electrical network.

Sanborn CEO Pankaj Desai announced the company was chosen to acquire new aerial photography and to produce updated second-generation digital orthophoto quarter quads (DOQQs) for the state of Kansas.

NEXO, the telematics subsidiary of Cobra Automotive Technologies, has selected Webraska's SmartZone Geospatial Platform to power the commercial deployment of its security (anti-theft, after-theft) and comfort telematics systems worldwide.

Hutchison 3G UK Limited announced agreements with five companies to deliver the digital mapping technology and the location-based services to be offered to consumers under the "3" brand later this year. Ordnance Survey and Tele Atlas will provide data and TCS, IONIC and whereonearth/Telcontar will provide technology. The service will be rolled out in the UK later this year, then expanded to other Hutchison 3G countries.

• Products
.
Mapping Science, Inc. announced the release of the beta version of their GeoJP2 Viewer. Designed to support the rapid display of very large JPEG2000 image data files, the viewer also includes features deemed important by the mapping and GIS community including geographic coordinate and metadata display. A free download is available here.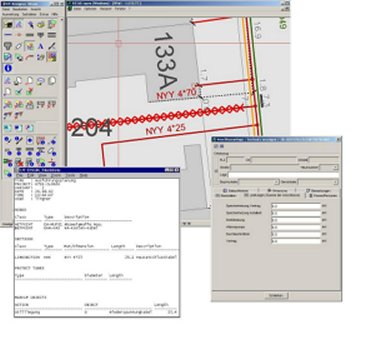 SICAD GEOMATICS announced SICAD-UT DESIGNER, a graphics-based planning tool that runs under the SICAD-UT network information system from SICAD UTILITIES. Using the new SICAD-UT DESIGNER application, utility companies can now plan new networks or redesign and extend their existing setups. SICAD-UT DESIGNER covers the entire range of tasks from order/variant management through actual planning to analysis and output. The application uses the detailed information from GIS and creates a link between documentation and planning. SICAD-UT-DESIGNER will be released for sale at the same time as SICAD-UT/GSP V4.0 in October 2002 and can also be made available on the web via Geo Service Providing.

MapInfo Corporation announced that MapInfo Business Points v5.0 will now offer location enhanced telecommunications demand estimates. Business Points v5.0, a database of business listings and their locations throughout the U.S., now features GeoResults Telecommunications Demand Estimates, which provides detailed forecasts of the demand for telecommunications services in a specific geographic area. MapInfo Business Points v5.0 with GeoResults Telecommunications Demand Forecasts was available on September 16, 2002.

TechnoLogica LTD announced the release of Technologica Internet Map Server (TIMS). TIMS allows you to add dynamic generated map content to your website. The product allows you to present spatial data (streets, highways, parcels, trading districts, business routes or air photos), as well as execute any kind of spatial or attribute query for them.

Intergraph Mapping and GIS Solutions announced the worldwide availability of GeoMedia PublicWorks Manager 5.0, software designed specifically for local government public works departments as they create and maintain the infrastructure network of water and wastewater systems. GeoMedia PublicWorks Manager 5.0, built as an add-on to Intergraph's GeoMedia Professional 5.0, offers industry-specific tools to manage the input and maintenance of water and wastewater systems. The new software release takes full advantage of platform advances in GeoMedia Professional 5.0 to deliver productivity gains for collecting and modifying data and speeding implementation of GIS databases.

The SPOT USA Select nationwide mosaic of satellite imagery is complete, with the incorporation of the final cloud-free scenes. USA Select is a current, detailed large area GIS database created from satellite imagery. Most of the imagery for this true color, 10-meter resolution digital product was collected over the last 3 years.

ESRI announced the availability of the ArcGIS Pipeline Data Model, jointly developed by M.J. Harden Associates, Inc., and ESRI. The model is a first step toward broad industry consensus on a common conceptual data model for the pipeline industry.

Boeing Autometric has brought the ability to catalog and retrieve billions of pixels of geographic imagery to the desktop computer. DataMaster 3.1, a leader in secure imagery retrieval and conversion, is now compatible with Windows NT and Windows 2000.

Laser-Scan announced the STEP1 program. STEP1 introduces new users to Radius Topology, the first in the Radius suite of products. Companies can now test and prove Radius Topology in their own enterprise environment for a fixed fee that is redeemable against the full purchase price. The offer includes a 90-day software testing license for Radius Topology, a sample dataset and 5 days of free consultancy. This offerends December 31, 2002.

Cadcorp announced that Cadcorp apSIS - applications for SIS - now provides support for ER Mapper's Enhanced Compression Wavelet (ECW) format on the Pocket PC platform. According to the company, it is the first GIS software developer kit (SDK) in the world to do so.

Autodesk, Inc. announced a new software extension, the LandXML Report Generator, for surveyors, land planners, and civil engineers. The extension, announced at the International Highway Engineering Exchange Program (IHEEP) conference, automates the creation of reports on critical project design data and helps users meet submittal requirements for project bidding and planning. The LandXML Report Generator, expected to be available in October, will be available via download from the Autodesk Subscription Program.

Philcarto V2 for Windows is designed to meet mapping needs in the social sciences, regional development, and town planning. The base map is an Adobe Illustrator Postscript file; the maps produced by Philcarto can be saved in Postscript, PDF and .bmp files. Version 2 adds new functionality. Philcarto runs in French, English, Spanish and Portuguese. Complete documentation (in French) is provided. The complete program can be downloaded.

Earth Resource Mapping announced the release of a free ArcPad v6.0 ECW Plug-in v1.0 that allows users to view ECW and remote ECW images (ECWP) within ArcPad v6.0. The company also announced a free ECW Decompression SDK (Software Development Kit) for Windows CE v2.46 that gives users the ability to view both local ECW images stored on handheld computers as well as viewing ECW imagery served up from Image Web Server.

Applied GIS, Inc. of Schenectady, New York announced the release of the Migration Assistant for ArcView. Basically an enhanced "help" option, the product requires the installation of either ArcView 3.x or ArcView 8.x and eases users through the re-learning process. Evaluation copies are available.

NovaLIS Technologies' Parcel Editor 8 software for ESRI's ArcMap 8.2 - officially released this month - is available for download from the company's website.

Blue Marble Geographics has announced the release of Geographic Transformer v 4.4. The Geographic Transformer allows you to easily establish an "image-to-world" relationship between image and map coordinates and reproject an image into a georeferenced image map. The new version includes the ability to read and georeference MrSID, ECW, DOQQ and BIL image formats. The Geographic Transformer already supports TIFF, GeoTIFF, Windows Bitmap, JPEG, PNG, BSB Chart and CADRG. All output image formats can be saved as TIFF, GeoTIFF, Windows Bitmap, JPG or PNG files. Evaluations are available.

EnerQuest Systems LLC has developed a technology, named SILC (Spectral Imagery LIDAR Composite), for the automatic classification of LIDAR points. Multispectral pixels are now associated with individual XYZ values to discriminate between roads, buildings, trees, water, and other features.

LizardTech Software announced GeoExpress with MrSID version 3.0 which features lossless encoding, the ability to update existing MrSID mosaics, dramatic performance enhancements, more flexible encoding options, and numerous additional features to enable efficient creation and distribution of network-ready images.

Virtual Wave has selected the GPS Accessory by Airbiquity for the delivery of its RoadStar GPS wireless location-based services. The GPS Accessory is a battery attachment that is compatible with more than 30 different Nokia-brand phone models. The device allows users to "fix" their position via satellite with the push of a button, and send the location data over the wireless voice channel to RoadStar GPS's call center. Monthly service plans start at $6.95, but I could not find the price of the accessory itself.

Ordnance Survey released an interactive address layer in OS MasterMap, its database and online service. The Address layer involves the complete migration of Ordnance Survey's ADDRESS-POINT product into OS MasterMap. The transport network, due to begin rolling out over the next few months, will bring Ordnance Survey's existing OSCAR road product into the OS MasterMap family. Among other forthcoming layers, high-resolution imagery will allow customers in government and business to overlay mapping on aerial photographs for easier visualization and analysis.

In co-operation with English Heritage, MoD and international archive holders, aerial photography taken between 1939 to 1952 by Luftwaffe, RAF, and USAF will be made available from original film, in an orthorectified format for the professional market. Following the initial release of the principle cities of London, Birmingham, and Liverpool, the GeoInformation Group second phase includes major towns and cities and the remaining areas of England in the third phase. The historic imagery will be made available on CD-ROM and through two new online services, CRConnect for online access through a GIS and CRAtlas (due for launch Q4 2002) an online solution for Internet browser access. GeoInformation Group also announced the launch of a dedicated, software independent training and consultancy division.

ESRI announced the ArcReader 8.2 stand-alone version is now available for download. ArcReader is designed for viewing and sharing any published map file (PMF) authored by the ArcGIS Publisher extension to ArcView, ArcEditor, and ArcInfo.

Safe Software announced the immediate availability of FME Objects .NET. FME Objects .NET allows applications written using Microsoft's new .NET technology to use FME Objects for spatial data interoperability.

Able Software has released a new update for its automated raster to vector conversion software, R2V. This new version includes a new image mosaic function that uses overlapped regions to create seamless image mosaic. Image sections scanned using a small scanner can be stitched together to create a single image. The 3D VRML export for DEM (digital terrain model) has been improved to include image draping and color texture information for 3D visualization through the Internet and physical model creation using a 3D printer. More display controls have been added to 3D display to adjust vertical scale and other properties. The batch script processing has additional image and vector processing functions.

• Hires and Appointments
.
Christopher A. Markel, lead analyst for GeoDecisions, was recently elected to the Pennsylvania Mapping and Geographic Information Consortium (PaMAGIC) Board of Directors at the Pennsylvania Geographic Information System (GIS) Conference. PaMAGIC is a volunteer group of GIS professionals whose mission is to provide leadership, coordination, and guidance to enhance the development, use, and access to spatial information and related services in Pennsylvania.

Maporama announced that it has appointed Franck Djen to the position of VP European Sales. Franck will be responsible for the development of Maporama's business activities in all European countries.

Earth Resource Mapping announced the appointment of Mick Armstrong as the new EAME Regional Manager.

Syncline, Inc. announced that James Heppelmann, Chief Technology Officer and Executive Vice President of Software Products at PTC, has joined its board of directors. PTC is a software supplier to major manufacturing companies worldwide.

geoVue announced the expansion of its corporate offices at 200 Lincoln Street in Boston's historic "leather district".

Mr. Al Naumann is taking over as the full-time President of LinearVision, Apex's airborne asset inventory and inspection services subsidiary in which Mr. Naumann is also a large shareholder. Mr. Srini Vasan has been named the President of Apex Geospatial.

Navigation Technologies announced a new business unit aimed at delivering NAVTECH digital maps and services to the federal, state, and local government markets in North America. The Government Solutions Business Unit was formed to meet the growing need for high quality, accurate, and up-to-date road network coverage data for government applications such as Traveler Information (511), Advanced Driver Assistance Systems, congestion mitigation, 911 support, and Homeland Security initiatives.

GIS MONITOR BACK ISSUES





ADVERTISE WITH US
You can reach more than 11,500 GIS professionals every issue by sponsoring GIS Monitor. For more information, email us.





CONTACT
Please send comments and suggestions to:
.
Adena Schutzberg
GIS Monitor Editor
Ultimate Map/GIS Directory - Your search is over!





SUBSCRIBE/UNSUBSCRIBE
If you wish to subscribe, unsubscribe or change your preferences visit our
subscription page.