DEPARTMENTS:
Letters, Points of Interest, Week in Review, Back Issues, Advertise, Contact, Subscribe/Unsubscribe


PICTOMETRY: NO LONGER BELOW THE RADAR
.
Earlier this year I received a few e-mail messages asking about a new company involved in aerial imagery called Pictometry International Corporation. I contacted the company at that time and was told Pictometry wanted to remain "below the radar."
Pictometry is based in Rochester, New York, home of Kodak. The company provides aerial photography with a twist: in addition to orthographic (straight down) images, the company captures details at an oblique angle of 40 degrees. This allows those using its end-user software, Electronic Field Study, to look both down and at buildings, fences, and trees. In the past year the company has gotten a lot of press for its solutions' use in homeland security.
The company uses two sensors, of their own making, mounted on an aircraft to take the two different kinds of pictures. Typically, the plane flies at two elevations providing more detailed (called neighborhood) and less detailed (called community) imagery. Taking the imagery is not the difficult part, georeferencing the angled imagery is.
The company's big investment, it seems, is in its image processing software, and its end-user software that allows finding, accessing and using the resulting data. The Electronic Field Study software does not work directly with other GIS vendors' software at this time, but can import vector data from those systems. And, it's possible to move Pictometry imagery into a GIS.
The delivered data is not a 3D model, but a series of georeferenced images. The Electronic Field Study software allows the user to find the area of interest via and address or graphically, to view thumbnails of imagery of that area, and to examine and take measurements from the images. This is a "picture" rather than a model; military personnel might describe it as useful for "situational awareness." I'm not sure, for example, that it's possible to perform a line of sight analysis as you would with a true 3-D model.
How then would you use the angled imagery? The imagery could be helpful in planning and securing densely populated areas, such as cities. Press clippings posted on the company homepage tout it usefulness to dispatchers to help rescue personnel find the closest door, to police and fire personel to find the height of windows to determine ladder heights and to assessors to measure building foundations to 99% accuracy.
The Pictometry website does not provide much detail on the company, no doubt as part of the "under the radar" decision. I did learn that back in 1999 that Pictometry signed a Cooperative Research and Development Agreement (CRADA) with the United States Geological Survey (USGS). USGS provided Pictometry with digital orthoquads for use in its products and in return received software seats and access to a large database of images.
The Merrimac Valley Planning Association (MVPA), here in Massachusetts, arranged to purchase Pictometry imagery for its members in 2001 and is sub-licensing the imagery to local cities and towns. It was the first organization in New England to contract with Pictometry.
I spoke with the Association's Executive Director Gaylord Burke, who is quite enthusiastic about the product. He highlighted several reasons that communities in this jurisdiction were drawn to the Pictometry solution including ease of use, an unrestricted site license, low cost (compared with companies offering only orthophotos), great detail, and at the time, the fact that the orthophotos were both digital and in color. MassGIS (the Commonwealth's GIS organization) just began to provide color orthos recently. Several communities within the MVPA area found the product so beneficial that they chose to purchase not the standard package of imagery that includes just two directions, but a package that included oblique imagery from all four cardinal directions.
The Massachusetts Highway Department (MHD) later entered into an agreement for Pictometry to fly the rest of the Commonwealth, at differing levels of detail. The project is expected to be completed this fall, according to a Boston Globe article. I contacted MHD, but did not receive a response before press time.
Burke, of MVPA explained that the state did not need orthophotos, as those had been flown recently, and put out an RFP for just the oblique imagery and a tool to use it. Pictometry won the bid, and signed a contract to cover 25% of the Commonwealth, around key roadways, at the neighborhood (detailed) level. The remainder will be covered at the community (less detailed) level. Mass Highway's contract provided for both a statewide and local license, which allows all of the cities and towns in the state to install the software and use the imagery of their areas. The planning agencies, including MVPA, are expected to help support the local users.
Massachusetts' Berkshire Regional Planning Commission website states that the MHD data and software package is available to cities and town for free. The Commission is offering installation and training for a fee. A PDF on the Commission website does the best job I found of illustrating Pictometry's imagery.
Arlington County, Virginia was the first U.S. county to install the Pictometry system and used it quite a bit in response to the attacks of 9/11/01. According to Government Computer News, the imagery allowed responders to "count windows" and measure damage. Measurements, both horizontally and vertically, are quite accurate, according to the articles I read. The images for a county eat up a great deal of computer space; Arlington County's 26 square miles take up 9G of storage. The county paid $14,000 for the system.
At a meeting in Henry County Georgia in June of this year, a Pictometry representative explained that some areas are opting to get updates every year, though the standard contract is for updates every two years. He told the county that delivery would take eight to twelve months.
Imagery is not purchased from Pictometry, but rather, licensed. I read in several articles that the company retains the right to sell the information to the public at both the city and county level. No matter what the sales channel, Pictometry gets a cut. Although one article noted that surveyors can use the imagery, more than one article had officials, in one case a Department of Transportation Director, making it clear that "the level of accuracy is not sufficient for engineering." And, there are privacy concerns. Two years ago, Orange County, CA supervisors tried to recoup their $184,000 investment by reselling images on the county website, only to be shut down by angry citizens.
Not everyone is overjoyed with Pictometry. Legislator Preston "Roy" Lucas, R-Wellsville, said after voting against the $64,000 for a system for Cuba, NY, in 2000, suggested that "Right now it looks like a toy that big boys are playing with at taxpayers' expense." A letter to the local paper in Binghampton, NY, this August, noted that Pictometry is "assessment under the guise of public safety." A Connecticut Department of Environmental Protection staffer was skeptical, too, last year writing, "There are any number of firms that have an established track record providing color digital image bases. Pictometry is not among them."
Pictometry was in the headlines this past week. An article in the Hartford (CT) Courant raised some issues about Pictometry, in particular, about its relationship with former New Hampshire governor and former presidential Chief of Staff, John Sununu, Sr. According to the article, Sununu and his son, who's currently running for the U.S. Senate in New Hampshire, have been advocating for Pictometry. In fact, Sununu Sr. was listed on the agenda for NEARC (New England Association of Regional Councils) in 2001 talking about Pictometry.
In October 2001, Connecticut State Environmental Commissioner Arthur J. Rocque Jr. penned a letter to state commissioners and other officials inviting them to a demonstration of Pictometry's technology. The letter explained that Sununu contacted Connecticut Governor Rowland, who in turn contacted Rocque. The letter, acquired by the Courant under the Freedom of Information Act, goes on to say, "Governor Sununu is representing Pictometry, and is hopeful that their products can be utilized by the New England region as a group." Rowland denied speaking to Sununu about Pictometry. Observers are concerned that the company has an inside track in state.
The Courant revealed some other concerns. The Connecticut state budget bill drafted by the governor's budget office, called for spending up to $4 million from a Department of Environmental Protection (DEP) open space fund for "aerial photography/pictometry." Eyebrows were raised because Pictometry's name was included in the document. There are questions as to whether Sununu should have registered as a lobbyist. Further, Democratic House Majority Leader David Pudlin points out in the article that Rowland's budget office never wanted to spend the $2 million required to complete work on an existing DEP aerial photo contract with a Wisconsin firm. He is concerned because now, during a state budget crisis, the Governor wants to spend some $4 million with Pictometry.
Pictometry's senior vice president of sales and marketing, Dante Pennacchia, notes in the article that he feels his company is likely to receive a contract from Connecticut. He acknowledged that Pictometry has a relationship with Sununu and son, as an "advocate" but wouldn't provide any details.



MAPINFO AND .NET
.
Last week MapInfo announced upcoming support for Microsoft's .NET framework in four of its products: MapInfo Professional, MapX, MapX Mobile and MapXtreme. I spoke with Product Manager Jason Weinberger several times this week to make sure I understood what that announcement really meant.
Weinberger helped explain what .NET was about by comparing it to the move from DOS to Windows, in other words, BIG. Microsoft is selling .NET's ability to make even those comfortable with basic scripting into application builders. In short, .NET will make software work more like programmers want it to work. That, in turn, should make end users happier.
What I learned, as Weinberger took me through the changes occurring in the MapInfo product line, is that two things are happening at the same time. MapInfo's been working on developing a single core for its product line. At one time the plan was to base everything on a COM (Component Object Model) version of the MapX engine. But when .NET came along, MapInfo decided it was a better choice. This move to a common core has been discussed, he noted, at recent User Conferences, and I've seen it mentioned on MapInfo-L. The second change is the move to .NET itself.
There are multiple ways to create .NET applications from existing ones. One, which uses .NET's COM Interop, basically reuses an existing COM core. That will work, but Weinberger notes that though this may be a quick way to produce a .NET solution, it has disadvantages. In particular, the application doesn't really act like a .NET application should.
MapInfo is using a different technique that involves managed wrappers, written in Managed C++. Managed C++ is C++ with extra extensions to make it work nicely in the .NET world. For next year's release, MapInfo will place these wrappers on top of its underlying C++ components, to expose a native NET interface. Further down the road, MapInfo's object model will be completely redesigned and rewritten in C# (C Sharp) to use this interface, allowing developers to take advantage of all of .NET's benefits, including easily exposing functionality by way of Web services. The company, like others, including Microsoft, will be recreating the core of its software for the new .NET versions.
Before we head into the .NET versions of the products, I want to explain where the current products stand. MapX, the mapping component for desktop applications, and MapXtreme, the Internet mapping solution, both currently use a MapX (COM) core, but a slightly different one. In November, MapInfo will release a new version of MapXtreme, that will bring them into sync. Those versions, Weinberger noted, will be the last COM versions of the products. The current version of MapInfo Professional, version 7, is not built on the MapX core.
Now, on to the future! MapInfo Professional 8, due next year, will be built on .NET. The big concern I've read about on MapInfo-L concerns MapBasic, the customization language for MapInfo. Weinberger assures me that V8 will support all current functionality AND continue support for existing MapBasic applications. Applications written for MapInfo Professional in MapBasic should "just work" in version 8. One of the big new additions will be the ability to use Microsoft's Visual Studio to build applications.
More significant changes will come to MapX and MapXtreme users. Currently, to develop with the former a programmer might use Visual Basic or C++, for the latter he or she would need to work with an application server such as ASP. In the .NET world, the MapX programmer would work with his or her favorite language using Visual Studio .NET. The MapXtreme programmer will build using ASP .NET (the .NET version of the application server called ASP, active server pages) drawing on Web Forms, and again, using his or her favorite language. (Web Forms is a tool to build Web apps as easily as one can build forms for desktop applications. It looks a lot like how you build forms in Visual Basic - easily!)
In the "pre .NET" world, the MapXtreme programmer would have used a scripting language, such as VBScript or JavaScript to develop in ASP. Now, he or she can use "regular" Visual Basic or another language. The other thing that MapXtreme programmers can look forward to is an eventual switch from the program's "broker and currier" (the traffic cops that manage the Web calls to MapXteme). In the .NET world, Micosoft's Transaction Server will do that work.
The new versions of MapX and MapXtreme will not be backward compatible. That means that existing users will need to decide if their existing platform is appropriate for the long haul or if it's time to move to .NET. MapInfo will sell the COM version of MapX and MapXtreme for another year, then retire them, with a year of support to follow.
Weinberger laid out the reasons users might be drawn to use .NET. Programmers can write in whatever language they choose, including leveraging experience with Visual Basic and C++. Programmers can use ADO.NET, a caching mechanism for database connectivity. The programmer writes to ADO.NET and ADO.NET takes care of connecting to the necessary database (no matter what the vendor). .NET makes the creation of Web Services easier, something that Java users, for example, have had for some time. Finally, as Microsoft moves forward with its long-term .NET strategy, applications written with .NET will be able to run on a variety of platforms including PDAs and TabletPCs.


AFTER LAWSUIT WIN, A CHANGING OF THE GUARD AT INTERGRAPH
.
The U.S. District Court, the Eastern District of Texas, ruled last week that Intel's Itanium-based products infringe Intergraph's patented technology for defining key aspects of parallel instruction computing (PIC). In his order, Judge T. John Ward ruled that Intergraph's patents are "valid and enforceable" and that Intel's products "literally infringe" nine claims against two patents. Under terms of the settlement the Texas Court's finding of infringement obligates Intel to pay Intergraph $150 million in liquidated damages.
Upon payment of $150 million, Intel then has three options: (1) pay an additional $100 million to Intergraph and receive a license to the PIC patents, (2) appeal the District Court decision and, if it loses the appeal, pay Intergraph an additional $100 million, or (3) try to design around the infringement. Intel has asked the judge to reconsider his verdict (which has specific monetary damages, should Intel lose). If the judge does not reconsider, according to an Intel spokesperson, the company will appeal.
On Tuesday Intergraph's Board of Directors announced that CEO Jim Taylor, 58, has announced his intention to retire as CEO. Taylor, who is also Chairman of the Board, will serve until the transition to the new CEO is complete. Big surprise? Not really. My hunch is that Taylor agreed to see Intergraph through the first few years of its new order (with separate business lines being responsible for their profit and loss) AND to see the company through the turbulent waters of the Intel lawsuits.
How did he do? I think he did a great job. The company is back on track in all divisions. GIS is growing stronger year to year, and the company just took over the entirety of Z/I Imaging, which had been a joint project with Zeiss. The lawsuits seemed to be managed patiently and well - and Intergraph won a nice chunk of change across the two different suits.
Why was Taylor's tenure so successful? The sense I got when I met him last year was that he was a businessman first. He was not the type to be "wooed" by technology. On the contrary, he measured success in dollars, and divisions on revenue. He gave his division leaders what appeared to be a great deal of freedom in running their businesses. He had a vision of how the company should look and took it there. I'm hopeful the new CEO will also be a businessperson first. It's the best thing for the now reinvented Intergraph.

AT&T; PAYS FCC FINE, SWITCHES LOCATION TECHOLOGY FOR E911
.
AT&T; paid a fine of $2 million to the FCC for failing to meet last year's October 1, 2001 deadline to begin installing its chosen technology for location. That technology-enhanced observed time difference (EOTD)-uses the time it takes for phone signals to reach towers to determine a phone's location. As part of the fine agreement, the FCC approved AT&T;'s switch from EOTD, which has trouble meeting the accuracy of the FCC mandate, in favor of time difference of arrival (TDOA). The difference between EOTD and TDOA? The former uses software on phone, the latter, software on the network.
Cingular Wireless halted shipments of EOTD gear from suppliers Ericsson, Nortel Networks, Nokia and Siemens, earlier this month and is looking at Uplink Time Difference of Arrival (U-TDOA) technology from TruePosition.
Sprint PCS and Verizon Wireless, who chose GPS technology, have service running in small areas of the U.S. However, the companies note that the tough economy is making the handset upgrade difficult for consumers.

LETTERS
.
• Last week I described work at the University of Toronto that used sound in a high tech manner to navigate. Paul Crisp of Syntegra relates the traditional use of this idea.
"What goes around comes around - in Jonathan Rabans book Passage to Juneau he talks at length about how the Indians of the Pacific North West would navigate through the channels by the sounds of waterfalls and tides even in thick fogs."
The editor replies: There's nothing new under the sun, is there?

POINTS OF INTEREST
.
• The latest GPS gadget for tracking children is expected on the market from Pomals before the second half of next year. According to Wired Magazine, the tracker, which slips onto a cell phone or PDA, will sell for less than $100. Other devices, such as Digital Angel, the watch-like device, start at $400.

• Wired also reported about the town of Mocksville, North Carolina. Apparently, there are many private roads without proper names in town, making it difficult for emergency vehicles to find them. So, the town mandated that owners name them. The result? Names like Staya Way and Getta Way, Keepa Way and Outatha Way. I humbly suggest residents take a lesson from fellow North Carolinian, singer James Taylor, who named his driveway, and latest album, October Road.

• Good news for field work: An InfoNetrix study, reported in Utility Automation, found more than $72 million worth of GIS and mobile computing project activity under way at the 200-plus U.S. and Canadian utilities interviewed between April and July of this year. InfoNetrix found $55 million worth of GIS and mobile computing projects during January through April.

• In yet another article about how E 911 is slow to come to the U.S. at Wireless Newsfactor, I took away an interesting story about a rescue. The victim of a car crash didn't know where she was when she called 911, but she did know she'd passed a particular restaurant. The dispatcher sent rescuers to the restaurant and, with both victim and dispatcher listening for sirens, guided them to the jackpot. Irony: the accident occurred at least in part because of cell phone use.

• Wireless Newsfactor this week documented 10 mobile technologies shown at DemoMobile in September that are worth watching. One sounded familiar: Zoominator from Geophoenix. The idea is to provide Internet content providers with tools to make their content "zoomable" by those viewing it on tiny phone or handheld device screens. Carl Yankowski is the executive chairman of the company; he was the CEO of Palm until a year ago. Familiar sounding? Pliable Technologies technology would be great for that type of use.

• The Library of Congress provides old maps for download for free. But the entrepreneurial spirit, of course, adds value. According to an AP report, those with the knowledge are printing, touching up and reselling these maps, mostly as "art" for up to hundreds of dollars. Artisans can legally copyright their "updated" work offered on the Web.

• Hershey, PA is not Hershey, PA. The "town" is really just a Zip code in Derry, PA. On the ballot on November 5th residents will decide whether to officially change the name, according to AP. This comes in response to plans for the possible sale of the company that may give the town its new name. Some in town, including the Derry Township Historical Commission president, are not supporters. Non-existent towns are rather common in the Commonwealth of Pennsylvania. University Park is just a Zip code within the borough of State College. That's about the first thing you learn when you enter the geography department at Penn State.

• I'm used to hearing the American Civil Liberties Union (ACLU) when it is NOT happy with something. But, the group IS happy with GPS monitoring of offenders. Wired quotes an ACLU representative saying, "The ACLU welcomes any reasonable steps to reduce our country's over-reliance on incarceration…"

• Fiat announced planned layoffs of 8,100 workers beginning in December. Autodesk Location Services has a joint venture with TargaSys, a division of Fiat Auto.

• Microsoft's latest ad campaign features a woman who claims to have switched from a Mac to a PC. The ad, discussed in Wired, is aimed squarely at similar ads from competitor Apple. Microsoft's attempt, however, backfired. First, the Microsoft's switcher's photo was found to be a stock photo, available for sale. Then the woman writing the story, alleged to be a freelance writer, turned out to be an employee of a PR firm Microsoft hired.


• A few weeks ago I noted another PR stunt from ABC Television. The network put the fictitious Push, Nevada, hockey team on its morning show's weather segment. The show it was hyping-Push, Nevada-has been cancelled. I wish I could say there was a connection...

• Western Farm Press Magazine reports that West Hills College at Coalinga (CA) is introducing a curriculum in precision agriculture. The school's crop science curriculum includes four semester courses in precision agriculture: Basic GPS, Advanced GPS, Mapping, and Software. The agriculture program is made possible through a grant from the federal government and the state of California.

• The UK's Observer reports on a new tracking technology being funded by that country's government. The technology uses radio waves sent out by cell towers to capture information about objects in motion: people, cars, etc. Civil liberties groups are up in arms. The technology "sees" when objects get in the way of the waves. Only slightly related is a recent thesis by Tim Hall at Massachusetts Institute of Technology (MIT) that explores using another set of waves put out for other purposes, this time to determine location. Hall developed a method to use AM broadcast signals to determine location. (Thanks to my friends working on the MIT Thesis server for pointing that one out.)

• Forbes reports that almost 1,000 workers in and around G๖teborg, Sweden, deal in telematics. A city with a population of 450,000, it has earmarked part of a new $200 million science-park development, slated eventually to cover a bank of the river G๖taไlv, for telematics companies.

• Satellites are coming into play to solve the string of sniper attacks in and around Washington D.C. USA Today reports that neither NIMA nor the FBI admit to using military satellites to explore the area, but points out that several police departments in the area do buy imagery from Space Imaging to map shooters lines of sight. I imagine they also use a good terrain model. The article does point out that satellites can't read a license plate.

• Looking for a geographic game to give for the holidays? Consider David Rizzo's, better known as Dr. Roadmap, new L.A. FREEWAY GAME. The board game, he explains, entertains players while they learn to conquer the L.A. freeway system. The game board is a simplified map of the central-L.A. area freeway system that challenges players to find the shortest way to L.A. City Hall and win the game.

• In Bangladesh GIS and GPS are tools to fight corruption. The BBC reports that the construction of an accurate and up-to-date map of the countryside, available to all, helps weed out development projects that benefit politicians, not the people. One example: a power plant that was located in a politician's district, and not near a river. (Thanks to Nick Park for passing this along.)

WEEK IN REVIEW
.



Please Visit Our News Sponsor.

• Announcements
.
Intergraph Mapping and GIS Solutions announced today that it has awarded the company's first GeoMedia Research Grant to the Center for Bioenvironmental Research (CBR). The Center, created out of a partnership between Tulane and Xavier Universities in New Orleans, La., encourages scientists from multiple disciplines to work together to investigate and resolve environmental problems.

The National Geographic Society announced that it is establishing an education center for girls in Kabul, Afghanistan. The fund was established in response to public interest in Sharbat Gula, a girl with haunting eyes whose photo was on the cover of National Geographic Magazine in 1985.

Northern Geomantics Inc. (NGI), developers of custom Web-enabled GIS mapping applications, has entered into a partnership with Metropolis New Media of San Jose CA, providers of specialized GIS-based Internet hosting services.

The GeoLib Program of Florida Resources and Environmental Analysis Center (FREAC) at Florida State University Florida State University - Tallahassee, FL was awarded $249,081, through a 2002 Institute of Museum and Library Services National Leadership Grant for Libraries in the Research & Demonstration category.

MapQuest, a wholly owned subsidiary of America Online, Inc., topped the list as the most popular travel and mapping source for summer 2002.

MAPPS will sponsor a specialty workshop on Aerial Photography and Digital Airborne Imagery at the "Pecora" Conference. The workshop will be on November 10-11, 2002 at the Adam's Mark Hotel in Denver, CO.

Intergraph Mapping and GIS Solutions launched the Team GeoMedia Online Research Library, a Web site detailing both ongoing and completed applied research in the geosciences conducted worldwide by Team GeoMedia Registered Research Laboratory members.

Navigation Technologies will demonstrate a real-time traffic solution, which provides in-vehicle incident and traffic flow information for Chicago's major roadways at the 9th World Congress on Intelligent Transport Systems (ITS).

SnapTrack, Inc., a wholly-owned subsidiary of QUALCOMM Incorporated, and Alcatel announced an agreement to incorporate SnapTrack's SnapSmart Assisted Global Positioning System (A-GPS) wireless location server software into Alcatel's Intelligent Networks products for location-enabling GSM networks.

Navigation Technologies and Mobility Technologies, a traffic information company, announced an agreement to explore combining Mobility Technologies' traffic incident and flow information with Navigation Technologies' NAVTECH map data as part of a real-time traffic solution. The company will also explore including ITIS traffic flow information in its traffic solution. ITIS is a provider of traffic and travel information. Navigation Technologies and TrafficCast, a provider of traffic data and forecasts, announced that they are working together to provide traffic information for an in-vehicle traffic solution in North America.

eXcelon technology, has delivered significant benefits to Ordnance Survey since its release in November 2001.

MapInfo Corporation will sell GeoTel's fiber data sets. The set includes: current location and supply of network fiber, fiber 'lit' buildings, interconnection facilities, wireless facilities and the demand factors driving consumption of services.

Tele Atlas North America and DMTI Spatial have expanded their strategic alliance to provide comprehensive North American coverage. The two companies have provided a North American data package for TELUS, one of Canada's leading telecommunications companies.

Tele Atlas and Autodesk Location Services, a division of Autodesk, Inc. announced a strategic alliance to jointly provide wireless operators worldwide with essential technology for the successful deployment of location services. Autodesk Location Services will incorporate Tele Atlas data into the Autodesk LocationLogic platform to provide a turn-key solution for wireless carriers.

• Contracts and Sales


.
Avenza Systems Inc. announced that NIMA (National Imaging & Mapping Agency) has purchased 500 licenses of MAPublisher software for use throughout the organization.
Research Systems, Inc. (RSI), a wholly owned subsidiary of Eastman Kodak Company, announced today that it has entered into a five-year Cooperative Research and Development Agreement (CRADA) with the National Imagery and Mapping Agency (NIMA). This CRADA enables NIMA and RSI to jointly develop image exploitation tools for NIMA.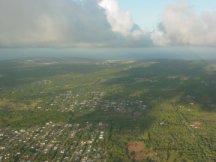 Leica Geosystems announced the purchase of ERDAS IMAGINE by the National Ocean Service (NOS) Pacific Services Center. Leica Geosystems' geographic imaging software suite will be used to help the Pacific Islands of Guam, American Samoa, and the Commonwealth of the Northern Mariana Islands (CNMI) update their Geographic Information Systems (GIS) databases, including road networks, coral reef mapping, and building locations. At right, an aerial view of Guam.

The National Oceanic and Atmospheric Administration (NOAA) recently awarded three remote sensing contracts to map coastal areas of the West Coast. Space Imaging will receive $350,000 to map coastal land cover in Washington and Oregon, and Autometric will receive $411,000 to map coastal land cover in California. An award of $1.5 million went to EarthData International to develop coastal digital elevation models for southern California using radar technology.

Navigation Technologies announced that Mapopolis, a mapping and navigation software provider for PDAs and other portable devices, has chosen NAVTECH maps for its newest product, Mapopolis Navigator Titanium Edition.

PCI Geomatics announced the signing of a license agreement for the use of its Pan-Sharpening algorithms with the University of New Brunswick and Professor Yun Zhang.

The National Ocean Service (NOS) Pacific Services Center (Honolulu, Hawaii, USA) has purchased ERDAS IMAGINE to help the Pacific Islands of Guam, American Samoa, and the Commonwealth of the Northern Mariana Islands (CNMI) update their Geographic Information Systems (GIS) databases, including road networks, coral reef mapping, and building locations.

Raytheon Company has been awarded two contracts to develop the next-generation anti-jam technology for militarized GPS.

Geographic Data Technology, Inc. has been selected as the sole provider of mapping and routing data for use within the Cities location-based guides offered through EarthLink's wireless email and Internet services.

Telcontar and Tele Atlas North America, Inc. announced a worldwide sales and marketing agreement
to offer prospective customers an LBS solution.

SchlumbergerSema signed a system integration and data management services contract valued at $1.6 million and 1.3 million with Nebraska Public Power District (NPPD). The contract includes the implementation of software applications, a geographic information system, graphical work design and outage management.

Miner and Miner recently added 10 new clients to its community. The company and Tadpole-Cartesia announced the successful pre-implementation trials of their combined technologies at Alliant Energy.

Avineon, Inc., (formerly InfoTech Enterprises, Inc.) announced today that Ras Laffan Liquefied Natural Gas Company Limited (RasGas), Doha, State of Qatar has selected Avineon to provide conversion and migration services.

LinearVision, LLC, a provider of advanced airborne videography and remote sensing services for the utility, railroad, transportation and environmental industries, announced today the execution of a new contract with Alliance Pipeline Limited Partnership for airborne videography of its pipeline and right-of-way assets.

Varion Systems, the software development and value-added reseller division of GeoAnalytics, Inc, has been hired by the City of LaCrosse, WI to help deploy GIS data and functionality to users throughout the City.

This week DigitalGlobe celebrates the one-year anniversary of its QuickBird(TM) satellite launch with the release of 12 images captured during the company's inaugural year of commercial operations.

PlanGraphics, Inc. will provide on-site support to the District government on a full-time basis to aid them in the successful implementation of a Tree Management System. PlanGraphics will assist the District's Department of Transportation (DDOT) with the implementation of an Azteca software system recently acquired by the Urban Forestry Administration to integrate historical data with a new tree inventory recently completed by the Casey Trees Endowment Fund.

• Products
.
Conclusive Strategies today announced the availability of Constellation Customer Profile. This product is a concise but information-rich report that summarizes the key demographic and lifestyle characteristics of one or more groups of customers, and compares them to each other and/or to a randomly selected sample of the general population from the same geographic areas. Who's company is this? Nora Sherwood Parker's.

Laser-Scan offers Autodesk users the chance to test Radius Topology live online, for free. The interactive demonstration of Radius Topology and Autodesk MapGuide is accessed on the Radius Topology website - where visitors can request their free username and password.

Mobile GPS Online, a mobile GPS products and services firm located in Ottawa, Ontario, Canada, has released an Advanced GPS Vehicle Navigation System based on Microsoft MapPoint Technology called NavStar 2002.

Tele Atlas North America, Inc. launched a new turn-by-turn capable map database that combines significantly improved accuracy and coverage with the only direct traffic-linked map and real-time traffic feed.

MapInfo Corporation with partner Neumobility, a location-based software provider and a division of Cellular Technical Services Company ("CTS") will deliver a new location-based services product. The companies will provide a suite of wireless location-based applications on MapInfo miAware, a platform for creating and delivering location-based services (LBS).

Webraska and Vizzavi, Europe's leading mobile-focused, multi-access portal, announced the launch of location-enabled WAP and two-way SMS services built on Webraska's SmartZone LBS Platform. According to the Managing Director of Vodafone Content Services, the service is "funny, irreverent, wacky and up-to-date, providing lifestyle-critical information such as the best places for 'pulling', late-night drinking, 'watching the footie', or for a romantic dinner for two."

Feature Analyst Professional 3.1, developed by Visual Learning Systems, Inc. (VLS) of Missoula, Montana, now allows GIS and image analysts to identify and extract object-specific changes in high-resolution digital imagery.

Ekahau, Inc. announced the Ekahau Positioning Engine (EPE) 2.0 for 802.11 wireless local area networks. The new EPE 2.0 pinpoints the location of wireless PDAs, laptops and other 802.11 enabled devices with an accuracy of up to 3.5 ft, and enables indoor navigation and guidance.

• Hires and Appointments
.
PlanGraphics, Inc. has hired Mike Langley, who has over 20 years of experience in IT Management and IT Business Development, as Vice President/Central Region Practice Manager.

GIS MONITOR BACK ISSUES





ADVERTISE WITH US
You can reach more than 12,000 GIS professionals every issue by sponsoring GIS Monitor. For more information, email us.





CONTACT
Please send comments and suggestions to:
.
Adena Schutzberg
GIS Monitor Editor
Ultimate Map/GIS Directory - Your search is over!





SUBSCRIBE/UNSUBSCRIBE
If you wish to subscribe, unsubscribe or change your preferences visit our
subscription page.