Departments:
Points of Interest, Kudos and Conundrums, Week in Review (Announcements, Contracts, Products, Training, Events, Hires) Back Issues, Advertise, Contact, Subscribe/Unsubscribe


If, for some reason you cannot read this document, visit: http://www.gismonitor.com/news/newsletter/archive/081204.php

Plenary Session
.
Maybe it was me, but this year's opening session didn't send the chill up my spine that I've felt for the last ten or so years. I flew in late on Sunday and maybe wasn't paying full attention. On the other hand, I did speak to at least one attendee who found the theme of the conference, "GIS, the Language of Geography" most hopeful. As for the product stories, it feels to me like ESRI is taking a bit of a breather in announcing (and perhaps developing) new functions for core products. That may not be a bad thing and may indicate a new level of maturity for the company, and perhaps the technology. That leads me to suggest that for the first time what went on the in vendor hall may have slightly overshadowed ESRI's own offerings.
Jack Dangermond, founder and president, explained that there were 12,000 users and 1,000 ESRI staff in attendance, a new record, as far as I know. (I got the official number later in the week: 12,451 registered attendees [not including ESRI staff]). The user-created maps highlighted ran the usual gamut with the National Geographic World Atlas and AAAMaps getting particular attention. So did work which focuses on mapping the connections in the brain. I have to say, the brain maps looked like, well, maps. Other worldly maps got airtime, too. Jet Propulsion Lab/USGS work of Mars was presented.

Dangermond spent a good deal of time describing the conference theme, noted above: GIS as the language of geography. He underscored how a changing world needs more understanding and collaboration, something this language can offer. Language in general, and in GIS in particular, helps structure and filter what is known, as well as providing a medium within which we humans operate. He noted the languages of dance, music, and programming as examples. With geography as the science of the world, we need GIS to communicate its framework and to add new concepts to geography, and to science writ large. GIS, Dangermond went on, abstracts the five elements he discussed in detail last year.
It was here that Dangermond introduced some ideas that are clearly to be fleshed out in the coming months and years: the sharing of collecting groups of metadata and peer to peer sharing of GIS resources. Peer to peer here means individuals sharing data, models, and more from their desktops. (More on those ideas below.) Dangermond also pointed out a new hardware development he identified as his favorite: blade computing. It essentially takes a series of dual processors, places them in a rack, and creates an affordable powerful server. He also showed a scary video detailing how the language of GIS helped crews battling last year's wild fires not far from Redlands, home of ESRI headquarters.
Dangermond went on to speak about ArcGIS 9, noting that fully one-half of users had implemented it in some fashion. He highlighted parts of it detailed last year - geoprocessing, Python scripting, model builder, the command line, annotation and labeling enhancements, raster support, lossless CAD import/export, 3D Analyst and ArcGlobe ("I won't give a demo," he joked. If I recall correctly he's demoted it each of the past two years.) He highlighted the new data interoperability extension noting that to work together we must all use the same software, ("I might like that") or we need interoperability solutions.
Next he moved to server products: ArcSDE the gateway to the DBMS, ArcIMS for publishing maps on the Internet, and ArcGIS Server, a simple Web development environment for developers. He contrasted the latter with ArcGIS Engine, development tools for the desktop.

Next up was the hit of the morning, the Touch Table (right), a map display technology illustrated by Danny Hellis, its inventor. He's a cofounder of Thinking Machines, who currently is chairman and CTO of Applied Minds. The idea is to create an electronic table that would make working with electronic maps as easy as working with paper maps. Consider how much harder it is to gather a group around a monitor than around a big paper map. This table solves the problem and adds features. ArcEngine underlies the interactive table, which in this case had ArcGlobe embedded. Users could "grab" the controls, zoom in, add layers, and turn them on and off. Zooming into Athens and highlighting a new DigitalGlobe image sweeping over an older one (grass "magically appeared") prompted ooh and ahhs. The table, which I imagine everyone would want to play with, was on display at the Northrop Grumman booth and runs some $300,000. Nearly 20 are in use today.
Dangermond noted that ArcGIS desktop new features would likely slow in the next release, with a focus on useability, quality, etc. It'd be more "fun," have more cartographic tools (so perhaps moving a final map to Adobe would not be needed). There'll be better 3D feature editing and support for larger datasets, like LiDAR. Notes about support for time in model builder drew cheers. On the server products side, there would be a focus on usability and quality, the personal server for peer to peer, noted above, and support for catalogs in every server. Catalogs will not only manage data, but also models and metadata.
He wrapped up by noting that ESRI turns 35 this year, that the ESRI Press has some 60 books in print (with more in the pipeline), and that JPL is a new institutional partner. He showed pictures of Michael Fay, who has successfully purchased much land in Africa for the park he envisioned at this conference several years ago.
The final slide featured images of Einstein, Lennon, Mandela, and Martin Luther King. Dangermond noted how each "languaged a better world." "While it's important to describe our world," he concluded, "it's at least as important to imagine a better world."



ArcGIS 9.0 which is currently shipping got a thorough introduction. Service pack 1 is available for download and some 15,000 people have downloaded it since it was announced last week. Demos illustrated using ArcGIS tools to "match" state level data to country level data for the Bureau of Land Management in its NILS database. The geodatabase opportunities for validating data were highlighted, as was the ability of ArcGIS 9.0 to perform lossless importing of CAD data. The model builder tools allow users to map the CAD data directly to GIS features exactly as they prefer. The data can be imported into a geodatabase, then all of the ArcGIS features can be run, and the data re-exported back to CAD with any loss.
CoCiGIS, a regional group in DeKalb, Indiana highlighted how they share data using ArcGIS and ArcReader. The group includes three small cities in their county and has been around since 1998. They have shared investments and return on investments. The representatives illustrated taking data out into the field, editing it, and putting it back into the system, with notes using ArcGIS 9.

A Top Ten
John Calkins was up next revealing his top ten favorite tools in ArcGIS 9.0. (That's close to my heart as GIS Monitor came from TenLinks, which still makes lists of 10.) Here's the list:
1. Tools are listed alphabetically - A-Z making them easier to find.
2. ArcCatalog tools are accessible without starting up ArcCatalog. For example, it's possible to create a new shape file right from ArcMap.
3. Printing - Preview tools now show how a map will be broken across small paper sizes, or fit on a larger one.
4. Interoperability - From ArcCatalog it's possible to export geodatabase schemas (and data) to XML, zip it, and e-mail on to a colleague to a new personal or enterprise geodatabase.
5. Web Services - From ArcMap users can add OGC Web Map Services and manage projections. And, it's possible to tap into ESRI ArcWeb commercial services for such things as data or services (geocoding, for example).
6. Rater Data Performance - At ArcGIS 9.0 on the fly raster/vector data is very fast, and very accurately portrayed. Also, it's possible to update the image based just on the variability of brightness in a viewed area, not the entire image. That sharpened, for example, a very bright image of the Olympic stadium.
7. Raster Data Management - ArcSDE managed a 5 terabyte image stored on the blade computer noted above. It was fast! Also, partial pyramiding means raster files can be updated without creating a whole new pyramid. Raster catalogs are available both in enterprise and personal geodatabases.
8. Label Dialog - A single dialog manages all properties of labels. John used a tool to show unplaced labels, and adjusted some settings to allow a few more labels to display.
9. Masking - An ArcToolbox tool allows many different masks that may only apply to certain layers. Different features might have different masks.
10. Less Mousing - Putting the mouse in the TOC and hitting F1 reveals keyboard shortcuts, which include using the space bar to run the highlighted layer or layers, on or off.
11. (There's never only 10) - Read the What's New Document that's installed with the documentation. It reveals things like a tool to pause drawing, that can be added to the toolbar. This allows users to redraw "at your own convenience, not that of the software" stated Calkins. That drew quite a lot of applause. During the pause, the user can turn layers on, off etc., then resume drawing.
Version 9 Extensions
- The Publisher extension now not only publishes maps, but can also take along the dependant data, optionally locking it to ArcReader. ArcReader can also be embedded in other applications.
- Data Interoperability allows users to compose their own translators, or perhaps more importantly directly read and use a long list of file formats including GeoMedia and GML, which were illustrated on stage. If needed, they can be imported into geodatabases.
- Maplex, for rule-based labeling, continues to evolve.
- 3D Analyst, which comes with ArcGlobe is not only is for visualization, but for analysis. Calkins showed a map of counties extruded by the vigor with which they use their term for soft drink: pop, soda, or Coke. (I'm not sure why tonic was not mentioned.) A "fear of crime" map for a section of London took advantage of ArcGlobe's ability to use 3D symbols (from SketchUp), cast 3D light circles, and show areas observed by closed circuit TV. Such visualizations may help residents understand how policy makers are helping them not only feel safe, but be safe. Work from University College London showed a new use for 360 imagery. It's possible to put a globe inside a Globe. When zooming into ArcGlobe it's possible to "step inside" a Globe and see what a user standing there would see - right, left, and overhead. It almost made me dizzy when we looked at trees overhead, but it was very realistic. (Perhaps I get dizzy when I look up in real life?)
The final ArcGlobe demo was from the folks behind Peace Parks, a non-profit that works to develop parks that cross national boundaries. The visualizations have been used on TV to illustrate their work and shows places where they cannot even visit, such as a protected natural area in the demilitarized zone between North and South Korea.
Developer Tools
David Maguire presented the latest on developer tools. First off, he highlighted a new ESRI Developer Network, EDN, said "Eden" to help support and bring together existing ESRI developer programs. A tongue-in-cheek "commercial" for a partner's field solution was a bit over the top for my taste, but did illustrate what was possible with GPS-enabled handheld devices. There was a sort of duel as a Java programmer and a Visual Basic programmer developed the same app using ArcObjects. They looked and preformed remarkably similarly, illustrating that the components work in both environments.
Server Solutions
ArcSDE, ArcIMS, ArcGIS Server, and ArcWeb Services form the current stable of server products. The most interesting demo used ArcGIS Server to perform queries remotely from a Web application. The user plunked down cell towers and queried where there was no coverage. Then he asked the reverse question: from where are the towers visible to passers by?
Next up was mobile solutions. Maguire explained that some years back the only buzz was about the desktop. About five years ago the focus shifted to the Internet. Now, he notes, mobile solutions are the rage. ArcPAD currently has some 50,000 users and new release, version 7 is in the works. It will include enhanced performance, updated editing with a focus on snapping, redline, and markup tools, support for laser range finders, and more. There's also work to port it to Smartphones and to PalmOS.



The road ahead focused on desktop and server products separately. ArcGIS 9.0's first service pack is available and covers more than 100 known issues. Version 9.01 will include support for Linux and Solaris; it's in beta now. Version 9.02 is a compatibility release that will include a "saveas 8.3" tool for data and support for Network Analyst which includes multi-modal routing (for example, by foot, train, and plane). Version 9.1 is slated for next year with a focus on cartography and the ability to save an MXD in the geodatabase and support multiple cartographic representations.
A demo showed how smart symbology of a bridge updated when a road was realigned. There will be multiple active view windows in ArcMap, and each will be active for viewing and editing. Imagine two different windows, at two different scales to allow quick edits, for example. Another enhancement is task assistants - the ability to group "environmental variables" to simplify complex processes. The demo reminded me of similar tools available in the CAD environment. Data management will also be enhanced. The geodatabase will no longer require a database: ESRI is developing a file-based version. The idea is to get around some of the inherent limitations in the "jet engine" (Access) database now used for the personal geodatabase. There will be tools to track histories in geodatabases - a demo revealed "history queries" that highlight, for example, passed ownership of properties. (Many people referred to that when I asked them what has hot.) There was a cheer for a user interface to geodatabase administration. Finally, there'll be the ability to serve 3D data (for ArcGlobe) via Web services.
Server Side
Just as ArcGIS describes a family of desktop products (ArcView, ArcEditor, and ArcInfo) in time a family of ArcGIS Server will emerge. ArcGIS Server will likely become ArcGIS Enterprise Server, the most functional server offering. Next will be ArcIMS (with perhaps a new name). It's in line to shift its underlying technology to ArcObjects, so that it's built on the same base as the other desktop and server products. At the "bottom" of the list, with somewhat limited functionality, is what was called the personal server. It will allow desktop users to easily publish to the Web, collaborate, and perhaps share things beyond maps. I confess that I found the personal server intriguing, but didn't feel I grasped it. Conversations with other attendees suggested we all had slightly different visions of the personal server, but we were all intrigued.
I attended the first session Tuesday morning on ArcGIS Server and hoped to get a better handle on things regarding the personal server. While I did get a good sense of where ArcGIS was appropriate for use (creating services or replacing a number of desktop ArcViews) and where ArcIMS was (publishing interactive maps, lightweight analysis) I still didn't feel comfortable with the personal server. When polled, the attendees were looking to ArcGIS Server to publish services, rather than to replace ArcViews, which was not what I expected.
I met with Bernie Szukalski a member of the ArcIMS team to try to make some sense of the new personal server. He reiterated the family idea but described the products a bit differently. ArcGIS Enterprise Server can replace desktops, publish services for use via a client/solution (that is with a thick client, like ArcView) or via the Web, via a browser. ArcIMS is a geopublishing tool for publishing maps, data, and metadata. The personal server, he offers, falls into Dangermond's longtime idea of societal GIS, that is, that everyone can participate in the technology. As Szukalski puts it, with today's tools "everyone can make a map. The challenge is how to share it."
The desktop solution is to use the ArcGIS Publisher extension to publish a map, and then to distribute it with the free ArcReader. The personal server is, from one perspective, taking that idea to the Web. What if ESRI provides a simple tool to publish a map from the desktop to the Web? Then, the URL can be distributed to others to have a look. ESRI is even contemplating a solution for those who do not have Web servers: a Web server that ESRI would host where anyone can "post" their maps. Szukalski compared it to "Ophoto" and other hosting solutions for digital photos. I asked about the collaboration side of the personal server. He mentioned that one option was to add a type of markup for collaborators to make notes and comments on the published map. There are other ideas, too, such as publishing catalogs of such services so they can be found by anyone interested. At this point I think the personal server is a twinkle in Dangermond's eye, but one with some interesting potential. I'll be curious to see how it plays out in the next year.

Students Shine
.
It's become a tradition of sorts that the final presenters on the main stage are students. I'm lucky I got a reminder about that and was able to see three students from Bishop Dunne High School show off their work. Bishop Dunne is an interesting case. The school, a private Catholic institution in Dallas, not too many years ago, had an enrollment of 200 and was in danger of closing. These days enrollment has tripled and the school has 300 computers. Moreover, the school was recognized as one of only twenty U.S. schools as a 21st Century School of Distinction by Intel, Scholastic Blue Ribbon Schools of Excellence. Part of the turn around was due to, you guessed it, GIS.
To revitalize the school a focus on technology, literacy and community service were chosen. And with the help of ESRI, GIS became a solid part of the curriculum. Then came the best part - tying the school into the community. Three students showed work for the Police Department in mapping crime, helping Habitat for Humanity find neighborhoods for revitalization, and determining locations for helicopter landing pads for medical evacuation in a state park. While the students had but a few minutes to present the work, I'm confident longer presentations would have held their own with any papers presented at the conference.
The best part of the story was that the students have formed after school clubs to do GIS and have asked about working on the weekends. That's testament to a few things: committed teachers, strong leadership, and challenges that speak directly to the students.

On the Floor
.
I walked by SpotFire and scratched my head. Isn't that company from my town? Yes, in fact, it is. Headquarters is but a few blocks from me in Somerville, Massachusetts. SpotFire is about visualizing information - making cool 3D graphs of values, finding patterns in data. The company has integrated its toolkit with ArcGIS so that the data to be visualized can be selected spatially, or alternatively, the results of an analysis, say the outliers that don't follow the trend, can be viewed on the map. The neatest part of the quick demo I saw included a feature the marketing folks call "non-stop what iffing." It's a slider bar that, as it's slid, removes or reveals features on the map based on the result of a query. Typically, GIS users would do a query like this, "find me all the buildings with a value more than $300,000." Imagine instead that you could slide that $300,00 from 0 to $500,00 and watch the buildings drop out? SpotFire's tools are particularly interesting in the oil and gas business.
Layton Graphics, which I first introduced in April, now has a solution for ArcGIS. The tool will export ArcGIS data to a GeoPDF (a geospatially smart PDF), available for viewing the PDF reader, which can be enhanced with a free plug-in. The reader, with plug-in can measure, display coordinates, query attributes, and even support GPS input). Right now it's a two-step process to create a smart PDF which contains attributes. Soon it'll be a one step process. As I noted, this is a clever way to distribute data without some new format and new reader (think of ArcGIS Publisher, DWF Composer, etc.)
Thales was showing off its new MobileMapper family member, MobileMapper CE. Last year's offering was a proprietary solution, but a turnkey one, delivered with all the mobile and desktop software required to data collection and mapping. It uses post processing for submeter accuracy. MobileMapper CE is the "open" version of the previous offering. It allows the user to select mapping software, how to do real-time for submeter acquisition (using WAAS or via Coast Guard Beacons, with an optional beacon receiver announced at the conference), how to move the data to the desktop (serial, Bluetooth, USB), etc. The unit has a rechargeable lithium battery which runs for eight hours, external SD cards, a microphone for capturing sound or for use voice activation (which one partner has already implemented). It's all about choice! Recall that MobileMapper ran $1,500; MobileMapper CE runs $2,195, or $2,495 with ArcPAD. The unit is heftier, the screen is bigger, and the input keys more numerous than its older sibling.

Big images have always been a challenge, so when I visited with Pixia (left, visiting with Jack Dangermond), I expected to hear a story about compression. But I didn't. I heard about a new storage format, one that basically predigests the image to make it available onscreen in an instant. Imagine a half terabyte or one terabyte or 5 terabyte image. Pan, zoom, jump around the image in no time. But, don't expect the image to be any smaller - it typically is about the same size or a bit larger. Still, if you are a defense user, or otherwise demand that type of speed, this solution works great. And, here another cool aspect - there's virtually no degradation of performance as the images grow to 20 terabytes or more.
How does it work in practice? It's a lot like compression solutions in one sense. You process the image into Pixia's format, called .nui (New Universal Image) with the nuiEncoder. There are options here - like the ability to optimize the image for a certain screen size (which does not preclude its use on other sizes), assign specific pyramiding level values, apply compression, JPG200, for example. Then, you can use the Pixia viewer or a plug-in for ArcGIS to read the files.
I had the chance to have a look at Matrox graphics cards. I'm not a big hardware person, but these are cool. You can get cards, starting at hundreds, not thousands of dollars that allow your computer to drive 1, 2, 3, or even 4 monitors at once. And, if you put multiple cards in a single machine you can drive 16 or more monitors. Even better, there's an additional card to be sure all the monitors are "in sync" so you can explore stereo imagery or video across the multiple screens. We are all looking for productivity gains in software - keyboard shortcuts, tools to combine tasks, etc. but this is a hardware solution that may increase productivity just as much by making more tools or windows available at once. I noted a study by NEC-Mitsubishi Electronics Display of America, Inc., ATI Technologies, and the University of Utah that notes the productivity increase using multiple monitors. Matrox cites a similar conclusion from a Microsoft study.
MetaCarta was pleased to have on hand a relatively new user from the oil and gas space. The company is using MetaCarta's solutions to find documents related to wells and properties in the upstream side of things. One big plus: the ability to search for documents across multiple repositories. MetaCarta is also making progress in the public sector, the third area it's targeted (after defense/intelligence and oil and gas). A state has chosen the solution to enhance the use of documents for detectives. The company also announced new contracts earlier this year with the Air Force and defense players.
Thanks to all the GIS Monitor readers who came by the booth to pick up their "I Get It!" stickers. A special thanks to those who brought colleagues to sign up! My colleagues and I had fun seeking people out to receive free Starbucks coffees and appreciate your help spreading the word about this publication.

ESRI UC Points of Interest
.
Autodesk at UC. For those who keep an eye on marketing around big events such as the ESRI User Conference, I've got some news. Autodesk posted ads at the San Diego airport and ran a full page twice during the week in USA Today both highlighting how "traditional GIS software was great for its time."
First Coverage. The first coverage of the ESRI User Conference was not by any of the journalists at the event, so far as I know. It came from the local paper, the Press Enterprise (registration required) and addresses the plenary, notable books being released by ESRI Press, and kudos from business partners.
Odd Players at the Conference. GE Energy, actually the former MJ Harden, was on hand. It did sort of spook me to see a logo I now associate with Smallworld here, but as I've noted recently, it shouldn't be spooky. The International Map and Trade Association had a booth, as the organization has for the last few years. This is the organization for those who make a living with maps and many ESRI partners are members (National Geographic, some universities, etc.) It was nice to see them at this gathering, helping to link the publishers to the technology.
Missing? Bentley, which had a significant presence last year, didn't have a booth this year.
Race Results. I was pleased with a second place finish (in my age category) in the 5K Run on Wednesday. Directions Magazine sponsored the race, and its editor, Joe Francica, won his category.

GDT Becomes Tele Atlas
.
Tele Atlas, which acquired GDT, will in time, retire the GDT name. More than one person told me that some people would never get used to calling GDT "TA" or Tele Atlas. I may be one of them. Still, I think it's a wise move, and while both names are global, I'd offer that TA is "more global" if that's possible.
I sat down with Tele Atlas North America's "new" COO, Mike Gerling, former GDT president, to get a sense of how GDT will move forward in the coming months and years now that the acquisition is complete. The good news is that "nothing is changing in New Hampshire, except that we have more work" he joked. Tele Atlas' U.S. office will slim down and some the employees will come east. While the GDT office started to acquire the name Tele Atlas Lebanon, that became confusing as there had actually once been a small Tele Atlas office there! So, now it's called Tele Atlas New Hampshire, for clarity.
The "more work" that the office will take on is exploring and integrating TA's U.S. dataset. Recall that Tele Atlas acquired Etak in 2001 and has been building out that dataset over the past few years. How, I wondered, would the New Hampshire operation integrate the two? Gerling reminded me that in essence that's what the staff have been doing for the last few decades, integrating datasets to create the best one possible. While the TA dataset is perhaps one of the larger ones, attacking it will be no different in many ways. Initial explorations suggest that some very high percentage (80% of higher) of the geometry matches up pretty well between the two nationwide datasets. ("Pretty well" is not a scientific term, I know.) The areas of non-match will yield the greatest return. As one might expect, Tele Atlas North America will likely take on higher profile areas of "non-match" first such as large cities. I got the sense that the company wants to get right down to business on this work, likely because as the data gets stale, it has less value.
Tele Atlas uses a field model to update data while GDT uses "compilation" (using existing maps and working with partners to find updates). I asked if the GDT model might be moved to Europe. Gerling explained that it's certainly worth thinking about, but that the "views" on data between the two geographies may not make complication practical. With U.S. data predominantly in the public domain, compilation is much easier, that may not play out in Europe.
The field aspect of TA will not go away, but will be changed a bit. Two years ago TA North America had some 250 vehicles on the road all the time covering a lot of ground but actually looking for things that have changed. Gerling expects to keep 50-75 on the road (which seems like "a million" to GDT) and focus where they are used. That is, he explains, let's tease out where they are likely to find those changes and send them there. It's a "rifle vs. shotgun" approach. The other new way of thinking that Gerling introduced is the idea that TA North America will need to change its perspective on finding "errors." He noted that customers are quick to point when they find data missing or dated. But, he notes, there's quite a lot of value when the data is correct and, say the package does get delivered without any problems. He suggests that the company needs to leverage that "success" data to validate what's currently in the database. "It's a matter of looking at the glass half full instead of half empty." Still, it's clear that TA North America will keep a close eye on the failures, too.
To me, the plans seem full steam ahead for Tele Atlas North America. And, besides the name change, I don't expect any big ripples. One more comment on the name change - this will not be as difficult to digest as say, GE and Smallworld. Recall that GE is a huge company with many businesses. Smallworld seemed to get swallowed up inside. Tele Atlas is a geodata company that bought another geodata company. That's far less taxing to parse for the marketplace.

Intermap to Acquire AirPhotoUSA
.
On the heels of the Tele Atlas/GDT acquisition, Intermap (the folks who made NextMap Britain and are at work on NextMap USA, both IFSAR-created terrain maps of the respective countries) announced its intention to acquire AirPhotoUSA, one of the more successful companies that flies high resolution data in the U.S.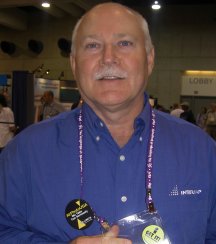 I met with Garth Lawrence, VP of Customer Care at Intermap (left) and Mary Cook-Hurley of AirphotoUSA to explore the soon-to-be created company. Recall that NextMap Britian came about because the insurance industry was looking for an accurate, country-wide terrain model to develop flood risk models. That work, completed a few years ago, was Intermap's "pilot" for its technology. The company teamed with GetMapping which had just completed the Millennium Map, a nationwide imagery data set, thinking the combination would be powerful. And it was. Products from third parties drawing on the two are coming to market and include one from Mystic Hills that allows walkers to "pre-walk" paths in the UK, getting a good sense of the terrain and the landscape. McCarthy Taylor offers a product for counties that combines the two for visualization.
But since GetMapping did other things, the partner relationship presented some challenges. Here in the U.S. the company decided they needed a more focused partner and selected AirPhotoUSA. The companies had been working together in the past and the business models were very similar. The idea, in both cases, is to fly on speculation, with the goal of getting as many organizations to buy (either beforehand or after). That lowers the final price and enables coverage that might otherwise be possible. As you might imagine, it takes some legwork, but both organizations seem to have the right people to set up these programs.
The particularly interesting part of the Intermap vision is a nationwide imagery layer. In Britain, GetMapping created it. Here, there's been little interest. For example, the satellite imagery companies are not interested in that sort of product. So, together with AirPhotoUSA and others, Intermap hopes to create one. For starters it will use the imagery it gathers along with the IFSAR data for NextMap USA, combine that with the city data from AirPhotoUSA, use some Landsat for color and, perhaps other things.
The NextMap USA product will change everything since existing DEMs from USGS are dated and vary in resolution across the U.S. That, along with an image, visualization tools, and datasets specific to a market (walking maps, hunting maps, etc.) can open many markets.
From a business perspective Intermap brings investment to AirPhotoUSA to grow it model beyond the geographies it currently offers. The company also believes in the "if you build it they will come." Many organizations, federal agencies, for example can't invest in such products, but should they become available, they have money available for them. Moreover, once such things are in the budget they can fund future development.

Letters
.
Joe Hatch of the Vermont Agency of Transportation (AOT) shared his insight into Bentley's latest acquisition.
"I just wanted to make a quick comment or maybe answer a question you may have about what happens to GISConnect now that it is to some extent in Bentley's hands. Bentley has a similar product called ARCConnect that allows passing some information to/from ESRI data to MicroStation through and managed by ProjectWise. We will start evaluating Bentley's product this week. My guess would be that if ESRI allows Bentley to enhance the products for Autodesk and Bentley, then Bentley will. The catalyst will be the two communities, Engineering and GIS. Both communities need to make their vendors aware that we need to share data. It would make my users' lives a little easier.
"My opinion: I think this will be a good thing (my fingers are crossed)."

Points of Interest
.
Can't Get Enough? Read the latest Points of Interest daily on our website.
Encourage Cell Phone Camera Use in Schools. A few weeks ago I wrote about technologies to defeat camera phones and keep them out of sensitive locations. An editorial in the Palm Beach Post takes a different view. While there are forces looking to ban cell phones (and camera phones) from local schools, Jac Wilder VerSteeg argues they should be encouraged. "Students might as well learn to deal with camera phones on campus, because they certainly will have to deal with them in real life." He goes on to argue that the phones became popular with students due to parental safety concerns and that the phones could be used for educational purposes.
NAVTEQ Up on First Day Out. Shares of Navteq rose almost 15 percent in the first day of trading last week. The 40 million shares offered on Friday at an initial price of $22 a piece rose to $25.47. The AP article goes on to cite Tele Atlas and MapInfo as Navteq's main competitors.
LoMoSos. No, it's not a drink, but rather the latest acronym. It stands for location-based mobile social networks. It refers to using location and mobile computing for social (as opposed to business) uses. It includes moblong (mobile blogging), friend finders, and the like. According to Ben Charny, writing at CNET, such services, like MapMe launched in Canada by BellMobility based on technology from vendor Wavemarket, are still simply too expensive to attract many users.
Manifold vs. ArcGIS. A new document (pdf) compares the process of doing 50 specific GIS tasks in ArcInfo and in Manifold. The comparisons are side-by-side allowing easing examination of each interface. The project was part of graduate and undergraduate midterm assignment at Cornell. The professor involved, Art Lembo, also recently reviewed Manifold.

Kudos and Conundrums
.
Have you seen something in our industry worthy of kudos? Or that makes you scratch your head? Send it on. You may take credit or remain anonymous.
Kudos (concepts we applaud)
Update on TerraServer. ENT provides an update on Microsoft's TerraServer, now six-years-old. At inception it held but a single terabyte of data, now it holds 20 terabytes. The hardware went from "being about $2 million worth of hardware to being about $70,000 worth of hardware." There is one oops in the article; it refers to the USGS imagery served as "satellite imagery" when in fact, it's aerial. A new Microsoft server, developed in conjunction with Sloan Digital Sky Survey will offer a free, public database of astronomy images and data.
Conundrums (concepts we question/give us pause)
Electronic Leash. Gotcha! is basically an electronic leash for children. The parent carries a unit and the child another one. When the child is out of range (up to 75 feet) the parent system sets off an alarm. The system works indoors or out and I suppose is better than those physical leashes, but not by much. And, I'm not crazy about the name, either.

Week in Review


Please note: Material used herein is often supplied by external sources and used as is. Due to the busy schedule this week, there are no links.


.
The Geospatial Information & Technology Association (GITA) announced that it has been appointed to serve on the Federal Geographic Data Committee (FGDC) Steering Committee, a group that will work to develop the future of spatial data infrastructure in the United States.
LizardTech, Inc. announced that its Express Server image delivery software has successfully completed integration testing with EMC Centera content addressed storage systems using ESRI's ArcGIS software.
From August 6 to September 3, 2004, anyone who purchases a new or upgraded MAPublisher license (including academic versions and floating licenses) will receive, at no extra charge, the Avenza MAJOR CITIES USA CD (a US$249 value).
LizardTech has a new game/contest involving finding its lizard in a large compressed image. Of course you use the company's viewer to find the lizard and perhaps win a GPS.
Telvent and Miner & Miner (M&M;) have formed a strategic partnership to jointly provide Enterprise GIS products and IT services to utilities throughout the world.
Sanborn has formed a partnership with Pictometry. Each will sell each other's product.
InfoNetrix reports strong project activity - 270 projects valued at $100.5 million - in its recently published Q2-2004 Business Horizons Reports.
Intergraph Mapping and Geospatial Solutions announced Canada's University of Ottawa will begin research on the continental climate and soil-related effects on the range boundaries of all major native, invasive aquatic plant species in North America using Intergraph solutions.
Lockheed Martin announced a strategic business relationship with ESRI to jointly develop and market system solutions and services for defense, intelligence, and homeland security.
Geographic Data Technology (now part of Tele Atlas) expanded a partnership with Canadian e-commerce data vendor First Base Solutions, Inc. to power Web-based index maps to help business users select spatial data for use in high precision mapping, municipal, and utility applications. As promised, GDT sent three educators the ESRI User Conference. Two were from British Columbia and one was from Maine and all are active geo-evangelists in their respective schools.
• Contracts and Sales
.
GE Energy has purchased an Intergraph Z/I Imaging Digital Mapping Camera (DMC) to enhance the quality and accuracy of images for geospatial applications.
DigitalGlobe won a contract with the County of Maui to provide cloud-free satellite imagery of the entire county for multi-departmental use. The company will also work on a project to create Hawaii's first publicly available state-wide Digital Ortho Quarter Quadrangles (DOQQ) and updated public image base using QuickBird satellite data.
• Products
.
Data East presents a new version of its popular product - XTools Pro 2.0. XTools Pro 2.0 extends facilities of well-known tools and provides a series of new tools and features greatly enlarging spatial data processing possibilities in ArcGIS.
Space Imaging announced that imagery from India's RESOURCESAT-1 satellite is now available to the commercial marketplace. Space Imaging has the exclusive worldwide rights to sell data from RESOURCESAT-1 outside of India. Imagery from RESOURCESAT-1 is available in 5-meter, 23-meter, and 60-meter resolutions.
Freeance Release 3.0 brings to ArcIMS the power of linking live, external databases and relating records to Web mapping features. This makes it possible to use ArcIMS for many of the same GIS operations as desktop ArcGIS.
QinetiQ's EasySVG is an extension to ArcGIS that automatically exports interactive maps of geospatial data in Scalable Vector Graphics (SVG) format that can be viewed by anyone with Internet Explorer and a free SVG plug-in. It's said to be less expensive than other Web mapping solutions.
Leica Geosystems GIS & Mapping announced the release of both ERDAS IMAGINE V8.7 Service Pack 1 and Leica Photogrammetry Suite V8.7 Service Pack 1. The releases feature enhancements to both products, most notably the LPS ORIMA module, which enables the software suite to provide production mapping capabilities to customers.
Blue Marble Geographics announces the release of Geographic Transformer 5.1, a tool to register and reproject images. The new version allows up to 128 images to be mosaicked into one raster.
DeLorme announced plans to release TopoWorld, a high-performance map resource providing a three-dimensional view of 14.25 meter color satellite imagery, elevation, and vector map data throughout the world. The product will be provided on a portable external hard drive.
Autodesk, Inc. announced Autodesk Local Government/Public Works Solution, solutions that help local governments and public works agencies create, manage, and share their CAD, GIS, and engineering information in a single, open-standards, Oracle-based environment for seamless integration. The technology relies on a partnership between Autodesk and Munsys Technologies, from South Africa.
ESRI announced that ArcGIS Schematics 2.3 is now available. ArcGIS Schematics is an ArcGIS extension that enables users to generate, visualize, and manipulate diagrams from network data in a geodatabase.
Sharp has launched a new flat screen monitor that produces the illusion of a three-dimensional image without the need for special glasses. It's 15" and retails at about $1,500. A laptop with such a screen is about $3,000. It's aimed at gamers but may be useful in GIS.
Thales announced the North American availability of the new Magellan eXplorist 100, the first GPS handheld with 10-foot accuracy for under US $99.
ESRI's ArcWeb Services will now include GlobeXplorer's Premium Aerial & Satellite Image Service. The online dataset is a collection of hundreds of terabytes of data from the world's top providers of earth imagery - featuring data from AirPhotoUSA, DigitalGlobe, EarthSat, i-cubed, USGS, Cities Revealed, and many others partners from around the world.
Datastream Systems, Inc. is offering new GIS capabilities through the integration of Datastream 7i and applications from ESRI technologies.
Matrox Graphics Inc., the leading manufacturer of professional graphics solutions, announced the Matrox Millennium P650 Low-profile PCI, further expanding its family of productivity-enhancing graphics cards for CAD and GIS workstations. The company claims it's the industry's smallest DualHead graphics card.
• Training and Education
.
The George Mason University Non Credit Certificate Programs offer an opportunity for working professionals to increase their technical knowledge of GIS with a new certificate program in GIS.
• Events
.
The Spatial Technologies Industry Association (STIA) is pleased to announce that the Geospatial Information & Technology Association (GITA) has agreed to be a Cooperating Sponsor of STIA's SPATIAL-TECH 20004 national policy symposium and exhibition.
The Open GIS Consortium (OGC) has issued a call for sponsors for an OGC Web Services (OWS 3) interoperability initiative, a test bed activity to advance OGC's open framework for interoperability in the geospatial industry. Interested organizations are invited to attend an all day informal planning meeting on 25 August 2004 in Herndon, Virginia.
ESRI India Annual User Conference in New Delhi, India will be held on the 2nd and 3rd of December 2004.
The GITA Southeast Chapter will hold its 11th annual conference on October 5, 2004, at the Atlanta History Center under the theme "Using Geospatial Technology to Integrate Business Processes."
• Hires
.
Advanced Technology Solutions, Inc. announced the opening of a Regional Office in State College to better serve clients in central and western Pennsylvania. The company appointed Mr. Chris Markel as Regional Office Manager in State College. He holds a Bachelor's degree from Penn State along with graduate studies in GIS and Operations Research. Chris currently serves as President of the Pennsylvania Mapping and Geographic Information Consortium (PaMAGIC) [2003-2005].
PCI Geomatics added several new employees: Jeff Hoedeman joins PCI Geomatics in the position of Director of Marketing. He comes to PCI from Senior Marketing and Business Development positions with Avenza Systems and Safe Software. Jeff is a graduate of McGill University, holding an Engineering degree, as well as a Masters in Business Administration. Layton Peck joins PCI Geomatics as Senior Director of Business Development with extensive business development and management expertise in Canada and the United States. Brad Schmidt joins PCI Geomatics as International Sales Manager with extensive sales and marketing expertise in Canada and the Middle East.
The Geospatial Information & Technology Association (GITA) announced that William Kiger, executive director of Pennsylvania One Call System, Inc., West Mifflin, Pa., has been appointed to serve on GITA's Board of Directors as an at-large board member.
Mary Ellen Genovese, chief financial officer, will leave Trimble on August 13, 2004 to become chief financial officer of a privately-held technology company. The Company has begun a search for her replacement and has named Mark Harrington, who joined Trimble in January 2004 as vice president of business development and strategy, as its interim chief financial officer.

GIS Monitor Back Issues





Advertise With Us
You can reach more than 17,000 GIS professionals every issue by sponsoring GIS Monitor. For more information, email us.





Contact
Please send comments and suggestions to:
.
Adena Schutzberg
GIS Monitor Editor
Ultimate Map/GIS Directory - Your search is over!


GIS Monitor is published by:

GITC America, Inc.
100 Tuscanny Drive, Suite B1
Frederick, MD 21702 USA
Tel: +1 (301) 682-6101
Fax: + 1 (301) 682-6105




Subscribe/Unsubscribe
If you wish to subscribe, unsubscribe or change your preferences visit our
subscription page.