2006 August 24
If, for some reason, you cannot read this document, please visit:
http://www.gismonitor.com/news/newsletter/archive/archives.php?issue=20060824
---
This week, I report on MetaCarta's plan to integrate its GeoTagger software with ESRI's ArcWeb Services; on the use of GIS for a sophisticated public health study; and on a master's program in GIS. Plus, my usual news items from press releases.
Please send me your comments and story ideas!
— Matteo
---

---
At the recent ESRI user conference, MetaCarta, Inc. announced that it had signed an agreement to provide its GeoTagger software as a component of ESRI's ArcWeb Services, which allows users to access GIS content and capabilities over the Web, on-demand. Data storage, maintenance, and updates are handled by ESRI, eliminating the overhead of purchasing and maintaining large data sets. The addition of GeoTagger will enable users to geo-reference data found in unstructured documents—such as articles, field service documents, internal reports, and Web pages—and view the results in custom mapping applications.
The MetaCarta GeoTagger ArcWeb Services solution will be available through ESRI's developer and reseller channel in Q4 2006. It will include features that MetaCarta added earlier this year to its other products—such as search notification, which alerts users of new search results returned since the last time they logged in, document density, which displays the number of search results by geographic area, and region searching.
---
Analysis of the geographical relationship between environments and diseases has long been a cornerstone of public health. The classic, textbook example is John Snow's study of cholera transmission in London, which has recently been the subject of scholarly re-evaluation. Public health is now a rapidly expanding field for GIS. It is the focus of the ESRI Health GIS Conference, which will take place October 23-26, in Denver, Colorado, and it was the subject of about 40 technical workshops at the recent ESRI user conference.
At one of the workshops, Megan Blewett, a brilliant high school student who spent much of the summer doing research at the Broad Institute of MIT and Harvard, gave a flawless presentation of a study she had recently completed. Her paper (this link is to a draft) examined whether Multiple Sclerosis (MS)—the most common primary neurological disorder of young adults—belongs in the same category as Lyme Disease, West Nile Virus, and other zoonotic diseases, which are caused by infectious agents that can be transmitted between animals and humans.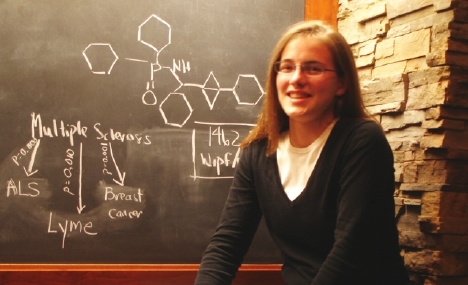 Megan Blewett working in her lab
---
As the start of the academic year approaches, it is a good time to spotlight university courses in geographic information systems and sciences. Dr. Chris Lukinbeal, an assistant professor in the School of Geographical Sciences at Arizona State University, sent me this description of a degree program for which he serves as associate director and Dr. Robert Balling serves as director.
The School of Geographical Sciences at Arizona State University is in the third year of offering a Master's of Advanced Study in Geographic Information Systems (MAS-GIS) degree program. MAS-GIS is a compact, one-year, non-thesis degree program fostering advanced study in management and the use of GIS technology in public and corporate environments. The degree meets important educational needs of working professionals and recent college graduates seeking to improve their career standing.
---
Please note: I have culled the following news items from press releases and have not independently verified them.
---
---
Advertise with Us
You can reach more than 23,000 GIS professionals every issue by sponsoring GIS Monitor. For more information, email us.
---
Contact
Please send comments and suggestions to:
Matteo Luccio, Editor
GIS Monitor
Ultimate Map/GIS Directory — Your search is over!
GIS Monitor is published by:
GITC America, Inc.
100 Tuscanny Drive, Suite B-1
Frederick, MD 21702 USA
Tel: +1 (301) 682-6101
Fax: + 1 (301) 682-6105
---
Subscribe/Unsubscribe
If you wish to subscribe or unsubscribe visit our subscription page.