2006 December 14
If, for some reason, you cannot read this document, please visit:
http://www.gismonitor.com/news/newsletter/archive/archives.php?issue=20061214
---
Editor's Introduction
This week I report on an Autodesk seminar on CAD and GIS that I attended at Portland Precision Instruments (PPI) and the conversation I had afterward with the two presenters and a PPI application developer. (This will be the last time that I focus on the relationship between CAD and GIS this year. I promise!) This discussion of Autodesk's geospatial products is peppered with references to the industry's "800 pound gorilla." I also bring you a letter from a reader and a tidbit from popular culture. Plus, my usual roundup of news from press releases.
For an article in next week's issue, I would like to hear from anyone involved in, or with informed opinions on, the proposal to establish a federal advisory committee for the NSDI. Just send me a message with "NSDI governance" in the subject line and I will send you my questions.
— Matteo
---

---
Autodesk: Beyond Vanilla AutoCAD
Autodesk's Infrastructure Solutions Division (ISD), the company's GIS branch, is promoting Map 3D as the best way to "bridge the CAD-GIS gap." Map, it claims, allows organizations to transition seamlessly from the world of CAD to that of GIS — maintaining the precision of the former, accessing data created in the latter, and using tools from both, without retraining or replacing staff.
According to Peter Southwood, an ISD Geospatial Technical Specialist, Map is successfully "revisiting" such traditional functions as drawing clean-up tools, standards, classifications, and multi-user access to the same AutoCAD drawings. The product builds on Autodesk's feature data object (FDO) technology, which allows users to read and write data in SDF, SHP, ArcSDE, MySQL, ODBC, OGR, GDAL, WMS, and WFS formats.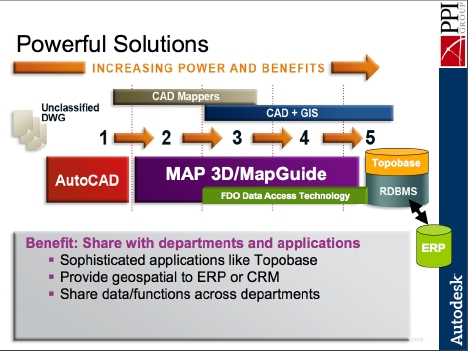 Courtesy of Autodesk and PPI.
Southwood, who has been with ISD for ten years, has 25 years of experience in the CAD/GIS industry, including a stint as lead application engineer for Autodesk Asia Pacific. He was in Portland, Oregon, this week, for his first "road show," as he called it, with Portland Precision Instruments (PPI), which recently set up a new geospatial group. Southwood presented a three-hour seminar jointly with Mike Dana, a PPI Geospatial Solutions Analyst. Dana, who holds an M.S. degree in geography and has been in the geospatial industry for 12 years, describes himself as an "ESRI user until 2006." He handles account management, "trying to listen to people's business model and to see whether we've got some ideas that might help them out geospatially, product-wise," he says.
According to Dana, the roughly twenty seminar attendees were from both the private sector and the public sector, including seven from local governments in the Portland metro area, some from the telecom industry, and several IT people. Several were ESRI customers. (I noticed that, with only one exception, everyone in the room was a man.)
The three-hour presentation covered two Autodesk products, Map 3D and Topobase, and the company's "geospatial value chain" — which starts with AutoCAD and ends with Topobase:
AutoCAD — DWG
Map 3D — DWG
Map 3D — MapGuide — FDO
Map 3D — Spatial Databases
Topobase — Database Solutions
ISD, Southwood told me, is "looking at how organizations can maximize the investment of both people and data" by transitioning from "a vanilla AutoCAD" to "an Autodesk Map environment." Many AutoCAD users, he claims, "are unaware that you can have a product like Map gaining multiple user access to the same older CAD drawings." He acknowledges that ESRI is still the leader in the area of "deep analysis" but told me that, in response to pressure from its users, Autodesk is moving "by quantum leaps" to close that gap.
In his presentation, Southwood stressed Map's ability to access and edit ESRI data and demonstrated it on screen, linking to a live database. He then demonstrated how Map deals with imagery: in a just a few seconds, he appeared to import a 1.5 GB raster satellite image of the San Antonio, Texas, metropolitan area; he then zoomed in on The Alamo. The trick, he pointed out, was that Map had not actually imported the huge raster file, but only created a 50 KB link to it; when he zoomed in, Map selected the most high-resolution image available for the new extent. He also demonstrated Map's ability to overlay features onto Google Earth.
Southwood commented that MapGuide — Autodesk's free, open source Web publishing solution — "blows away" ESRI's ArcIMS; that Microsoft has embedded Autodesk's DWF, which he describes as an "intelligent PDF," in its new operating system, Windows Vista; and that TopoBase works strictly with Oracle, for which Autodesk is an authorized reseller. However, he pointed out, Oracle Database 10g is available as a free download.
Autodesk's worldwide roll-out of Map has been "incredibly good," Southwood says. Among the reasons for this success is, he cites, the ability it gives users to "get to the ESRI data directly, without the need to translate," often "maintaining the integrity of the original data." Autodesk's decision to open-source the product, he says, was wildly successful — "It has exploded, it's just gone nuts." — and the same is the case for TopoBase, which Autodesk launched three months ago. He describes TopoBase as "a solution" that Autodesk's partners help provide to its customers, rather than a product. "A customer can take it on board and run with it, but data models and business rules require a little bit more thought process."
While Autodesk is mostly known for AutoCAD, it has "many, many facets" Southwood says, and ISD is the company's fastest-growing division. While he readily acknowledges that ESRI is still the industry's proverbial 800 pound gorilla, "the tide is turning," he says. Meanwhile, if an ESRI solution can resolve a client's business issue, "that's great."
Autodesk, Southwood points out, has partnered on TopoBase with CH2M Hill, which, in turn, has "a very healthy partnership" with ESRI. "Very, very early at the inception of the GIS division of Autodesk, we had an extremely strong relationship with ESRI, because the CAD tools from AutoCAD were the tools used within ESRI products." However, he says, that relationship changed as soon as Autodesk released Map. His company, he says, has also had "an extremely strong partnership with Oracle, over many years" and "differing relationships with Intergraph," which "brought some strengths to us in the early days."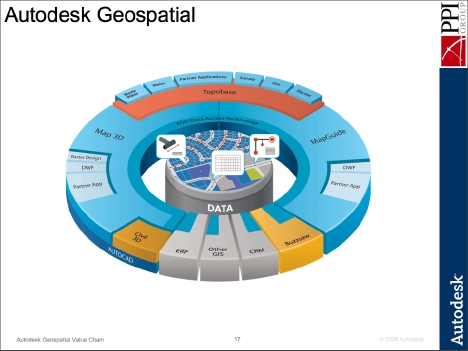 Courtesy of Autodesk and PPI.
PPI's Geospatial Group
A few months ago, PPI set up its geospatial consulting group. In addition to Dana, it hired Dusty Gallinger, as an Application Engineer. Gallinger — who has a BS in computer engineering, seven years of experience as an Autodesk technical specialist, and experience doing third party application development on Autodesk products — says that he is "attempting to be all things technically geospatial" at the company. I asked him how he uses GIS. "I don't use it in a production sense," he told me. "We are here to help our customers. This geospatial team at PPI is very new. We are just getting our hands wrapped around the opportunities, introducing ourselves to our customers."
Does Gallinger see a pattern in customer needs? "On the technical side," he told me, "the issue that I've dealt with, in the limited numbers of customers that I've dealt with to this point, has been the interoperability between Autodesk and ESRI. That seems to be the theme, no matter where we go. They are using ESRI. They want to explore other options, Autodesk being the other most popular one that we've seen, probably because we are now an Autodesk vendor."
"It's super exciting to me," Dana says of his new job. "It felt like a risky change for me to make, having invested so much time and energy on the ESRI side. It became a no-brainer the more I talked to PPI, the more I learned about what was going on with Autodesk geospatial." Dana brings "the industry context," he says, while Gallinger fully understands the development environment and the Civil 3D and Map product lines.
Interoperability, says Dana, is one his customers' biggest concern and most future developments in geospatial technology will probably take place in databases. Most GIS shops, he says, will be hybrids, with multiple vendors. "That's OK. We're here to listen, find out what is and isn't working, and then propose ideas" — whether that means developing applications for customers or providing them with technical training. "We are starting to carve a niche for ourselves helping people deal with issues around SDE and interoperability" — such as activities that are unexpectedly processor-intensive.
From CAD to GIS
Rather than wanting to move from CAD to GIS, Gallinger says, most of his customers "want to exist in both worlds." Map "allows them to have the precision of CAD drafting but is a GIS tool as well." Southwood, whose background is in architecture and design, claims that, because he uses Map, he knows only about ten AutoCAD commands, which he uses to access more traditional CAD functionalities. "Progressively, year by year, that line between CAD and GIS has been getting fuzzier and fuzzier and fuzzier. It is in the process of just melting, blending." Geospatial professionals, he argues, are increasingly focused on information, whichever its source.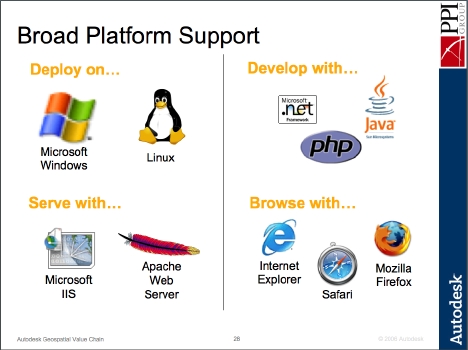 Courtesy of Autodesk and PPI.
Does this mean that the various geospatial professions will begin to merge as well? No, says, Southworth; the professions, while overlapping, will never go away. "You are going to have PEs, architects, and professional GIS personnel." The data, however, is being increasingly shared, rather than kept in silos. Will the changing tools change the division of labor? "I'm certain that [nowadays, in college], as a professional engineer, part of my curriculum would be GIS-based," says Southworth. "I grew up [when surveyors still used] chains."
Dana points out that CAD and GIS tool sets are starting to look more and more alike. This is no accident, says Southwood. One of the greatest compliments he ever received, he recalls, was during a presentation he did for an extremely large ESRI user in Los Angeles: "I was presenting some of their data within Autodesk Map. This gentleman stopped me and said 'Hey, that looks just like ArcView, but a lot easier.' He was actually the ESRI administrator within this organization."
"GIS has traditionally been about birds and bunnies and trees and that sort of thing," says Southwood. "That is the way it has always been viewed and it is not quite accurate, because it is actually dealing with the analysis of some very, very complex data and models. The strength that CAD brings is that precision, that engineering. Those two strengths are merging." Autodesk Map, he argues, accomplishes that merger best.
Could a new AEC company — with complete freedom to choose its staff, training, and tools — do all of its geospatial work using just Map? "At the moment, I would say, honestly, a good 80 percent you could do in Map," says Southwood. "It is common knowledge that we are lacking in those deep analysis tools that ESRI are very, very clever in doing. As a company, Autodesk is pretty aware of that and we are getting there." According to Dana, "the missing pieces on the analysis side" will come mostly "from the database side," especially Oracle Spatial.
---
---
Letter to the Editor
Dr. Thomas H. Mace, of the NASA Dryden Flight Research Center in Edwards, California, sent me this message, specifying that it represents his own opinion, not necessarily NASA's:
I read with some interest Cruver's piece in GIS Monitor on spatial thinking. It reminded me of a lecture that Professor Arthur Robinson used to give about "literacy, numeracy, and graphicacy" in his course on small scale cartography at the University of Wisconsin-Madison. His main point was that we educate people in the Western world reasonably well to read, write, and perform simple arithmetic, but we fail miserably in educating the general public to understand and use graphical representations of reality (maps). Of course, the GIS-era words are different, but the point seems to remain. It's unfortunate that after over thirty years and the proliferation of spatial data over the Internet, the problem he articulated still remains. I'm not sure Google Earth will fix that. I think we still need some old fashioned teachers, like Robbie.
---
Briefly Noted
Geospatial technology is penetrating popular culture in ever new ways. GPS receivers are now even being used as metaphors for any kind of guide. In his blurb for The New York Times Practical Guide To Practically Everything, edited by Amy D. Bernstein and Peter W. Bernstein, which appears in a full-page ad for the book in The New York Times, Tom Brokaw, author of The Greatest Generation and former anchor of NBC News, wrote: "This handy guide is a wide-ranging and lively GPS system for the many bewildering choices and questions we all have every day."
---
News Briefs
Please note: I have culled the following news items from press releases and have not independently verified them.
---
---
Advertise with Us
You can reach more than 23,000 GIS professionals every issue by sponsoring GIS Monitor. For more information, email us.
---
Contact
Please send comments and suggestions to:
Matteo Luccio, Editor
GIS Monitor
Ultimate Map/GIS Directory — Your search is over!
GIS Monitor is published by:
Reed Business Geo, Inc.
100 Tuscanny Drive, Suite B-1
Frederick, MD 21702 USA
Tel: +1 (301) 682-6101
Fax: + 1 (301) 682-6105
---
Subscribe/Unsubscribe
If you wish to subscribe or unsubscribe visit our subscription page.