Departments:
Points of Interest, Kudos and Conundrums, Week in Review (Announcements, Contracts, Products, Events, Training, Hires) Back Issues, Advertise, Contact, Subscribe/Unsubscribe


If, for some reason you cannot read this document, visit: http://www.gismonitor.com/news/newsletter/archive/082604.php

How GeoTechs are Described
.
I read a lot of press releases and stories about companies involved in geotechnologies. I've been taught to ignore any marketing fluff about how thus and such company is the "world leader" or "leading provider of" or "the nation's largest" in any particular category. Those descriptions are typically developed by the companies themselves, and are not that interesting. The descriptions of those companies in the local, national, and world press are interesting.
Here's a quick list from this week's geotech coverage in the non-geotech media.
A "company that makes graphing and mapping software." (Richmond Times-Dispatch, Virginia, describing Intergraph)
"a company that produces maps for the US Forest Service" (The Press-Enterprise, Inland Southern California, describing ESRI)
"a design software firm" (The Telegraph, Calcutta, India describing Autodesk)
"architectural software company" (Marshfield News-Herald, Wisconsin describing Autodesk)
"software maker" (Bloomberg news service describing Autodesk)
And, here's one from a company press release I found intriguing:
"a leader in electronic geography" (Offshore Systems International, Ltd.)

Attend GITA's GIS for Oil & Gas Conference and explore how geospatial information can help you meet pipeline integrity and regulatory compliance challenges while maximizing your operations.

Letters
.
• Joseph Kerski, who focuses on Education/GIS at the U.S. Geological Survey, shared a link to his take on the ESRI Education Conference and the "regular conference."
"Your readers may want to note that there was an Education User Conference in conjunction with the UC last week in San Diego. I describe both events in my report (pdf)..."
• A reader shared this after reading about my conversation with Jack Dangermond.
"[It's] funny how what Jack/ESRI see as disruptive, is technology that is not within the domain of ESRI. [It's] like the Microsoft joke about when the light bulb goes out, dark is the new standard."
• Phil Rufe of USGS chimed in on the Australian colors at the Olympics.
"You mentioned that you didn't understand why the Australians wear green and yellow to compete. I can't speak for the Olympics, but when Australia plays international test matches in Rugby, they wear a yellow jersey with green trim and green shorts and have done so for decades."
• Wayne Hewitt at ESRI has the definitive statement:
"I am a long time reader, first time responder.
"In the August 19, 2004 edition of GIS Monitor, you asked the question
"'And, why are the Australians wearing green and yellow? I had more than a bit of trouble keeping them straight in the pool (yellow bathing cap?) and on the beach volleyball court. Isn't Australia's flag red, white, and blue? Even Australian journalists made fun of the team's green outfits in the parade.'
"While the Australian flag is indeed coloured red, white and blue, those colours are neither Australia's official colours (green and gold) nor its traditional heraldic colours (blue and gold). Green and gold has been used traditionally by Olympic and international sporting teams since 1899. They were officially proclaimed the Australian National Colours in 1984."
"The colours originate from the golden wattle - the floral emblem of Australia. The green comes from the foliage and yellow from the flowers.
"BTW. The Australian journalists were making fun of the style, not the colours."
• Alexa L. Jacroux Biggs at Manthos Engineering, LLC shared my concern about the lack of geographic information in the Olympic broadcasts in the United States.
"I'm glad someone besides me was disappointed with NBC's lack of geography for its short special interest stories. In a nation that is notably lacking in geography skills, it would have been a wonderful opportunity to educate Americans about not only our Olympians but our competitors as well. How difficult would it have been to show the continent, then zoom in to the country during the opening ceremony when each country marched in? How difficult would it have been to briefly show a map illustrating the country and major cities where the subject of the special interest story was from? It's at times like these that I feel angry about a lost educational opportunity and having the stories dumbed down."
• Bill Thoen wonders if Google is indeed the wrong tool for finding geodata on the Internet.
"In your article on 'Conversation with Jack Dangermond' you wrote, "I've raised my concerns in the past about using the 'wrong tool,' Google, to seek geodata before."
"Wrong tool? Maybe so, but it's righter than a lot of the so-called 'right tools.' I often find spatial data using Google faster than I can using the geodata sites' own search tools. In particular, if you're looking for specific data at the state or county level and are unfamiliar with that area's Web resources, it's usually worthwhile to run a Google search first before fighting with an oftentimes slow, cranky interactive map data cataloging tool."
• I noted an AP story titled "Cartographist Works on Mapping Maine Lake" on the GIS Monitor website last week and asked readers if they knew the term "cartographist."

Reader Bill replied:
"Your cartographist question compelled me to look as I had never heard the term, and I am a Cartographer.
"I found it on a university website in Korea, so it might be more of an international word."
The editor responds: I found that reference also and wondered if it was a mistranslation of some kind. I also found references to stellar cartographists in the science fiction world.



Points of Interest
.
Can't Get Enough? Read the latest Points of Interest daily on our website.
Bentley and ESRI. Two weeks ago I noted that Bentley did not have a booth at the ESRI Conference despite a well-advertised relationship announced early in 2003. (Bentley's recent acquisition, Haestad, was in attendance at the ESRI Conference, and has been an ESRI partner for many years.) That Bentley "proper" was not in attendance struck me as very odd.
I contacted Bentley and was told that the company had decided to focus on events like CableTech and Fiber to the Home (recall that Bentley acquired CIS, a cable solution, earlier this year) and GITA, GeoTec, URISA, InterGeo, GeoSolutions, and Society of Military Engineers. The company has been running its own seminars, too. Bentley felt it could best showcase its MicroStation based industry solutions at these events. I was told that nothing has changed in Bentley's desire to continue working with ESRI to support AEC/GIS interoperability.
I spoke to Dave Leonard who manages Strategic Alliances at ESRI. He confirmed that the products planned for delivery at the outset had been delivered. These allow: (1) MicroStation to read ArcGIS data and ArcGIS to read DGN and DWG files, (2) ProjectWise to access ESRI data formats, and (3) ProjectWise to have an enterprise connection to ArcSDE.
Then he explained what he termed the evolution of the relationship. At the outset, Leonard explained, there was a vision that the two companies would be co-marketing complementary products. However, the relationship has continued to evolve with each party having their own target market and product offerings that occasionally overlap. Leonard explained that for a joint customer application, the two companies will go in together with a message of interoperability and compatibility but on other occasions the two companies may bid against each other.
Bentley representatives used the term "coopetition" to describe the relationship, noting that "as a result of the two companies' cooperation, Bentley delivered a game-changing product with ProjectWise Geospatial Management."
Bentley is currently supported as a developer of interoperable CAD technology by ESRI. The two companies are no longer members of each other's formal business partner programs but indicated that they will team on opportunities when appropriate.
The Earth at Night. A composite image from Defense Meteorological Satellites Program images results in a graphic of the earth at night. There's a high resolution version for those who want to print it. There's a nice discussion of how to interpret it here.
Manifold vs. ArcGIS Revisited. Since I posted the link to a document comparing the process in the two products, the document moved. The new URL is this one. Many of you have contacted the librarian at Cornell saying the original link doesn't work. Folks, this is the Internet! Links change! Things move! A quick search on "Manifold ArcGIS" found the correct URL for the document as the #3 choice. (The first two note the old URL as posted to a newsgroup.) Let's give Marcy at Cornell a break, ok?
Microsoft Loses Money and More Due to Geography Errors. According to The Guardian, Microsoft employees have been arrested and the company has lost millions due to errors related to basic mapping and the use of offensive language in its products. When a territory was not shown as part of India, that country banned Windows 95. More recently a game included phrases from the Koran, prompting the Saudi Arabian government to make a formal protest. The game was withdrawn, worldwide.
Finding the Center. The president of Penn State wants to know where the geographic center of the state lies. Lore says it falls in a distinguished place on the Penn State Campus. (As geography students we proudly noted that the University is at the state's center, in Centre County.) In fact, the center may not be in State College after all. While it's hard to say, recent studies suggest it's near Spring Creek, between State College and Bellefonte, the county seat. Mark Gahegan, professor of geography and associate director of the GeoVISTA Center says a definitive answer may be elusive. One big challenge: the exact boundary of the state is not consistent.
Autodesk Up. For the second fiscal quarter ended July 31, 2004, Autodesk reported net revenues of $280 million, a 32 percent increase over $212 million reported in the second quarter of last year. Revenue from the AutoCAD family grew 30% over last year. Subscription revenue increased 45 percent over the prior year to $41 million. I didn't find any specific mention of Infrastructure Solutions Division (aka GIS) revenues or products.
Early Notification. Symmetry Systems put out a PR which noted it had been acquired by Bentley. GIS Monitor reported that on July 15.
Olympic Sensors. There's an interesting article on the sensors at work timing the Olympics at SFGate (San Francisco Chronicle). These sensors need to know not just where athletes are, but when. From touch pads in the pool that can tell if one member of a relay team takes off before a swimmer touches to transmitters on marathoners shoes there's a lot of technology involved. I have two favorites that I saw: the world record line which moved ahead of swimmers to identify where they'd need to be to beat the record and an overlay of a trampoline program with one from the preliminaries that showed how well the routine was repeated.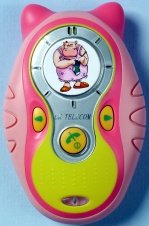 Cell Phones for 4-Year-Olds. A three button cell phone, with tracking, is available for use in the UK. Called Mymo (for "my mobile," get it?), the L60 phone comes in two colors and does require that the children know how to read. That's how they select one of the five stored numbers that can be dialed. This phone has one less button than the SK Telecom offerings noted in July.
Another Use for Camera Phones. This has little to do with geography, at least not yet, but perhaps in time, it may. Jane magazine is running a promotion (registration required) for several of its advertisers that works this way. If readers snap a picture of a vendor's ad and e-mail it to the magazine, they receive a "prize" like a gift card, a discount, or the chance at winning a new jacket. In time, would it be valuable to know where readers were when doing something like this?



Kudos and Conundrums
.
Have you seen something in our industry worthy of kudos? Or that makes you scratch your head? Send it on. You may take credit or remain anonymous.
Kudos (concepts we applaud)
Moblogging with MapPoint. A reader recently asked about an automated solution for using a GPS-enabled camera phone for capturing data for emergency response situations. Neither I, nor readers came up with a simple solution. But, Guy Kewney, writing at vnunet, describes a demo of MapPoint that sounds pretty cool. It's basically a mobile blogging solution using the Microsoft service, but it could be very simple to use.
Conundrums (concepts we question/give us pause)
Microsoft Out. Microsoft pulled out of the United Nations Center for Trade Facilitation and Electronic Business, an international standards organization created in1996 to develop technology standards that facilitate trade among different economies worldwide. Microsoft cited intellectual property rights issues. Information Week reports, "In the end, Microsoft's accelerated push to increase the number of patents it holds won out over any desire to participate in the standards organization." Microsoft is actively pursing its cache of patents hoping to move up from 30th place to the top 10 of U.S. patent holders. Microsoft was once a member of the Open GIS Consortium, but left that standards organization, too.




Week in Review


Please note: Material used herein is often supplied by external sources and used as is.


.
ArcGIS software from ESRI provided 9/11 Commission members with two-dimensional and three-dimensional analysis and visualization of activities surrounding the hijacking of commercial airliners on September 11, 2001. ESRI supported the 9/11 Commission staff responsible for writing "Staff Statement 17-Improvising a Homeland Defense" and the first chapter of the commission's final report. The work was done for no fee.

At the emergency request of the Disaster Relief Organization (THW) of the Federal Republic of Germany, the ZKI of the German Remote Sensing Data Center (DFD-DLR) and European Space Imaging rapidly compiled IKONOS satellite imagery from Space Imaging's extensive archive to create an image base map of the area around the capital Dhaka. The maps are to be used in a joint humanitarian aid campaign by THW and the United Nations (UNOCHA).

"Vertical Accuracy Reporting for Lidar Data V1.0" was approved by the American Society for Photogrammetry and Remote Sensing (ASPRS) Board of Directors in May 2004. This is the first in a series of guidelines to be published by ASPRS covering the emerging technology of LiDAR and its use in the mapping sciences.

Another State from the Offices for Land Surveying in Germany has joined a project to use Laser-Scan technology to develop their generalization capability. Schleswig-Holstein joins existing members from Baden-Württemberg, Rheinland-Pfalz, Nordrhein-Westfalen, Saarland, Hessen, and Thüringen.

ORBIMAGE Inc. announced that its OrbView-2 satellite recently passed its seventh successful year of operations with an unprecedented availability rate of over 98%. ORBIMAGE expects OrbView-2 to continue providing service for at least another 3 to 5 years. Since its launch on August 11th, 1997, OrbView-2 has traveled more than 1.6 billion kilometers (1 billion miles), made over 37,000 orbits around the Earth, and collected more than 500 billion square kilometers of multispectral (color) imagery as it images the entire earth every day.

Pictometry has secured new license agreements with prominent aerial imaging and mapping firms for the United Kingdom and Italy.

P2 Energy Solutions announced that Tobin International will be rebranded as a product line within P2 Energy Solutions, Inc. On January 6, 2004, the company announced the merger of Tobin International and P2 Energy Solutions, which created the oil and gas industry's largest provider of enterprise software, services, mapping data, and storage systems. Since the merger, the resulting company has undergone rigorous evaluation of products, market demands, and strategy. P2 Energy Solutions will remain the corporate name while Tobin will become a product line, joining the other leading product lines of Entelligent, Excalibur (formerly Paradigm Technologies), and Enterprise Upstream (formerly Novistar).

• Contracts and Sales
.
Space Imaging announced that is has sold over $1.6 million of IKONOS satellite imagery to The Alaska Department of Veterans and Military Affairs (ADMVA) for the new Alaska Aviation Safety Project (AASP). The ADMVA has contracted with E-Terra, a leading GIS applications integrator, headquartered in Anchorage, to use the IKONOS imagery to develop accurate flight simulation training modules of the 12 key mountain passes for the AASP.

The Geauga County Ohio Auditor's Office has selected Hitachi Software and the HouseDiff service to generate building footprints and conduct building change detection on the county's aerial imagery.

SANZ Inc. has been awarded a contract for its EarthWhere Spatial Data Provisioning Application software with the U.S. Department of Agriculture's Farm Service Agency (FSA). The EarthWhere application will be deployed at the Aerial Photography Field Office in Salt Lake City, UT to help streamline imagery management and dissemination processes in support of the National Agriculture Imagery (NAIP) program.

Vexcel Corporation announced a contract with the Instituto Geografico Militar (IGM), Chile, for 12 DiAP mapping systems. The IGM, located in Santiago, is a key mapping organization within the Chilean Military responsible for a large range of national mapping programs at various scales. The DiAP software package provides the digital equivalent of all the functions of an analytical stereo plotter and will be used as the main topographic mapping system within the IGM.

NAC Geographic Products Inc. and Zeitgeist Data Management, Inc. (ZDM) of the United States have reached an agreement to license NAC Technology for ZDM's wellActivity.com - a well activity information system for the United States. wellActivity.com provides an online searching service of a real-time updated well permits database of the United States. The service allows users to search well permits by date, areas, and business names, and provides maps and driving directions to the found wells. The challenge faced by ZDM is that all wells are in the rural areas where there are no addresses. NAC provides a simple way to assign addresses based on a grid of the world.

MapData Sciences Pty Ltd (MDS) will supply Australian mapping data to Microsoft Corporation for use with Microsoft's mapping solution, MapPoint Web Service 3.5 (MWS).

SmartRoute Systems, Inc. (SmartRoute), a Westwood One company announced a multi-year cross-licensing agreement to integrate SmartRoute's traffic incident data into the NAVTEQ Traffic solution for certain navigation-enabled devices in North America. The agreement also enables SmartRoute to offer its customers traffic data and other information geocoded to NAVTEQ maps.

• Products
.
Leica Geosystems has introduced a new series of GPS reference station receivers based on its next-generation System 1200 technology. The GRX1200 and GRX1200Pro incorporate Leica's 12 L1 + 12 L2 SmartTrack GPS measurement engine, which acquires all visible satellites within seconds, provides clean high-accuracy code and phase measurements with excellent signal-to-noise ratios, provides reliable tracking to low elevations, suppresses multipath, and resists jamming.

Facet Technology Corporation, a computer software and services company, announced the launch of a massive digital video image library containing georeferenced imagery of roadways and arteries throughout the United States. This information is being gathered as an additional component alongside of a surveying project we are working on for Harris Corporation in support of their contract to update the TIGER files for the U.S. Census Bureau and 2010 census.

CubeWerx, a provider of spatial data warehousing and OGC compliant Web services software products, announced the release of its CubeWerx Web Registry Server solution. Implemented as a component of a Web services-oriented architecture this product nicely integrates into Spatial Data Infrastructure implementations. These implementations are often characterized by their Web portal applications supporting the discovery of meta-data about geospatial data and geo-processing services. CubeWerx WRS supports the discovery and binding to these Web resources using the latest OGC Catalog version 2.0 Specification adopted by the Open GIS Consortium in August 2004.

LizardTech announced that its next generation MrSID format (MG3) is now being supported in GE Energy's Smallworld product suite.

• Events
.
The 9th Annual Integrating GIS & CAMA Conference, the specialty conference jointly sponsored with the International Association of Assessing Officers (IAAO), will be held February 15-18, 2005 in Savannah, Georgia.

The annual ESRI South West User's Group (SWUG) conference will be held October 18-22, 2004, in Telluride, Colorado. Early registration ends September 1.

The ESRI Mid-Atlantic User Group (ESRI-MUG) will hold its annual GIS conference December 1-3, 2004, at the Hilton Silver Spring, Maryland.

Former Director of Central Intelligence, George Tenet, will give the opening keynote address at the GEOINT 2004 Symposium. GEOINT 2004, the premiere geospatial intelligence event of the year, will be held October 12-14, 2004, in New Orleans.

• Training
.
Bentley Systems, Incorporated announced that it will grant Haestad Methods software valued at $5 million to colleges and universities with degree programs in civil and environmental engineering.

• Hires
.
Image Matters LLC, an information technology firm headquartered in Leesburg, Virginia, recently appointed Kurt Buehler as President. Buehler is a recognized leader in the geospatial industry and a founder of the Open GIS Consortium, Inc. where he served as Vice President and Chief Technology Officer.

URISA announced the results of its 2004 Board of Directors Election. Cindy Domenico will become President-Elect of the association and Eric Bohard, Shoreh Elhami, and Allen Ibaugh will begin their three-year terms as members of the Board of Directors, at the close of URISA's 42nd Annual Conference in Reno, Nevada this November.

The University Consortium for Geographic Information Science (UCGIS) appointed Jack Sanders as its Executive Director. Prior to joining UCGIS, Jack worked as a consultant for the Home Builders Institute and the Electronic Data Initiative for Nonprofits, was a National Director for Epylon Corporation, Executive Director for Independent Education Services and the Vice-President and Managing Director for the National Association of Independent Schools. He also works as a consultant for the Water Environment Research Foundation and has had extensive background and work experience with universities and their faculty. Jack assumed the Executive Director duties for UCGIS on August 2, 2004.

GIS Monitor Back Issues





Advertise With Us
You can reach more than 17,000 GIS professionals every issue by sponsoring GIS Monitor. For more information, email us.





Contact
Please send comments and suggestions to:
.
Adena Schutzberg
GIS Monitor Editor
Ultimate Map/GIS Directory - Your search is over!


GIS Monitor is published by:

GITC America, Inc.
100 Tuscanny Drive, Suite B1
Frederick, MD 21702 USA
Tel: +1 (301) 682-6101
Fax: + 1 (301) 682-6105




Subscribe/Unsubscribe
If you wish to subscribe, unsubscribe or change your preferences visit our
subscription page.