2006 March 30
If, for some reason, you cannot read this document, please visit:
http://www.gismonitor.com/news/newsletter/archive/archives.php?issue=20060330
---
Editor's Introduction
This week I bring you two interviews: one with Daniel Burrus, the keynote speaker at the GIS-T conference, and one with Chris Bradshaw, VP of Autodesk's Infrastructure Solutions Division. I also bring you a few photos and statistics to supplement last week's story about the use of handheld devices at the Commonwealth Games in Melbourne, Australia; an item in the news in Boston, where I am this week; a few corrections on last week's piece about Autodesk; and my usual roundup of the news from press releases.
For the next month I will be reporting from Italy, but I will continue to bring you news from the United States as well. In particular, next week I will report on conversations I had in Boston this week with executives from Skyhook Wireless and uLocate. Next Tuesday, at CTIA Wireless, Skyhook Wireless will be releasing Loki, a new software program that uses wireless access points to locate WiFi-enabled devices. Ulocate writes location based services (LBS) software and is a partner of Skyhook Wireless.
— Matteo
---

---
Interview with Daniel Burrus
On Monday I caught up with Daniel Burrus shortly after he gave the keynote address at the GIS-T conference in Columbus, Ohio. He has also been the keynote speaker several times at Intergraph's Geospatial World.
"We are at the base of a mountain of technological change that is going to be very dramatic over the next five to seven years," Burrus told me. He pointed to three "change accelerators:" the exponential growth in computer processing power ("the Sony PlayStation, with which kids will be playing this year, has a processing power equivalent to that of a multimillion dollar supercomputer in the year 2000"), in storage space, and in broadband — all three of which are on growth curves that are now nearly vertical.
The important thing, says Burrus, is to focus on integrating old, current, and emerging technologies into a more powerful whole, rather than seeing them as standalone. "Right now a lot of the people in GIS are actually being transferred to IT departments," he told me. "GIS and IT need to be together more closely." As Web services and XML are enabling better communications and a standards-based way of letting everyone share data, the challenge now is to integrate proprietary systems with Web services.
We also need to be creative about GIS applications, says Burrus. When GPS began to be used for civilian applications, he points out, we didn't see that it could be used, for example, as a more accurate way to monitor a boat's speed than a traditional boat speedometer. Likewise, he argues, GIS and geospatially enabled GIS data are going to create all sorts of applications that many of us are not visualizing yet. For example, he told me, a police officer at the site of an accident could dial a number on a cell phone and have the location of the accident pinpointed by the state DOT in real time. (I didn't quite see the point of this example: the officer could simply carry a GPS-equipped PDA…)
"We have many silos," Burrus says, "especially in the public sector. County officials don't always share information and data with state officials, who don't always share it with other states…" Turf and ego, he argues, are the true barriers, not technology. However, when I asked him what the bottlenecks are, he pointed to "legacy systems and some proprietary software that is hard to use and share" and to "geospatially-enabled GIS data that doesn't integrate easily with the rest of IT and the regular data of the enterprise."
Burrus envisions what he calls "higher tech," which, he says, "is not the tool, it's how you use the tool — it's not the technology, it's how you are applying it." He also argues for "helping to change the way users think," so that they can maximize the use of the tool. "Most of the people with access to technology," he says, "are not fully utilizing what we've already paid for. Many people don't even know a lot of the features and functions that are already available to them."
Regarding transportation — the theme of the conference at which he'd just given the keynote address — Burrus cited such applications as traffic count and traffic maintenance. He pointed out that some states are already tracking snow plows and displaying on a website, in real time, where the snow has been cleared and where roads are still impassable. Because some states are this advanced while others are far behind in adopting geospatial technology, he argues that it is important to identify and promote "best practices" and that we should ask ourselves "Where are we in time? Are we in the past, the present, or the future? Where do we ideally want to be and what are the gaps that are keeping us from getting there?" This has much to do, he argues, with "openly sharing with each other."
Burrus credits the very rapid adoption of Google Earth to the fact that it is Web-based and points out that, as more and more technologies are going Web-based, "change and usability happens faster." He sees Google Earth as a tremendous boon to the geospatial industry, because it is "getting the public interested in maps and in the connection of data to maps and location-based data. It is getting young people, who are the future of the industry, excited about it. Because without Google doing that I would say most students wouldn't even be thinking about anything like that. So we have a unique window to get young people excited about this profession, which I think is unique. Normally industries do not experience that. This is something that has been handed to us: are we going to use it or are we going to blow it?"
During a recent visit to Microsoft, Burrus told me, some of the company's executives showed him what they are preparing as a counterpart to Google's maps, besides Microsoft Virtual Earth. "They are trying to do things that Google maps don't do, so that they can have something that is unique and has value added." This, Burrus argues, sets up a competition, as Google will try to come up with something that's even better and more unique. "So," he says, "you end up with a couple of companies that have a lot of R&D money, that are now concentrating on, basically, GIS, which is a very unique thing that most industries never have happen. The question is, how can we take advantage of that and see the multiple advantages that are hidden, like the advantage of getting young people excited about maps and data?"
At the GIS-T conference Burrus demonstrated a new, X-Box-quality 3D Web browser. "Being able to display things in three dimensions gives a whole new way to display and access the tremendous amount of GIS data that we are creating." Because the browser has not yet been released, however, he declined to reveal its name and manufacturer.
I pointed out that CAD and GIS are becoming increasingly blurred, as are the professional GIS applications and mass market ones. "I'd like to change the word from blurred to integrated," he told me. "Blurring is unintentional, integrating is intentional. As an industry, I want us to be more intentional in the blurring, i.e. integrating." As an example he cited the integration of aerial digital photography, elevation data, and highway centerlines, which allows a truck driver to determine the most fuel-efficient route and a real estate insurance agent to better assess flood risk.
"There are many industries that could use advanced GIS coupled with GPS and CAD and so on. And that's going to help grow this market tremendously, too: thinking about who could use it. We could sit back and wait for people to use it, for companies to see the advantages, but it might take ten years to get on their radar. We need to actively make sure that it is on their radar, so that they can help to fund and grow the industry."
---
Autodesk Outlines Its Business Outlook
Two weeks ago I had a conversation with Chris Bradshaw, VP of Autodesk's Infrastructure Solutions Division. Besides telling me about Map3D 2007, on which I reported last week, he focused on two topics: Autodesk's 2005 figures and certain global trends affecting the company's business, customers, and customers' customers.
"Last year we had a fantastic year," Bradshaw told me, "driven by expansion in both our GIS and civil business — Civil 3D on the engineering side, the fastest-growing product in the history of the company, and Map 3D also doing extremely well. Civil 3D has been on the market for only about a year and a half, so it is in that early stage, where growth is very important. Last year we also made a big announcement: taking our new MapGuide technology into open source. The final thing we announced last year was the acquisition of a company called c-plan AG, in Switzerland. That acquisition continues to be extremely important for our future strategy. Right now we are doing a lot around R&D with that technology."
The company's "overall growth" last year, according to Bradshaw, was about 21 percent. "That is the third year in a row that we've been able to grow the business 20 percent or more." He cited a report from Dave Sonnen, of IDC, that showed, he said, that Autodesk was the fastest-growing spatial information management company in the world.
One example Bradshaw cites is the San Francisco Department of Public Works, which is using Map 3D and MapGuide and storing its data in Oracle. According to him, the DPW chose Autodesk's mapping technology in order to remain a step ahead of outside consultants, which the City reserves the right to use if it is not satisfied with the department's work. Bradshaw also points to the success of the Port Authority of New York & New Jersey, which worked with Autodesk's partner Microdesk. "Throughout the history of Autodesk," he told me, "value added resellers have been instrumental in helping us sell our products, but we've challenged many of those partners, over the past few years, to be more than just box movers. To move toward being solution providers, integrating services more, being able to provide custom application development and integration, and so on."
Bradshaw sees four key world trends that directly affect Autodesk. First, infrastructure projects are increasing. "In developed markets they tend to be around refurbishment and renovation, while in emerging markets they tend to be around new construction. Both need reliable and safe infrastructure, to keep their people happy and for competitive advantage." Second, "while there's tons of work, we are finding it increasingly difficult to find people qualified to do the work, especially the design work. Whether it is civil engineers, GIS professionals, urban planner, or technicians, there is a real, worldwide shortage of professionals for the geospatial industry." This, he explains, has been partly exacerbated by the baby boomer effect. Third, as a result of the first two, governments and private utilities are increasingly outsourcing, "calling upon private sector firms to do more and more of the design, construction, operation, and management."
This combination of abundant work, shortage of qualified people, and an increase in outsourcing has lead to the fourth trend: consolidation in the private sector. "Autodesk's research," Bradshaw told me, "revealed that in all aspects of infrastructure you find this consolidation trend across the board and across borders."
So, here's his punchline: these consolidated firms need solutions that span all aspects of infrastructure life-cycle — "not just GIS or civil," says Bradshaw, "for that matter, not just building or manufacturing, but also power plants and other mechanical equipment inside those facilities" — and that is what Autodesk provides. "We are really striving to continue to support this notion of a complete infrastructure and to have desktop applications as well as server applications and hosted applications that provide interoperable solutions across the entire spectrum of the infrastructure lifecycle. Increasingly, we are recognizing that customers are really looking to be able to leverage their data assets across the entire enterprise — so, spatial data that is stored in different parts of the organization needs to be brought together."
In Bradshaw's vision, this need to ensure that Autodesk's customers can access all of their information and then distribute it in as many forms as they deem necessary is what led the company to embrace open systems and open standards. That is why, he explains, Autodesk is the principal member of the Open Geospatial Consortium and was a driver and founder of the XML organization. "The Open Source Geospatial Foundation is pretty new and we have contributed our MapGuide technology to it. We used to only support Oracle Spatial; we now support SQLServer and MySQL. We continue to support other vendors' proprietary file formats, like ESRI shapefiles and ArcSDE and Bentley DGN files. We give our customers as many choices as possible."
Finally, as for Autodesk's direction with regard to its CAD-based products, Bradshaw had this to say: "A lot of people know how to use AutoCAD and have used it to create all kinds of geospatial and engineering data. AutoCAD has great geometric editing tools that, I would argue, are the best in the industry. Three years ago we discovered that Map didn't have very sophisticated geospatial tools — theming, picture classification, access to data, etc. In the past we focused on providing tools to CAD operators who found themselves in a GIS department. So, the focus was on better ways to manipulate geometry that a GIS might be interested in. In the last two releases we changed direction dramatically: we said 'We don't just want to be a CAD product for GIS people. We want to be a geospatial tool that allows people to get their job done. We know that one of those jobs is editing and managing the geometry, but we also know that another part of that job is classifying, theming, accessing databases, combining different data types, supporting different coordinate systems, transformations, etc.' So we moved away from thinking about CAD tools in Map3D and went much stronger toward what you would classify as more traditional GIS functionality. Especially in the last two releases, Map3D has really raised GIS capability, bringing it more in line with Intergraph's GeoMedia and ESRI ArcEdit-type products. And, by the way, this thing is sitting on the world's best CAD engine, so when it comes to data editing and management, it has all of that also. We think that Map3D is unique in that it really allows our customers to span CAD departments, historical engineering departments, and GIS. The next version of Map will continue much in the same direction as the previous, in that we know that there is even more geospatial capability that we can bring to Map3D that will further enhance it toward GIS."
---
Numbers and Pictures from Melbourne
Last week I reported on a project at the Commonwealth Games in Melbourne, Australia, using hand-held devices for multi-modal routing. Andrew Bashfield has since sent me some preliminary statistics on the use of the system during the first nine days of the Games (one day of just Opening Ceremony, followed by 8 days of sports events):
of 60 volunteers trained to operate the Directions Plus system, 30 were out amongst the public at any one time
visitors requested 1,053 different routes (i.e. different combinations of start and end points, and suggested public transport services)
volunteers printed out 1,800 route requests for visitors
volunteers sent 149 SMS and 20 MMS messages to visitors' mobile phones
the most common route request is from Federation Square (opposite the main city railway station) to the Melbourne Cricket Ground, known commonly as the MCG, site of the 1956 Olympic Games, the 2006 Commonwealth Games athletics and opening and closing ceremonies (74 times), followed by Federation Square to the Melbourne Sports and Aquatic Centre, site of the swimming and diving events (72 times).
Due to a production error, three photographs that were supposed to accompany last week's article didn't. Here they are: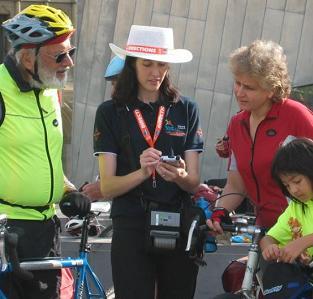 Jessica Davies using the system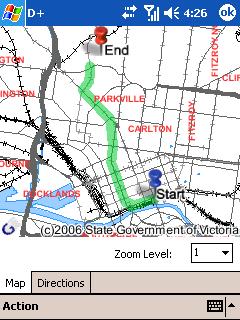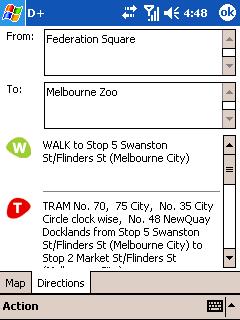 Screen shots of directions and a route from Federation Square to the Melbourne Zoo
---
Briefly Noted
An item in Monday's issue of Boston's Metro newspaper caught my attention: "GPS systems should be installed in new firearms — councilor," read the headline. "When thieves break into and steal an unwitting victim's car, authorities can often retrieve the vehicles if the owner installed Lojack devices. Now, one city councilor wants to use the same technology for tracking stolen guns. Councilor Rob Consalvo … says the technology exists similar to the Lojack-style that would allow manufacturers to place a GPS unit in all of its guns, enabling them to be tracked down if they are reported stolen. … 'It would cost a lot, there's no doubt about it, but it's the right thing to do,' he said. 'You can't put a price on public safety.'"
If you can get past the horrendous writing and syntax errors, it is obvious that the politician, the reporter, and the paper's editors have absolutely no understanding of the technologies they so casually mention. For starters, Lojack — which uses transceivers hidden in vehicles, relies on a land-based network of radio towers, and uses triangulation to locate and track stolen vehicles — has almost nothing in common with GPS, which is satellite-based, uses trilateration for positioning, and, for tracking, requires that GPS receivers be coupled with some kind of transmitter. Second, how would you hide a GPS receiver and a transmitter in a gun and prevent a thief from removing or disconnecting either one? Third, how would you power the transmitter so that it would broadcast a signal of useful range? I could go on…
---
Department of Corrections
Mark Christian, Autodesk's Technical Marketing Manager for Map 3D, pointed out a few errors I made in last week's piece on Map 3D 2007.
I wrote that the Data Connect Dialogue allows users to access an underlying data source. I should have specified that it allows users to directly access such a data source.
I quoted Christian as saying that Map3D gives users "the option of writing directly from MySQL." I should have written "to MySQL."
I wrote: "The key is SDF (Spatial Data File), an Autodesk format that enables users to store data as features in a database-like way." I should have specified that SDF is a new file format.
I quoted Christian as saying "We can now consume raster-based surfaces, such as GeoTip, ESRI ArcGRIDs, Dtech files, and USGS digital elevation models." I should have written ""We can now consume raster-based surfaces, such as GeoTIFF, ESRI ArcGRIDs, DTED files, and USGS digital elevation models."
I quoted Christian as saying "You can create fly-throughs, record that information, and write it out to, say, a wave file or a flash file to embed in presentations." I should have written "You can create fly-throughs, record that information, and write it out to, say, a wave file or avi file to embed in presentations."
I wrote: "First, you connect to the datastore … then the bulk copy tool allows you to move the data between any two databases, using an SGF file as the bridge." First of all, I meant SDF file. Anyway, scratch the last seven words! As Christian pointed out to me, Bulk Copy works without having to create an SDF file. You can directly move data between data stores (e.g. Oracle to MySQL, SDF to Oracle, ESRI to Oracle, etc.).
I quoted Christian as saying that Autodesk has released to the open source community "everything except the Oracle and the MySQL provider." I should have written "everything except the Oracle and the Microsoft SQL Server provider."
---
News Briefs
Please note: I have culled the following news items from press releases and have not independently verified them.
CONTRACTS & COLLABORATIONS
ESRI and Trimble, a manufacturer of GPS receivers, have launched the 2006 ESRI and Trimble Mobile Government Grant Program: Coastal Communities. Totaling more than $96,000, the ESRI and Trimble software, hardware, and training grants will be awarded to a total of 10 state, regional, and local governments within the United States.
The grant program is open to all disciplines engaged in activities that serve coastal communities. Both ESRI and Trimble recognize the need to support those government agencies whose work efforts must consider the distinctive issues that coastal government must address in dealing with development, delivering public services, and developing sound environmental and conservation policies.
The grant program has been established with two goals in mind. The first objective is to provide assistance to state, regional, and local government agencies in establishing 10 models that demonstrate concepts related to the development and implementation of innovative GIS and GPS applications aimed at improving government processes. The second objective is to provide reusable applications that can be shared between governments with similar projects via ESRI's public domain website.
The ESRI and Trimble Mobile Government Grant Program is a vehicle that provides additional applications specific to mobile government. Applications developed by the grant recipients will be posted on the ESRI public domain website beginning in November 2006. Government agencies can visit this website to download applications that have been posted throughout the past year and exchange ideas on issues that affect their communities, helping them better serve the public. Through this grant program and the ArcPad public domain website, governments can continue to meet their objectives via the open exchange of ideas and shared resources.
South East Water, an Australian company, has implemented Intergraph Corporation's G/Technology, to support a corporate-wide GIS system.
GeoEye's ClearView contracts for map-accurate imagery and services with the National Geospatial-Intelligence Agency (NGA) have increased in value by an additional $13 million. The latest increases are in addition to the $36 million awarded to the company in January, bringing the value for GeoEye's ClearView contracts to $49 million in 2006. These most recent increases represent additional imagery to be collected by the company's IKONOS and OrbView-3 high-resolution earth-imaging satellites.
The NGA's ClearView contracts require GeoEye to complete a variety of specific imagery collections supporting many NGA requirements. The imagery is processed at GeoEye's image processing centers located in Dulles, Virginia; St. Louis, Missouri; and Thornton, Colorado for delivery to NGA. GeoEye is currently building its next-generation commercial satellite imaging system, GeoEye-1, which will have a ground resolution of .41-meter. Launch is slated for early 2007.
Sierra Atlantic Ltd., the sole Indian distributor for RSI, a wholly owned subsidiary of ITT Industries, Inc, has received certification for ENVI to be used to process data from the Indian CARTOSAT-1 satellite. ENVI, a remote sensing exploitation platform, is one of only two products to meet the specifications and receive certification by the government-contracted ANTRIX Corporation.
The CARTOSAT-1 satellite, which was launched by Indian Space Research Organization (ISRO) on May 5, 2005, provides stereo data suitable for advanced and large scale mapping applications with its two panchromatic cameras having spatial resolution of 2.5 meters. The data are also a source for generation of Digital Terrain Models (DTM) / Digital Elevation Models (DEM). The certification states that ENVI complies with three major processing steps: Product Import and Image Processing, Single Image Triangulation, and Stereo Pair Triangulation. These processing capabilities are necessary to create Digital Elevation Models (DEMs), which provide spatially accurate 3D representations of entire images or features within a target area in an image. DEMs are practical in applications such as defense, where they are used in target authentication, field communication and data orthorectification.
The International Institute for Geo-Information Science and Earth Observation (ITC) and the Netherlands Cadastre, Land Registry and Mapping Agency ('Kadaster') have signed an agreement to cooperate in the establishment of a School for Land Administration Studies at ITC. The School will deliver land administration education and research within ITC, and will manage and execute a joint land administration programme with the United Nations University. This programme consists of a series of seminars, short courses, and networking.
The City of Round Rock, Texas, has selected Sanborn to perform utility conversion services. The project scope requires Sanborn to attribute the City's existing water and wastewater geodatabase features as well as updating the data from the scanned as-built drawings. Following this update process the true positions of the above ground features will be located using GPS and specified attributes will be collected. Upon completion of the field survey the features will be adjusted to their accurate geopositional location. The city will then be able to use GIS to develop and support vital operational and business applications as well as to support maintenance, planning, water and waste water management requirements.
Digital Quest, Inc. and the Institute for Advanced Education in Geospatial Sciences (IAEGS) have entered into a Memorandum of Understanding to collaborate on the development, marketing, and distribution of online GIS and remote sensing courses. This strategic partnership will result in a wider distribution of already existing courses as well as the creation of new courses to better address needs in academia, industry, and government.
The IAEGS at The University of Mississippi has created the Knowledge Delivery Engine and all of the tools necessary to effectively facilitate the creation and delivery of geospatial courses online. A current repository of more than 28 courses cover such topics as: introduction to remote sensing; decision support systems; orbital mechanics; digital image processing; business geographics; and aerial photographic interpretation. IAEGS, established in 2001 under the auspices of a NASA Challenge grant, is now offering these online courses worldwide.
Digital Quest, a private business member of the geospatial industry cluster in Mississippi, focuses on designing, developing, distributing and supporting geospatial/remote sensing educational, classroom-based products. Their STARS certification is a product created by SPACESTARS, LLC, a partnership with the Berkley Geo-Research Group. The STARS certification is designed to provide skill training in the field of geospatial technology which is among the top three fastest growing career fields in the U.S. with a 15 percent growth in new jobs projected over the next decade.
The partnership also includes the enhancement of Digital Quest's products and courses by the addition an internet-based option provided through IAEGS. This public-private partnership will result in a thoroughly comprehensive on-line offering of geospatial courses, educational products, and training modules available through the Web portal www.geoworkforce.olemiss.edu.
PRODUCTS
Pictometry International Corp., a provider of digital, aerial oblique imagery and measuring software, has released the Pictometry Viewer ActiveX control, which enables third-party software vendors and system integrators to embed Pictometry's oblique imagery and analytical tools directly into end user applications. Using the control, third-party software companies can now integrate their own customized version of Pictometry's software tools, similar to Pictometry's own Electronic Field Study (EFS) software, without having to leave their native application environment. This gives users access to Pictometry's software functionality in a third-party application.
The company has been working with numerous technologies and business partners to test, implement, and deploy its ActiveX control in other geospatial related systems. One of the first set of solutions where Pictometry has successfully integrated its ActiveX control is in ESRI's suite of GIS products that include ArcIMS and ArcGIS.
MWH Soft, a provider of environmental and water resources applications software, has released H2OMAP SWMM Suite. The release expands users' ability to manage sanitary, storm, and combined sewer systems, while DWF Allocator and Calibrator extensions enable wastewater engineers and GIS professionals to reduce modeling time, costs, and errors, and increase productivity.
Supporting native GIS data as well as the USEPA's industry-standard (and FEMA-approved) Storm Water Management Model (SWMM5), H2OMAP SWMM Suite integrates the needs of both GIS and wastewater engineering professionals in one package. Important features and enhancements simplify and accelerate urban drainage network engineering, helping wastewater engineers develop better designs and operational improvements faster and more efficiently.
The new Suite's most significant strengths include a DWF Allocator module that increases speed, accuracy, and flexibility in calculating, distributing, and managing dry weather flows in sewer network models. DWF Allocator automatically and reliably computes, tracks, and assigns dry weather flows generated by various customer categories, based on land use and development characteristics, population, sanitary service areas, parcel data, or meter data — considering existing sewer system conditions and various planning horizons.
Another highlight is the Calibrator module, which makes it possible to reliably and swiftly calibrate very large and complex urban rainfall-runoff models, supporting better analysis and design. Using genetic algorithms optimization technology, Calibrator automatically adjusts sewer and drainage system parameters to accurately match collected flow, depth, and velocity measurements for both single event and long term continuous dynamic simulations. These parameters can include any combination of subcatchment, soil, aquifer, RDII, and conduit properties.
Prepared Response, Inc., a developer of crisis management planning and response systems, has added GIS functionality to the Web-based version of its Rapid Responder crisis management system. The GIS capability allows police, fire, and other first responders to view a variety of features, such as streets, pipelines, railroads, or political subdivisions as layers on an interactive map. The GIS functionality allows emergency responders to create more accurate tactical pre-plans and respond faster and more effectively during a wide variety of emergencies, including terrorist-related incidents, bombings, civil disturbances, hazardous materials spills, fires, earthquakes, hurricanes, tornadoes, floods, and tsunamis.
The Rapid Responder crisis management system currently protects more than 1,230 sites nationwide, representing over 5,200 individual buildings and more than 135,000 digital images. The system is used to "digitally map and inventory" critical infrastructure, including public and private buildings, transportation systems, hospitals, utilities, schools, bridges and other structures. Using Rapid Responder, police, fire, and other first responders can instantly access more than 300 data points, including tactical response plans, evacuation routes, exterior and interior photos, floor plans, utility shut-off locations, and hazardous chemical inventories for virtually any facility.
GIS functionality has long been desired by first responders, but GIS systems typically require powerful computers with substantial bandwidth. One of the key features of Rapid Responder's GIS system is that it was specifically designed to operate on wireless networks, allowing for fast presentation of complex graphical and mapping data. Additional GIS functionality under development, through GPS integration, includes the cataloguing and tracking of mobile infrastructure such as ships, containers, rail, and fleet assets. This functionality will make it much easier for public safety agencies to track shipments of sensitive materials across the country.
CONFERENCES & SEMINARS
Homeland Defense Journal is hosting a training conference, titled "Achieving Actionable Situational Awareness: Geo-Spatial Solutions — The Next Generation," on May 4 in Arlington, Virginia. It is directed at government and industry executives and decision-makers.
The conference will focus on trends in secure Geo-Spatial enterprise solutions that provide actionable situational awareness for the enterprise. Speakers and topics will focus on integrated geospatial applications, data/sensor fusion, data security, and related technologies. Future and present needs for user-defined common operating pictures that integrate multiple technologies and data sources to deliver true actionable situational awareness will also be addressed.
The conference will cover enterprise solutions for data management, multisource data fusion, and field tracking and tasking. Participants will learn best practices in gis; providing a common operational picture; trends in securing an enterprise solution; critical needs in requiring a common operational picture in homeland security; the objectives behind the common operational picture in government applications, including homeland security; and COP: what is working and what is required.
Conference features include lessons learned and experience from executives and decision-makers; what the program managers would do differently if they started today; what worked and what didn't; what you need to know before you start; and case studies.
The conference is sponsored by Homeland Defense Journal, IT*Security magazine, Oracle, Intergraph Corporation, Wireless Communications Association, International Telemus Solutions, and Carroll Publishing.
The BE Conference, an annual gathering of Bentley software users and their managers who want to sharpen their skills and expand their knowledge, will be held in two locations this year - May 21-25 in Charlotte, North Carolina and June 11-15 in Prague, Czech Republic.
The BE Conference includes hundreds of sessions, including more than 300 learning units offered from the Bentley Institute; new technology updates direct from Bentley developers and product managers, including the latest on MicroStation V8 XM Edition; best-practice sessions: from accomplished peers and technology experts; and keynotes: hear from business gurus, Keith Bentley, and other Bentley executives.
PEOPLE
Sanborn has hired Roger Crystal, David Youngblood, and James Peterson. Crystal is the new general manager for the company's office in Portland, Oregon and will focus on management and improving operating efficiencies. He was previously with Aero-Metric, Inc. Youngblood, Sanborn's new Florida state regional sales manager, was previously with Airborne Data, Inc. He will be responsible for the success of market presence, client relations, and sales in Florida. Peterson joins Sanborn as the new assistant general manager for the St. Louis, Missouri location. He was previously with Missouri-based Engineering Design Sourced, Inc. His principal duties include management support and field survey operation planning.
---
---
Advertise with Us
You can reach more than 23,000 GIS professionals every issue by sponsoring GIS Monitor. For more information, email us.
---
Contact
Please send comments and suggestions to:
Matteo Luccio, Editor
GIS Monitor
Ultimate Map/GIS Directory — Your search is over!
GIS Monitor is published by:
GITC America, Inc.
100 Tuscanny Drive, Suite B-1
Frederick, MD 21702 USA
Tel: +1 (301) 682-6101
Fax: + 1 (301) 682-6105
---
Subscribe/Unsubscribe
If you wish to subscribe or unsubscribe visit our subscription page.