2006 March 30
If, for some reason, you cannot read this document, please visit:
http://www.gismonitor.com/news/newsletter/archive/archives.php?issue=20060330
---
This week I bring you two interviews: one with Daniel Burrus, the keynote speaker at the GIS-T conference, and one with Chris Bradshaw, VP of Autodesk's Infrastructure Solutions Division. I also bring you a few photos and statistics to supplement last week's story about the use of handheld devices at the Commonwealth Games in Melbourne, Australia; an item in the news in Boston, where I am this week; a few corrections on last week's piece about Autodesk; and my usual roundup of the news from press releases.
For the next month I will be reporting from Italy, but I will continue to bring you news from the United States as well. In particular, next week I will report on conversations I had in Boston this week with executives from Skyhook Wireless and uLocate. Next Tuesday, at CTIA Wireless, Skyhook Wireless will be releasing Loki, a new software program that uses wireless access points to locate WiFi-enabled devices. Ulocate writes location based services (LBS) software and is a partner of Skyhook Wireless.
— Matteo
---

---
On Monday I caught up with Daniel Burrus shortly after he gave the keynote address at the GIS-T conference in Columbus, Ohio. He has also been the keynote speaker several times at Intergraph's Geospatial World.
---
Two weeks ago I had a conversation with Chris Bradshaw, VP of Autodesk's Infrastructure Solutions Division. Besides telling me about Map3D 2007, on which I reported last week, he focused on two topics: Autodesk's 2005 figures and certain global trends affecting the company's business, customers, and customers' customers.
"Last year we had a fantastic year," Bradshaw told me, "driven by expansion in both our GIS and civil business — Civil 3D on the engineering side, the fastest-growing product in the history of the company, and Map 3D also doing extremely well. Civil 3D has been on the market for only about a year and a half, so it is in that early stage, where growth is very important. Last year we also made a big announcement: taking our new MapGuide technology into open source. The final thing we announced last year was the acquisition of a company called c-plan AG, in Switzerland. That acquisition continues to be extremely important for our future strategy. Right now we are doing a lot around R&D with that technology."
---
Last week I reported on a project at the Commonwealth Games in Melbourne, Australia, using hand-held devices for multi-modal routing. Andrew Bashfield has since sent me some preliminary statistics on the use of the system during the first nine days of the Games (one day of just Opening Ceremony, followed by 8 days of sports events):
of 60 volunteers trained to operate the Directions Plus system, 30 were out amongst the public at any one time
visitors requested 1,053 different routes (i.e. different combinations of start and end points, and suggested public transport services)
volunteers printed out 1,800 route requests for visitors
volunteers sent 149 SMS and 20 MMS messages to visitors' mobile phones
the most common route request is from Federation Square (opposite the main city railway station) to the Melbourne Cricket Ground, known commonly as the MCG, site of the 1956 Olympic Games, the 2006 Commonwealth Games athletics and opening and closing ceremonies (74 times), followed by Federation Square to the Melbourne Sports and Aquatic Centre, site of the swimming and diving events (72 times).
Due to a production error, three photographs that were supposed to accompany last week's article didn't. Here they are: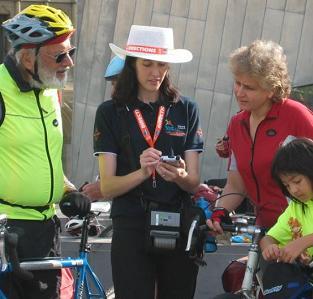 Jessica Davies using the system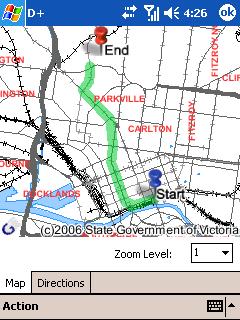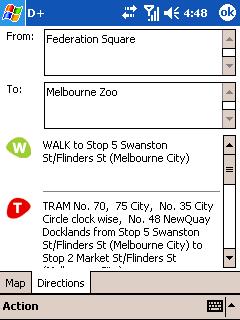 Screen shots of directions and a route from Federation Square to the Melbourne Zoo
---
An item in Monday's issue of Boston's Metro newspaper caught my attention: "GPS systems should be installed in new firearms — councilor," read the headline. "When thieves break into and steal an unwitting victim's car, authorities can often retrieve the vehicles if the owner installed Lojack devices. Now, one city councilor wants to use the same technology for tracking stolen guns. Councilor Rob Consalvo … says the technology exists similar to the Lojack-style that would allow manufacturers to place a GPS unit in all of its guns, enabling them to be tracked down if they are reported stolen. … 'It would cost a lot, there's no doubt about it, but it's the right thing to do,' he said. 'You can't put a price on public safety.'"
If you can get past the horrendous writing and syntax errors, it is obvious that the politician, the reporter, and the paper's editors have absolutely no understanding of the technologies they so casually mention. For starters, Lojack — which uses transceivers hidden in vehicles, relies on a land-based network of radio towers, and uses triangulation to locate and track stolen vehicles — has almost nothing in common with GPS, which is satellite-based, uses trilateration for positioning, and, for tracking, requires that GPS receivers be coupled with some kind of transmitter. Second, how would you hide a GPS receiver and a transmitter in a gun and prevent a thief from removing or disconnecting either one? Third, how would you power the transmitter so that it would broadcast a signal of useful range? I could go on…
---
Mark Christian, Autodesk's Technical Marketing Manager for Map 3D, pointed out a few errors I made in last week's piece on Map 3D 2007.
I wrote that the Data Connect Dialogue allows users to access an underlying data source. I should have specified that it allows users to directly access such a data source.
I quoted Christian as saying that Map3D gives users "the option of writing directly from MySQL." I should have written "to MySQL."
I wrote: "The key is SDF (Spatial Data File), an Autodesk format that enables users to store data as features in a database-like way." I should have specified that SDF is a new file format.
I quoted Christian as saying "We can now consume raster-based surfaces, such as GeoTip, ESRI ArcGRIDs, Dtech files, and USGS digital elevation models." I should have written ""We can now consume raster-based surfaces, such as GeoTIFF, ESRI ArcGRIDs, DTED files, and USGS digital elevation models."
I quoted Christian as saying "You can create fly-throughs, record that information, and write it out to, say, a wave file or a flash file to embed in presentations." I should have written "You can create fly-throughs, record that information, and write it out to, say, a wave file or avi file to embed in presentations."
I wrote: "First, you connect to the datastore … then the bulk copy tool allows you to move the data between any two databases, using an SGF file as the bridge." First of all, I meant SDF file. Anyway, scratch the last seven words! As Christian pointed out to me, Bulk Copy works without having to create an SDF file. You can directly move data between data stores (e.g. Oracle to MySQL, SDF to Oracle, ESRI to Oracle, etc.).
I quoted Christian as saying that Autodesk has released to the open source community "everything except the Oracle and the MySQL provider." I should have written "everything except the Oracle and the Microsoft SQL Server provider."
---
Please note: I have culled the following news items from press releases and have not independently verified them.
ESRI and Trimble, a manufacturer of GPS receivers, have launched the 2006 ESRI and Trimble Mobile Government Grant Program: Coastal Communities.…Read More…
South East Water, an Australian company, has implemented Intergraph Corporation's G/Technology, to support a corporate-wide GIS system.
GeoEye's ClearView contracts for map-accurate imagery and services with the National Geospatial-Intelligence Agency (NGA) have increased in value by an additional $13 million. …Read More…
Sierra Atlantic Ltd., the sole Indian distributor for RSI, a wholly owned subsidiary of ITT Industries, Inc, has received certification for ENVI to be used to process data from the Indian CARTOSAT-1 satellite.…Read More…
The International Institute for Geo-Information Science and Earth Observation (ITC) and the Netherlands Cadastre, Land Registry and Mapping Agency ('Kadaster') have signed an agreement to cooperate in the establishment of a School for Land Administration Studies at ITC.…Read More…
The City of Round Rock, Texas, has selected Sanborn to perform utility conversion services. …Read More…
Digital Quest, Inc. and the Institute for Advanced Education in Geospatial Sciences (IAEGS) have entered into a Memorandum of Understanding to collaborate on the development, marketing, and distribution of online GIS and remote sensing courses. …Read More…
Pictometry International Corp., a provider of digital, aerial oblique imagery and measuring software, has released the Pictometry Viewer ActiveX control, which enables third-party software vendors and system integrators to embed Pictometry's oblique imagery and analytical tools directly into end user applications. …Read More…
MWH Soft, a provider of environmental and water resources applications software, has released H2OMAP SWMM Suite. …Read More…
Prepared Response, Inc., a developer of crisis management planning and response systems, has added GIS functionality to the Web-based version of its Rapid Responder crisis management system.…Read More…
Homeland Defense Journal is hosting a training conference, titled "Achieving Actionable Situational Awareness: Geo-Spatial Solutions — The Next Generation," on May 4 in Arlington, Virginia. It is directed at government and industry executives and decision-makers. …Read More…
The BE Conference, an annual gathering of Bentley software users and their managers who want to sharpen their skills and expand their knowledge, will be held in two locations this year - May 21-25 in Charlotte, North Carolina and June 11-15 in Prague, Czech Republic.
Sanborn has hired Roger Crystal, David Youngblood, and James Peterson. …Read More…
---
---
Advertise with Us
You can reach more than 23,000 GIS professionals every issue by sponsoring GIS Monitor. For more information, email us.
---
Contact
Please send comments and suggestions to:
Matteo Luccio, Editor
GIS Monitor
Ultimate Map/GIS Directory — Your search is over!
GIS Monitor is published by:
GITC America, Inc.
100 Tuscanny Drive, Suite B-1
Frederick, MD 21702 USA
Tel: +1 (301) 682-6101
Fax: + 1 (301) 682-6105
---
Subscribe/Unsubscribe
If you wish to subscribe or unsubscribe visit our subscription page.