2006 April 20
If, for some reason, you cannot read this document, please visit:
http://www.gismonitor.com/news/newsletter/archive/archives.php?issue=20060420
---
Editor's Introduction
This week I report on two Italian GIS developers: ABACO Srl, a software house in Mantova, and the GRASS open source group at the Istituto Trentino di Cultura in Trento. You will note the very different points of view of my two interlocutors on the question of commercial vs. open source GIS development. (Actually, that is perhaps a false dichotomy, because open source GIS, too, can be used "commercially.") Plus, my usual round-up of news from press releases.
I have not yet extended the events calendar on the home page, as promised, to keep it a six-month rolling calendar, but I will do so in a couple of weeks, at the end of my current trip in Italy. Meanwhile, please continue to send me your listings for conferences, seminars, trade shows, and other relevant events.
— Matteo
---
Not Your Old GRASS Anymore
Parallel to the development of commercial GIS products, the open source movement is continuing development of an alternative set of capabilities. The largest open source GIS project is GRASS (Geographic Resources Analysis Support System), originated by the U.S. Army in 1982. The U.S. government decided to stop developing it in 1995, but it was still available on an Army ftp site as late as 1997, when it was taken up by university researchers. The next year Markus Neteler, of the University of Hannover, Germany, became involved and migrated the main GRASS site to his campus. In 1999 the developers decided to publish it under GNU general public license. Four years ago, the GRASS site followed Neteler when he moved to Trento, Italy. I caught up with him there, at the Istituto Trentino di Cultura (ITC).
"The world of free software development," Neteler told me, "is heavily Internet-based and spread all over the world. Developers can contribute at any time, completely independent of each other." In 2000, GRASS was one of the earliest GIS projects to set up a completely Internet-based, distributed development infrastructure, he says. About 25 developers, mostly in the United States and Europe, have "write access" to the source code. The team receives additional code submitted by other external contributors.
The main user-oriented website in Italy is cloned every night to about 25 mirror sites distributed all over the globe. This "cascade model," according to Neteler, facilitates access and reduces bandwidth use. In addition, a German site serves as the source code repository.
Most people in the GIS community still perceive GRASS as heavily focused on raster data processing, which it originally was. However, Neteler points out, ITC-based projects over the last three years and worldwide contributors have greatly changed GRASS. In addition to a raster image processing engine, Version 6, the latest, includes a new SQL-based DBMS for attributes; a completely re-written 3D vector engine, which also supports vector network analysis; and linear reference systems. Most GIS, he says, do not have these last features, which are particularly interesting for traffic monitoring and routing. Instead of only a command line, Version 6 features the new, user-friendly Quantum GIS graphic user interface (GUI), intended to address the needs of new users. It is a package that includes an analytic engine, a WMS engine, and support for PostGIS. Neteler compares it to ArcView/ArcGIS and expects it to be ready, along with a native Windows version, "within the year."
All open source developers and users can use stable and development versions of GRASS and contribute to it, Neteler emphasizes. "Our policy is not to wait a couple of years for a new version," he told me. Rather, developers are directly connected to the user community and very responsive to its needs. "Our goal is to flatten the learning curve. We have many, many new users and also much interest from public administrations."
The seventh Italian GRASS users meeting took place in Genova in February and confirmed a growth trend. This year many participants were from local governments and there was much interest in integrating GRASS with other open source software, such as the University of Minnesota map server application (UMN MapServer). Known users include the provinces and municipalities of Milano, Trento, and Pisa. Italy, according to Neteler, is now one of the countries in Europe that is most advanced in this field — with a plethora of projects by local governments, private companies, and universities.
Often, Neteler points out, the open source nature of GIS capabilities is not advertised or even mentioned on GIS websites that rely on it. This makes it difficult to find such projects on the Internet. However, he is quick to add, it is easy to find people involved in these projects at conferences, where they are present in large numbers. Many of them are developing government Web services, for use by both citizens and civil servants — a big market in which GRASS is competing very well.
While the analytical capabilities of the latest GRASS version, according to Neteler, are comparable to those of costly commercial packages, the development model is much less formal and the response times are much shorter. Because of the open source community's distributed development model, he says, users don't have to wait six months for a new version of a product to take advantage of its new capabilities. Rather, they also have access to frequent "snapshot versions" of the software besides the stable releases
Neteler, who is one of the directors of the new Open Source Geospatial Foundation, also emphasizes that, unlike with commercial products, users of open source software are able to look inside the code to see how it really works and to understand how to adapt it to their needs.
The new built-in GRASS GUI, developed within the past six months, is expanding the software's user base. Many more users than in the past, Neteler told me, are saying "I am new to GIS and I want to use GRASS." However, he acknowledges that it will take "many months" for the new GUI to become well known in the larger GIS community.
What is the main weaknesses or limitation of GRASS? Despite its new GUI, Neteler says, it is still too complex for that large group of users who are only interested in basic GIS functionalities. For example, printing is not yet supported well, which is an important limitation for many companies that are interested in printing high-quality maps. GRASS developers are addressing this limitation, but it will take time to resolve — especially given that most countries have special rules and symbols for maps.
What is the single biggest current development in GRASS? It is porting it to Windows as a native application, says Neteler. Many users, he points out, are not interested in switching to Linux. "We expect to release the first official Windows version by the start of next year," he told me. It will be based on the same source code base and it will make GRASS completely OS-independent, which Neteler counts as one of its distinguishing features. The Windows version, he predicts, will greatly increase the GRASS user community.
Other ongoing developments include better support of high resolution printing; more integration with other programs; and support for Web services, including the ability to connect to Web services to download data.
---

---
ABACO Srl Goes 3D
Last week in Mantova, Italy, I met with Roberto Orsi, Sales & Marketing manager for ABACO Srl, a software house that has been developing GIS solutions since 1990. While there are many small Italian companies that develop GIS applications, ABACO is the only one that also develops GIS tools and modules. It sells the former both in Italy and around the world. The latter, focused especially on agriculture, cadastre, and real estate management, are closely tied to specific laws and regulations; therefore, ABACO sells them nearly only in Italy.
The company's principal GIS product is a suite called DbMAP that allows users to develop GIS applications and to publish them on the Web. "We make it possible to set up an integrated 2D and 3D information system that can be accessed either via the Web or on a corporate database (using Oracle Spatial, PostGIS, etc.)," Orsi told me. All the vector data are stored in a central database, managed through XML projects. All of ABACO's products comply with OGC standards.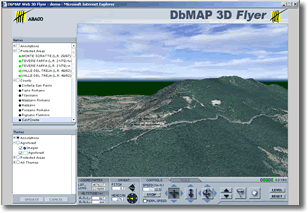 In January, ABACO launched DbMAP Web 3D. To demonstrate the product's ability to produce 3D maps "on the fly" without any pre-processing, Orsi drew a vector, saved it in an Oracle database, then draped it over a digital terrain map (DTM) that he had pre-processed using DbMAP 3D Builder. He then showed me that DbMAP Web 3D allowed him to measure distances and to query the objects of the vector information layers, in both 2D and 3D, as well as display the height and aspect of each point on the map. As Orsi pointed out, this application allows the user to display data in 3D regardless of how it was collected. It also allows users to upload directly to a database data that they collected on a handheld device.
ABACO's latest product, which it launched about a month ago, is DbMAP Pocket, a system development kit (SDK) for palm-top devices that can be integrated with the company's other products, such as DbMAP Web 3D. It can be used in conjunction with the most popular databases, such as Oracle Spatial, Locator, and PostGIS. DbMAP ASJ, DbMAP Web 3D, and DbMAP Pocket are OGC-compliant and can be integrated into a single GIS.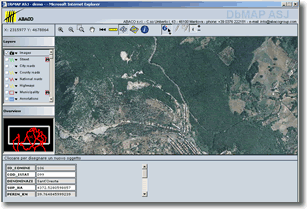 DbMAP Viewer & Author, which is similar to ArcGIS, allows users to open a new project and then connect to a database to import the relevant data. However, unlike ArcGIS, it then also allows the user to deploy the application directly on the Web. The components used to develop DbMAP Viewer&Author are provided also as applets for system integrators that develop applications for government agencies or other GIS systems. These applets, which are based on Java 1.1 and are only about 300KB each, are platform-independent and can be integrated deep inside other applications.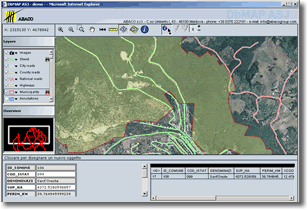 ABACO also develops GIS for particular applications — especially for agriculture, cadastre, and real estate. Since 1997, the company has been developing GIS applications used by the Italian Ministry of Agriculture to manage subsidies from the European Union throughout the country and several ones used by the central government (especially the Ministry of Economy and Finance) and by local governments, banks, insurance companies, and other companies to manage real estate assets. Other recent projects include ABACO's GIS technologies for Italian regions such as Lombardia, Veneto, and Friuli and also for provinces such as Rome and Padova and for many municipalities, such as Milan and Mantova.
"We like to be thought of as an R&D company that supplies modules to the end user and supports them," Orsi says. He points out that all of ABACO's projects are sold ready to use "out of the box" and that none of them use any proprietary formats. "We are looking for system integrators in North America who have GIS skills and can use ABACO modules for projects."
The key, Orsi stresses, is for all the applications to be able to use all of an organization's data, which is usually a much bigger asset than its applications. "We build simple tools that allow users to create integrated applications," he says. "All of our tools are fully documented, so that users can change anything they want. Only the core of the GIS engine is protected, to ensure that users do not accidentally damage it. Besides, end-users do not need to touch it. However, the applications, applets, etc. are all shipped as source code."
According to Orsi, U.S. companies may be interested in using these solutions. He points out that ABACO's sales policy, while not open source, is royalty-free and that his company is able to develop additional functionalities as needed. "Very often," he says, "if a company already has a GIS, we develop independent, OGC-compliant applications using DbMAP tools that integrate with it."
I asked Orsi to compare his company's product development process with that of the open source movement. With open source, he said, end users need to make large investments in software development and risk discovering, after a lot of work, that they are still missing some key functionalities. Furthermore, they often need to fix bugs by themselves. Therefore, government agencies and software houses must develop in-house capabilities — which costs them more than what they save by acquiring free solutions. ABACO's products, by contrast, are standards-based and work out of the box, he says. However, Orsi also points out that some parts of ABACO's products are, in fact, open source — where this benefits the user.
"From our point of view," Orsi says, "it is fundamental to guarantee data interoperability and a flexible architecture. For public agencies and private companies alike, data are a greater asset than applications. Our system architecture exploits as much as possible the available data. For example, it displays 2D data in 3D, without requiring pre-processing."
According to Orsi, organizations that want to deploy new GIS capabilities usually must either pay a lot of money to large GIS companies or wait very long times for the open source movement to develop solutions that meet their specific needs. By contrast, his company's know-how, small size (it has a staff of about 40), and very close relationships with its clients, he claims, are the best of both worlds — yielding reliable solutions with very short development cycles.
ABACO will be exhibiting at the Geospatial and Information Technology Association's annual conference, April 23 to 26 in Tampa, Florida.
---
News Briefs
Please note: I have culled the following news items from press releases and have not independently verified them.
CONTRACTS & COLLABORATIONS
Geodata Systems Technologies, Inc. (GSTI), ESRI's distributor in the Philippines, has implemented a GIS at the Tarlac I Electric Cooperative, Inc. (TARELCO I), located in the municipality of Tarlac on the island of Luzon. GIS technology will enable TARELCO I to build a comprehensive automated database of equipment, poles, and distribution lines for its consumers and co-op members. With the system, TARELCO I will be able to keep track of the location and condition of all facilities, devices, and structures. It will also help meet the informational requirements of government regulatory agencies, including the National Electrification Administration and the National Transmission Corporation.
Under the contract, GSTI will provide ESRI's GIS software including ArcView 9 and ArcPad, computer hardware, digital maps covering the service area of TARELCO I, GIS training for TARELCO I personnel, technical services, and project management and supervision. TARELCO I provides electric services to 13 municipalities in Tarlac province, two municipalities of Nueva Ecija province, five barangays of Tarlac City, and several barangays of Guimba municipality in Nueva Ecija province.
Dewberry, a privately-held professional services firm, has entered into a teaming agreement with Sea Island Software with regards to the latter's HURREVAC — a computer graphics hurricane tracking and decision assistance tool used by more than 5,800 federal, state, and local emergency managers and decision makers to track the movements of tropical cyclones and provide real-time weather data to assist in decision making. Under this agreement, Dewberry will use its expertise in hurricane preparedness, planning, response, and recovery to assist the emergency management community and HURREVAC users by developing and customizing software to prepare for and respond to future storms. Dewberry and Sea Island Software will also integrate HURREVAC's capabilities with Dewberry's Disaster Assistance Response and Recovery Technology (DARRT) to provide an integrated, comprehensive emergency management software suite that is customizable to the particular needs of individual communities and agencies.
Since its inception in 1988, HURREVAC has been used by governments at all levels. The software displays the location and forecasted path of tropical storms and other weather events. It incorporates site-specific evacuation data from the Federal Emergency Management Agency (FEMA), the US Army Corps of Engineers, and state hurricane evacuation studies so that decision makers are better informed in the face of potentially catastrophic weather events.
Dewberry's proprietary software, DARRT, uses GIS technology to provide analysis and visualization tools for disaster response. DARRT is being used in disaster recovery plans nationwide. Dewberry has competed for, won, and maintained sequential contracts with FEMA for more than 30 years. In addition, Dewberry has also held contracts with numerous state and local emergency management agencies.
The Eagle Technology Group, ESRI's distributor in New Zealand, has won the contract to implement a Web-based GIS visualization solution using ESRI's ArcIMS Server for ONTRACK, the New Zealand government agency responsible for ownership and management of the national rail network. The GIS will enable ONTRACK's train controllers to track trains by satellite. This will provide the controllers with a geographic view of their network. Additionally, it will afford them a much greater degree of positional accuracy and enable them to make better decisions in routing, emergency response, tracking, and other related applications.
It is anticipated that the visualization capabilities of the GIS will be fully implemented by the end of May 2006 at ONTRACK's train control in Wellington.
Thames Water, the UK's largest water utility, has awarded MWH Soft, a provider of environmental and water resources applications software, a contract to develop a new valve criticality assessment module for the company's InfoWater Suite advanced geocentric software technology.
The use of the MWH Soft InfoWater Suite is part of the utility's plan to develop optimal operational strategies that minimize costs while enhancing system reliability, integrity, and performance, thereby forging closer ties with their customers. RWE Thames Water is part of the RWE Group, a provider of energy, gas, water and recycling products and services, that serves in excess of 70 million customers in 20 countries.
Valve criticality assessment identifies which valves most crucially affect the scale of impact of any potential system failures. Thames Water will use this comprehensive new module to assess the resulting hydraulic impact of valve operations on customer service levels. This information will be used to improve knowledge to optimize future expenditure on maintaining the serviceability of key infrastructure assets. Pinpointing these valves requires an understanding of the risk (probability and consequence) posed should the valve fail to shut. Consequence is measured in terms of the numbers of properties (and customers) that would be disconnected or experience unacceptable levels of service (e.g., low pressure or loss of supply).
The InfoWater geospatial software suite's network modeling technology addresses every facet of utility infrastructure management, optimization, and protection. Built atop ArcGIS and drawing on advanced numerical computation and genetic algorithms optimization technologies, it reads GIS datasets; corrects network topology problems and data flaws; extracts pertinent modeling information; and constructs, skeletonizes, loads, calibrates and generates optimized design, rehabilitation, and pump scheduling solutions. Using these tools, utilities can simulate and evaluate various conditions, pinpoint system deficiencies, and determine the most cost-effective physical and operational improvements to maximize efficiency, achieve optimum performance and regulatory compliance, meet new security challenges, and enable more reliable operations.
MobileDataforce Inc., a provider of customized mobile software applications and Rapid Application Development Solutions for Mobile Environments (RADS-ME), and DeLorme, a provider of mapping products and technical solutions for the consumer and professional markets, have integrated the PointSync mobile application development kit and Xmap. Together, these two products provide a full-featured GIS mapping and field service development environment. DeLorme's XMap/GIS platform offers a full set of spatial tools, including access to existing GIS data, import and export of ESRI Shapefiles, data creating and editing tools, and Web publishing of GIS data.
PointSync suite is an enterprise-grade software system for rapid deployment of database centric mobility applications on handheld computers. MobileDataforce PointSync provides customers and integrators the capability and software platform to rapidly develop and deploy mobility projects of all kinds.
Timmons Group, a provider of geospatial services, recently deployed Phase I of the Virginia Department of Forestry's (VDOF's) Integrated Forest Resource Information System (IFRIS) application. This enables VDOF field staff to perform complex Web-based editing of geodatabases that store geometry of forest management activity areas and existing forest stand type and condition attributes. As users modify the mapped features, IFRIS preserves geospatial history through automatic archive of "parent" features and their attributes. This enables VDOF to re-create not only the forest management activity history, but also the change in forest types and conditions through time.
IFRIS is based on ESRI ArcSDE and Microsoft SQL Server, which stores data covering more than 147,000 forested acres. The information is centrally managed and delivered to users in the organization with ESRI's ArcGIS Server and ArcIMS. The system is hosted at the Virginia Information Technologies Agency (VITA) facilities on the Geospatial Enterprise Platform (GEP).
IFRIS is in its first phase of development. Future IFRIS development will incorporate field-based mapping and data collection using personal data assistants (PDAs) with integrated GPS receivers. This technology will make it easier for field staff to capture data describing the location and nature of wildfire incidents, water quality harvest inspections, forest health observations, and other critical data. The long-term goals of the project were envisioned early in the process and incorporated into the overall design. The goal is to leverage Web services and Service Oriented Architecture (SOA) constructs to unify all spatial and non-spatial operations creating substantial Return on Investment (ROI) for VDOF and the Commonwealth.
---
PRODUCTS
ESRI has launched ArcWeb Services Labs, a new online environment that gives ArcWeb Services developers access to the latest technologies and products to enable them to participate in the development process. In the Labs area of the ArcWeb Services Web site, developers can explore new applications, download code, and access resources before they are released. Developers are able to provide feedback directly to the ArcWeb Services product team and interact with other ArcWeb Services developers to share ideas.
ArcWeb Services Labs provide developers with access to prereleased API features and functionality, previews of early stage Web applications, and feedback through a community forum. ArcWeb Services offer developers a rich Web platform for integrating mapping into desktop, browser, or mobile applications. ArcWeb Services offer dozens of programming objects and as well as classes and on-demand mapping data from more than 20 leading commercial mapping data and content providers. Content for ArcWeb Services includes driving directions data, addresses, streets, points of interest, elevation, topography, weather, and traffic for the U.S. and certain other countries.
Some of the APIs currently available to ArcWeb Services developers are for SOAP, OpenLS, REST, and J2ME. The SOAP API is the most comprehensive and is XML-based. ArcWeb Services OpenLS API complies with standards relating to the exchange of spatial information in a wireless Internet environment. The API for REST uses HTTP methods for processing ArcWeb Services resource requests. The API for J2ME enables developers to integrate ArcWeb Services into specific, supported mobile development environments, such as mobile phones, PDAs, and a broad range of other embedded devices.
Visual Learning Systems, Inc. (VLS) will showcase Feature Analyst's new automated feature extraction (AFE) and 3-D capabilities at the upcoming ASPRS 2006 Conference in Reno, Nevada. These capabilities include improved speed and accuracy, the Feature Modeler for viewing and creating AFE workflows, and the Feature Model Library for sharing workflows amongst analysts.
VLS software applications Feature Analyst and LIDAR Analyst are now the most widely used feature extraction tools in the GIS industry. The National-Geospatial Intelligence Agency (NGA) has incorporated Feature Analyst into its baseline production environment, and the USDA Forest Service has a site license of Feature Analyst. To put further emphasis on Feature Analyst, LIDAR Analyst, and other VLS software applications, VLS will host its Third Annual VLS User Conference, September 12-13, in Missoula, Montana.
Navman, a designer and manufacturer of GPS technology, has released the Jupiter 30. Manufactured for embedding into any device that requires position-specific information, the Jupiter 30 is an ultra-high sensitivity surface mount GPS receiver designed for rapid position fixes in low signal strength conditions. Jupiter 30 delivers an unprecedented minus 160 dBM tracking capability, bringing standard GPS functionality to previously impossible locations — such as inside buildings, parking garages, shopping malls and other indoor environments; inner city urban canyons; areas with dense foliage and in vehicles with UV-coated or athermic windshields.
The Jupiter 30 combines TCXO, LNA, flash memory, and other select high-quality components with the latest integrated SiRF GSC3 chipset into a package that is optimized for the best RF tracking capabilities possible, and delivers the fastest (less than one second) GPS acquisition time-to-first-fix on the market.
The Jupiter 30 is compatible with devices with wider operating voltage ranges and requiring greater noise rejection than other GPS modules. This versatility, in addition to the unit's rapid position acquisition, low-power operation and full use of the SiRF GSC3 power level modes, ensures wider integration capability and use in power sensitive applications such as battery-operated devices. Its powerful gain characteristics and optimized LNA and RF signal path design enable easy integration into products with active or passive GPS antennas. The Jupiter 30's flexibility allows manufacturers to develop products for environments previously unavailable for standard GPS designs; effectively extending the practical functionality of Location Based Services while minimizing design time and noise shielding requirements.
Key features of the Jupiter 30 include an ultra-high sensitivity GPS receiver with an optimized RF front-end, proprietary shaped filtering to reduce noise, multi-path mitigation for track re-centering and jammer elimination, and dynamic search control to adapt to severe environments. With indoor position fix and tracking capability of -160 dBM, the Jupiter 30 has over 200,000 effective correlators for superior acquisition performance in the weakest signal conditions.
Additional features of the Jupiter 30 include: a high quality 0.5PPM TCXO for optimal performance, integral LNA, an ARM7 CPU with capacity for additional custom applications, 1 PPS, 52mA average power draw, optimized low power management mode with an average power consumption of 25mA at 1Hz and hibernate mode with 6.8uA power draw, 3v power operation, and brown-out detection circuit.
Further specifications include 20-channel mode GPS support; fast acquisition fix performance of <1 seconds (hot start), 32 seconds (warm start), and 34 seconds (cold start); ephemeris tail and bit sync for quicker time-to-fix in poor conditions and SiRFLoc multi-mode GPS support for improved fix availability. The device's physical characteristics are 25.4 millimeters x 25.4 millimeters x 3.0 millimeters form factor and 4.0 grams in weight based on an industry standard form factor providing an easy upgrade path.
---
CONFERENCES & SEMINARS
The pre-conference program for the Intergraph 2006 International Users Conference, which will take place in Orlando, Florida, June 12-15, is now available online and in print. This program provides a complete outline of Intergraph 2006 — including program and session details, keynote speaker and general session schedules, the Technology Expo Opening Reception, and other special events.
To receive a hard copy version of the program via mail, sign-up on the conference mailing list. If you have already registered for Intergraph 2006, will be registering for the conference, or have already joined the conference mailing list you will automatically receive a printed copy of the pre-conference program.
The Call for Papers deadline for the Geospatial Information & Technology Association's (GITA) 15th Annual GIS for Oil & Gas Conference has been extended to May 2. The conference is set for Sept. 18-20, in Houston, Texas. With the theme The Full Spectrum: Expanding GIS Across the Enterprise, the 2006 event will be more inclusive of geospatial solutions of all facets within the oil and gas industry. Two new subject matter topics for the conference — emergency response and planning and environmental — join a slate of eight other established paper topics. Last year's GIS for Oil & Gas Conference attracted a total of 629 attendees.
A unique lineup of workshops will take place in conjunction with GeoWeb 2006, which will be held July 24-28, in Vancouver, British Columbia. The conference, organized by Galdos Systems Inc. and supported by the Geospatial Information & Technology Association, is the only event focused exclusively on the convergence of GIS and the Web, allowing for the rapid access to accurate and current information through open standards.
Taught by recognized industry leaders, these workshops will unravel the processes and products behind the sharing of all geospatial information via the Internet. Conference attendees can participate in a two-day workshop called Advanced GML: A Hands-on Approach, or they can choose up to four of the 12 other half-day workshops, including
SDI Concepts and Architectures;
Introduction to FLEX;
The GML & JPEG 2000 Connection;
OGC WRS—Managing Just About Everything;
SVG for Fun and Profit;
Google Earth and KML;
Google Maps Mashups;
Virtual Earth platform, Enterprise Applications;
The Power of the OGC Web Feature Service;
Introduction to LandXML;
Introduction to Virtual Earth;
and Introduction to JDeveloper and Oracle AS MapViewer.
The conference will also include paper presentations, keynote addresses, and a products and services exhibition.
Homeland Defense Journal is sponsoring a training workshop, titled "Achieving Actionable Situation Awareness; Geo-Spatial Solutions — The Next Generation," which will take place May 4 in the NRECA Building at the Executive Conference Center in Arlington, Virginia. Registration is complimentary for government employees. The conference will focus on trends in secure Geo-Spatial enterprise solutions that provide actionable situational awareness for the enterprise.
Speakers and topics will focus on integrated geospatial applications, data/sensor fusion, data security, and related technologies. Future and present needs for user-defined common operating pictures that integrate multiple technologies and data sources to deliver true actionable situational awareness will also be addressed.
The conference will cover enterprise solutions for data management; multisource data fusion; and intelligent: field tracking and tasking. Participants will learn best practices in gis providing a common operational picture; trends in securing an enterprise solution; critical needs in requiring a common operational picture in homeland security; the objectives behind the common operational picture in government applications, including homeland security; and COP: what is working and what is required.
Confirmed speakers are David Bialek, Chief, Response and Recovery Branch, North America and Homeland Security Division, Office of Americas, National Geospatial-Intelligence Agency; Jacqueline W. Mills, PhD, Research Associate, LSU GIS Information Clearinghouse, Louisiana State University; Mark Reichardt, President, Open Geospatial Consortium, Inc.; Dr. Daniel Belk, Warfighter Protection Lab Manager of the Aviation Missile Research, Development, and Engineering Center, U.S. Army; Jack Pellicci, Brigadier General (Retired), Group Vice President, Oracle's North American Public Sector; Peter Batty, Chief Technology Officer, Intergraph Corporation.
For more information click here.
---
PEOPLE
Simon Thompson has joined ESRI as the Commercial Business Industry Solutions manager. With close to 20 years of experience in the GIS industry, Thompson comes to ESRI from Sydney, Australia, after roles as a senior executive at Genasys and founder/CEO of the GenaWare Group. Most recently, he was involved in developing a new business sector for 3D GIS applications based on MapInfo technology. Thompson brings many years of corporate customer experience to ESRI and has worked in the past with such clients as FedEx, Shell, Bank of New Zealand, British Petroleum, and Boeing.
Thompson holds a bachelor of science with honors in geographic sciences from Plymouth Polytechnic and a master's in computer science from the University of Wales Institute, Cardiff.
---
---
Advertise with Us
You can reach more than 23,000 GIS professionals every issue by sponsoring GIS Monitor. For more information, email us.
---
Contact
Please send comments and suggestions to:
Matteo Luccio, Editor
GIS Monitor
Ultimate Map/GIS Directory — Your search is over!
GIS Monitor is published by:
GITC America, Inc.
100 Tuscanny Drive, Suite B-1
Frederick, MD 21702 USA
Tel: +1 (301) 682-6101
Fax: + 1 (301) 682-6105
---
Subscribe/Unsubscribe
If you wish to subscribe or unsubscribe visit our subscription page.