2006 April 20
If, for some reason, you cannot read this document, please visit:
http://www.gismonitor.com/news/newsletter/archive/archives.php?issue=20060420
---
This week I report on two Italian GIS developers: ABACO Srl, a software house in Mantova, and the GRASS open source group at the Istituto Trentino di Cultura in Trento. You will note the very different points of view of my two interlocutors on the question of commercial vs. open source GIS development. (Actually, that is perhaps a false dichotomy, because open source GIS, too, can be used "commercially.") Plus, my usual round-up of news from press releases.
I have not yet extended the events calendar on the home page, as promised, to keep it a six-month rolling calendar, but I will do so in a couple of weeks, at the end of my current trip in Italy. Meanwhile, please continue to send me your listings for conferences, seminars, trade shows, and other relevant events.
— Matteo
---
Parallel to the development of commercial GIS products, the open source movement is continuing development of an alternative set of capabilities. The largest open source GIS project is GRASS (Geographic Resources Analysis Support System), originated by the U.S. Army in 1982. The U.S. government decided to stop developing it in 1995, but it was still available on an Army ftp site as late as 1997, when it was taken up by university researchers. The next year Markus Neteler, of the University of Hannover, Germany, became involved and migrated the main GRASS site to his campus. In 1999 the developers decided to publish it under GNU general public license. Four years ago, the GRASS site followed Neteler when he moved to Trento, Italy. I caught up with him there, at the Istituto Trentino di Cultura (ITC).
"The world of free software development," Neteler told me, "is heavily Internet-based and spread all over the world. Developers can contribute at any time, completely independent of each other." In 2000, GRASS was one of the earliest GIS projects to set up a completely Internet-based, distributed development infrastructure, he says. About 25 developers, mostly in the United States and Europe, have "write access" to the source code. The team receives additional code submitted by other external contributors. … Read more …
---

---
Last week in Mantova, Italy, I met with Roberto Orsi, Sales & Marketing manager for ABACO Srl, a software house that has been developing GIS solutions since 1990. While there are many small Italian companies that develop GIS applications, ABACO is the only one that also develops GIS tools and modules. It sells the former both in Italy and around the world. The latter, focused especially on agriculture, cadastre, and real estate management, are closely tied to specific laws and regulations; therefore, ABACO sells them nearly only in Italy.
The company's principal GIS product is a suite called DbMAP that allows users to develop GIS applications and to publish them on the Web. "We make it possible to set up an integrated 2D and 3D information system that can be accessed either via the Web or on a corporate database (using Oracle Spatial, PostGIS, etc.)," Orsi told me. All the vector data are stored in a central database, managed through XML projects. All of ABACO's products comply with OGC standards.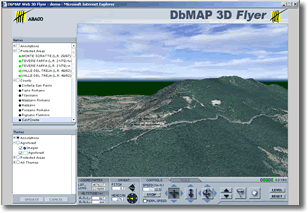 ---
News Briefs
Please note: I have culled the following news items from press releases and have not independently verified them.
CONTRACTS & COLLABORATIONS
Geodata Systems Technologies, Inc. (GSTI), ESRI's distributor in the Philippines, has implemented a GIS at the Tarlac I Electric Cooperative, Inc. (TARELCO I), located in the municipality of Tarlac on the island of Luzon. … Read more …
Dewberry, a privately-held professional services firm, has entered into a teaming agreement with Sea Island Software with regards to the latter's HURREVAC — a computer graphics hurricane tracking and decision assistance tool used by more than 5,800 federal, state, and local emergency managers and decision makers to track the movements of tropical cyclones and provide real-time weather data to assist in decision making. … Read more …
The Eagle Technology Group, ESRI's distributor in New Zealand, has won the contract to implement a Web-based GIS visualization solution using ESRI's ArcIMS Server for ONTRACK, the New Zealand government agency responsible for ownership and management of the national rail network. … Read more …
Thames Water, the UK's largest water utility, has awarded MWH Soft, a provider of environmental and water resources applications software, a contract to develop a new valve criticality assessment module for the company's InfoWater Suite advanced geocentric software technology. … Read more …
MobileDataforce Inc., a provider of customized mobile software applications and Rapid Application Development Solutions for Mobile Environments (RADS-ME), and DeLorme, a provider of mapping products and technical solutions for the consumer and professional markets, have integrated the PointSync mobile application development kit and Xmap. … Read more …
Timmons Group, a provider of geospatial services, recently deployed Phase I of the Virginia Department of Forestry's (VDOF's) Integrated Forest Resource Information System (IFRIS) application. … Read more …
---
PRODUCTS
ESRI has launched ArcWeb Services Labs, a new online environment that gives ArcWeb Services developers access to the latest technologies and products to enable them to participate in the development process. … Read more …
Visual Learning Systems, Inc. (VLS) will showcase Feature Analyst's new automated feature extraction (AFE) and 3-D capabilities at the upcoming ASPRS 2006 Conference in Reno, Nevada. … Read more …
Navman, a designer and manufacturer of GPS technology, has released the Jupiter 30. … Read more …
---
CONFERENCES & SEMINARS
The pre-conference program for the Intergraph 2006 International Users Conference, which will take place in Orlando, Florida, June 12-15, is now available online and in print. … Read more …
The Call for Papers deadline for the Geospatial Information & Technology Association's (GITA) 15th Annual GIS for Oil & Gas Conference has been extended to May 2. … Read more …
A unique lineup of workshops will take place in conjunction with GeoWeb 2006, which will be held July 24-28, in Vancouver, British Columbia. … Read more …
Homeland Defense Journal is sponsoring a training workshop, titled "Achieving Actionable Situation Awareness; Geo-Spatial Solutions — The Next Generation," which will take place May 4 in the NRECA Building at the Executive Conference Center in Arlington, Virginia. … Read more …
---
PEOPLE
Simon Thompson has joined ESRI as the Commercial Business Industry Solutions manager. … Read more …
---
---
Advertise with Us
You can reach more than 23,000 GIS professionals every issue by sponsoring GIS Monitor. For more information, email us.
---
Contact
Please send comments and suggestions to:
Matteo Luccio, Editor
GIS Monitor
Ultimate Map/GIS Directory — Your search is over!
GIS Monitor is published by:
GITC America, Inc.
100 Tuscanny Drive, Suite B-1
Frederick, MD 21702 USA
Tel: +1 (301) 682-6101
Fax: + 1 (301) 682-6105
---
Subscribe/Unsubscribe
If you wish to subscribe or unsubscribe visit our subscription page.