2006 August 31
If, for some reason, you cannot read this document, please visit:
http://www.gismonitor.com/news/newsletter/archive/archives.php?issue=20060831
---
Editor's Introduction
This week, I report on CH2M HILL's partnership with Google to integrate Google Earth with GIS; feature a report on the recent Survey & GIS Summit; make a modest proposal about a space-based Web cam; and correct a statement I made in a recent issue. Plus, my usual round-up of news from press releases.
Enjoy the long holiday!
— Matteo
---

---
CH2M HILL and Google, Geospatial Partners
An old player in the geospatial field and a new one began an interesting cooperation about a year ago: CH2M HILL has been integrating Google's Google Earth as a visualization tool for location-based corporate information systems—including supply chain management, enterprise resource planning, customer relationship management, and logistics and asset management.
CH2M HILL—a 60-year old, $3.8 billion engineering, construction, operations, and technical services firm entirely owned by its 18,000 employees—concentrates in the areas of transportation, water, energy, environment, communications, construction, and industrial facilities. According to Ed Riegelmann, who directs the company's Enterprise Spatial Solutions (ESS) line of business, "we've been mapping our clients' infrastructure and facilities since 1954; it's been a core part of our business." The company, he told me, was "one of the very early adopters and users of ESRI products" and now has "more than 600 geospatial information technology specialists" with "a continuum of skills." They include CAD integration specialists, "GIS purists," and relational database management specialists who set up databases in Oracle or SQL Server to support ArcSDE or Oracle Spatial. "We consider them all part of that same team, because there is a spatial focus. As part of the ESS line of business, we try to cross-train a lot of folks, to get them exposed to many of the different products and technologies that are required to do integrations and solutions for clients. In Europe, we tend to have many staff that have experience with SmallWorld, because we have some very large telecommunications GIS projects."
For design and engineering, CH2M HILL has been using [Bentley's] MicroStation and [AutoDesk's] AutoCAD for many years and has a separate Engineering Design Group (EDG), not included in the figure of 600. "They provide specific design services, [mostly] around structures, facilities, and plants that we are designing," says Riegelmann. "But their interface with us, on the spatial side, is along the lines of several integration horizons, between traditional design data and spatial data. A big push within our ESS is to integrate those worlds for clients."
Over the past four years, CH2M HILL has consolidated its extensive internal network of geospatial practitioners into the Communications & Information Solutions Business Group (C&IS). "They are all part of a community of practice," Riegelmann explains. "That's how we are building out solutions for clients." While the "communications" side of the group performs such traditional functions as installing copper, fiber, and wireless solutions, the "information" side, which includes ESS, is pursuing new technology integrations.
Google, on the other hand, was founded less than ten years ago and entered the geospatial arena only last year, when it rolled out Google Maps in February and launched Google Earth in June. Yet "the Google Effect," as it has come to be known, has had a profound impact on the geospatial industry. CH2M Hill realized right away, says Riegelmann, that the mashup communities, which were using Google Maps and Google Earth's KML, were opening up the technology to an entirely new user group. "If they are interested and investigate a little further, they are going to discover that there is a whole industry behind it. So we really spotted it as a very positive thing for the other vendors."
Last fall, C&IS created its own, internal Google Earth consulting business and became the first certified Google Earth Enterprise partner and the only integrator of Google Earth products. "We negotiated with [Google Earth] to set up a developmental environment within our firm," Riegelmann told me. "We have our own Google Earth server environment. We use it mostly to prototype products, so that we can show clients how they would work, in real time, using our own server resources. We also have a close relationship, of course, with their sales force and with their technical teams."
CH2M HILL developed its first very large enterprise GIS for the U.S. Air Force, more than ten years ago. Brian Cullis, at the time a colonel in Air Force and now CH2M HILL's Vice President and Global Lead for Enterprise Information Strategies, led the project, called GeoBase. "We rolled out GIS across an enterprise for hundreds of installations worldwide," Riegelmann told me. "We established an architecture, did an assessment of the existing assets, and looked at how to transition to a target architecture on that side. At the same time, we worked within the culture of that organization, to help it learn how it could use spatial information in its different business processes."
The Air Force now uses GeoBase mostly for visualization purposes in a command and control function. Cullis went on to work for the Secretary of Defense and established a department-wide program. "Now the Marine Corps, the Navy, and the Army are establishing programs to do something similar to what the Air Force has done, using the same principles and architecture," says Riegelmann.
Recently, CH2M HILL prototyped a follow-on to GeoBase, based on a Google Earth integration. It enables the Air Force to see all of its facilities worldwide from a very synoptic view and to zoom in to individual air bases and see all of the facilities in 3D. "We used the true photogrammetric location of the features, including elevation, and some very detailed photogrammetric work we've done for the Air Force. We integrated that to show how you could do, say, a hemisphere view—let's say the Northern Hemisphere or North America view—and zoom right down to an individual installation with imagery at a 6-inch pixel."
According to Cullis, the Pentagon initially saw GIS adoption as an IT challenge. He proposed a different approach: "Why don't we start talking in terms of spatial information resources that directly support our business mission?" This was consistent with the mandate of the CIOs of federal agencies, that any IT investments must explicitly support business processes.
Was there a transition from CAD to GIS, or a blurring of the two? "People no longer were talking about just CAD or GIS," says Cullis. "In some cases the CAD investment had been completely subsumed within the GIS investment and we were putting surveying data directly into a GIS to support a business process. The CAD use in some of our business processes had been completely cut out because of the advances in GIS. It was a real business optimization decision. Even AutoDesk is realizing that we're blurring the distinction between CAD and GIS and now we are talking about building information modeling."
CH2M HILL soon realized that this framework of enterprise spatial solutions could work just as well with local governments, federal agencies, and commercial clients who own, operate, or lease land and who are stewards of facilities and utility infrastructures, such as roads and airfields.
Meanwhile, Riegelmann points out, the continued progress of open standards for both data and data exchange—including Web Feature Service (WFS) and Web Map Service (WMS)—have made it much easier to move data between applications and import it into enterprise GIS. "This is important from a strategic perspective: the simpler we make the technology to get a map component into another enterprise application framework, the more ubiquitous it becomes and the more it will be used by the user community."
Now that Google Earth has opened up its KML file format, Riegelmann explains, there is no longer any need for middleware. "We are hoping that all the vendors establish more open standards. For us that is extremely important, because we are integrators, not resellers. We want to be able to provide solutions that can perform very well, but maintain existing investment." The most expensive part of a GIS is collecting and maintaining data. Therefore, Riegelmann argues, data conversions are dangerous without solid standards that allow for a loss-less translation.
What does CH2M HILL find most useful about Google Earth? "We found that it is really a very useful media for prototyping ideas for clients," says Riegelmann. "You can actually build something rather quickly for them to look at without really large investments. That's something that in some of the other traditional GIS packages is not easy to do." CH2M HILL is also experimenting with other visualization technologies, including Skyline, GeoFusion, and WorldWind.
What does its partnership with Google Earth mean for CH2M HILL? "It has been a unique experience for us, because, admitedly, they want to be the one-stop Internet explorer for everybody. That does not fit the traditional GIS vendor mode. We really aggressively pursued the relationship because we saw the potential of Google Earth as a visualization tool. We still talk to our traditional clients about how Google Earth can help them. What has really changed, however, is the type of clients that end up calling us and ask for our support. The public works directors, utility managers, city managers, etc., knew us. But, all of a sudden, we are getting calls from the banking industry, the mining industry, or somebody who had a big supply chain management problem. All these different industries that we began to see interest from were very much keyed into what Google Earth showed them—and that was the kind of virtual Earth environment that they could start to envision putting their own information on."
---
Survey & GIS Summit
As a prelude to its recent user conference, ESRI also held its annual Survey and GIS Summit, August 5-6 in San Diego, California, with about 400 people attending. Among them was Tom Gibson, editor of GIS Monitor's sister publication, Professional Surveyor Magazine, who filed this report.
While the UC makes for a vibrant happening with the hordes of people it draws, the Summit may have more relevance for surveyors. The two events comprise a yin and yang experience, as the Summit plays out in a quieter, more intimate setting.
Saturday at the Summit was all plenary sessions with several talks and presentations. Brent Jones, surveying industry manager for ESRI, started the ball rolling by stating that the average age of surveyors is 57. He couched that with a little humor by adding, "Of course, I don't see anyone over 45 in here." Nonetheless, his statement brought home a point that would resurface throughout the day: the surveying industry is failing to draw young people to its ranks.
The main theme of the Summit, however, was the gap between GIS and surveying and whether it's real or perceived. Jones, a relative newcomer to ESRI, commented, "I thought surveyors didn't know much about GIS. I learned I couldn't have been further from the truth." He continued, "The gap exists more in our minds than it does in the real business world."
Next, keynote speaker Wendy Lathrop, a well-known licensed surveyor and instructor, told the crowd that surveyors weren't impressed with GIS at first. "After a while, we realized GIS was here to stay. It's not a passing fancy." Part of the problem, she said, stems from the fact that GIS was originally not accurate enough for surveying, as it wasn't made for that. "Surveyors have been on a great white horse, protecting accuracy. People who use this information want better information, and that's where surveyors come in." GIS is now based on accurate data. "We did have a positive influence."
After Ray Carnes and Tim Hodson from ESRI's Technical Marketing group demonstrated software features related to surveying, Clint Brown, director of software products, spoke on the future of surveying. "You guys enable GIS," he proclaimed. "You guys to us are a really important community. You build the basis that all the rest of GIS sits on. We depend on you guys to make GIS work."
Later, Curt Sumner, executive director of the American Congress on Surveying and Mapping (ACSM) moderated the Industry Executive Panel, which included representatives from Trimble, Topcon, Leica, and the National Geodetic Survey. Jason Kandrick, product marketing manager for Leica Geosystems, said of GIS and surveying, "Education is definitely the cornerstone for the two industries. Surveyors need to learn how to communicate with the GIS community."
An audience member asked why the surveying industry can't attract young people. There were comments that technology is not taught to them and that we need to teach the teachers. One fellow suggested geocaching as a way of drawing youngsters—"they love it!" Another said that his company had paid to bring an intern to the conference and suggested having student pricing for it.
Sunday's schedule featured four breakout sessions throughout the day, two each in the morning and afternoon. You had your choice of five seminars each session covering technical topics, issues, and projects involving GIS and surveying.
We learned from professor Larry Shubat how students at the University of Akron in Ohio mapped the Portage Path using GIS and GPS. The eight-mile-long former Indian trail connects the Cuyahoga River and the Tuscarawas branch of the Muskingum River. Eric Gakstatter gave an overview of the Wide Area Augmentation System (WAAS), which was developed by the Federal Aviation Administration for the aviation community and now supplements GPS. Issac Standard, who works for the City of Covington, Georgia, described how the city is using GPS and GIS to map its stormwater system and set its utility rates accordingly.
As riveting as the UC was, the highlight of the week may have come at the end of the Survey and GIS Summit, on Sunday, with Intersect LIVE: Two Professions, Two Perspectives, Two Points of View. This was a live version of the column written for Professional Surveyor Magazine by Janet Jackson, a GIS practitioner, and Randy Rambeau, a surveyor. Publisher Neil Sandler introduced Jackson and Rambeau and opened the floor to questions, after which a rousing discussion ensued. Perhaps this demonstrates that surveyors are indeed embracing GIS and understanding its potential.
Brent Jones said afterwards that ESRI plans to retire "Bridging the Gap" as a tag line for the Summit. "Too many folks have come up to us and said there is no gap, GIS is just not used by all surveyors yet." He concludes, "As surveyors adopt GPS, they are adopting GIS at the same time. We see our sponsors—Trimble, Topcon, and Leica—bringing surveyors into the GIS world with their GPS offerings. It is GPS, along with some pretty cool GIS software, that has bridged the gap between surveyors and GIS." His telling summary gives surveyors impetus for anticipating next year's event. It will take place June 16 to 19 and the UC will take place June 18 to 22.
---
Space-Based Web Cam
Early next year, GeoEye will launch GeoEye-1, a 4,200-pound satellite that, it claims, "will offer unprecedented spatial resolution by simultaneously acquiring 0.41-meter panchromatic and 1.64-meter multispectral imagery" and be able to "collect 700,000 square kilometers of imagery in a single day, downlink imagery in real-time to international ground station customers, and store 1.2 terabytes of data on its solid-state recorders."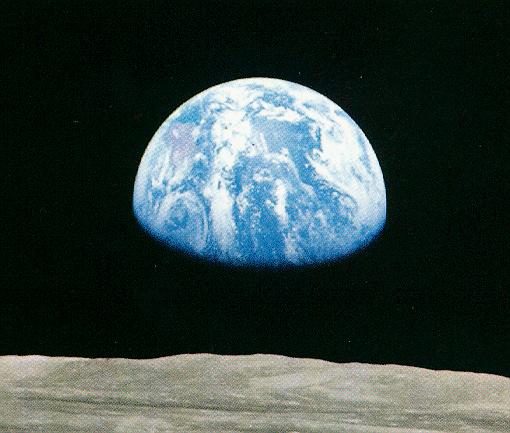 Earthrise, as photographed by the crew of Apollo 8
I propose that GeoEye add to GeoEye-1 a relatively low-resolution camera, devote a small portion of its downlink bandwidth to a continuous feed from that camera, and serve the feed over the Internet. Anyone could then view the imagery from this space-based Web cam, just as we now routinely view feeds from ground-based ones.
Whether they'd use the site as wallpaper, keep it open in a small window in a corner of their screen, or visit it occasionally, people would become used to watching Earth from above and observing changes in real time. Schools, offices, and public places could display this video feed. It would be a live version of the famous Earthrise picture taken by the crew of Apollo 8 and, perhaps, it would have even more impact.
For GeoEye, of course, such a ubiquitous video feed, with the tag line "Courtesy of GeoEye," would be an incredible form of publicity!
---
Department of Corrections
In the August 11 issue I reported that this year's ESRI International User Conference was attended by about 15,000 people. The correct, final figure is 12,827.
---
News Briefs
Please note: I have culled the following news items from press releases and have not independently verified them.
---
---
Advertise with Us
You can reach more than 23,000 GIS professionals every issue by sponsoring GIS Monitor. For more information, email us.
---
Contact
Please send comments and suggestions to:
Matteo Luccio, Editor
GIS Monitor
Ultimate Map/GIS Directory — Your search is over!
GIS Monitor is published by:
GITC America, Inc.
100 Tuscanny Drive, Suite B-1
Frederick, MD 21702 USA
Tel: +1 (301) 682-6101
Fax: + 1 (301) 682-6105
---
Subscribe/Unsubscribe
If you wish to subscribe or unsubscribe visit our subscription page.