2006 August 31
If, for some reason, you cannot read this document, please visit:
http://www.gismonitor.com/news/newsletter/archive/archives.php?issue=20060831
---
This week, I report on CH2M HILL's partnership with Google to integrate Google Earth with GIS; feature a report on the recent Survey & GIS Summit; make a modest proposal about a space-based Web cam; and correct a statement I made in a recent issue. Plus, my usual round-up of news from press releases.
Enjoy the long holiday!
— Matteo
---

---
An old player in the geospatial field and a new one began an interesting cooperation about a year ago: CH2M HILL has been integrating Google's Google Earth as a visualization tool for location-based corporate information systems—including supply chain management, enterprise resource planning, customer relationship management, and logistics and asset management.
CH2M HILL—a 60-year old, $3.8 billion engineering, construction, operations, and technical services firm entirely owned by its 18,000 employees—concentrates in the areas of transportation, water, energy, environment, communications, construction, and industrial facilities. According to Ed Riegelmann, who directs the company's Enterprise Spatial Solutions (ESS) line of business, "we've been mapping our clients' infrastructure and facilities since 1954; it's been a core part of our business." The company, he told me, was "one of the very early adopters and users of ESRI products" and now has "more than 600 geospatial information technology specialists" with "a continuum of skills." They include CAD integration specialists, "GIS purists," and relational database management specialists who set up databases in Oracle or SQL Server to support ArcSDE or Oracle Spatial. "We consider them all part of that same team, because there is a spatial focus. As part of the ESS line of business, we try to cross-train a lot of folks, to get them exposed to many of the different products and technologies that are required to do integrations and solutions for clients. In Europe, we tend to have many staff that have experience with SmallWorld, because we have some very large telecommunications GIS projects."
---
As a prelude to its recent user conference, ESRI also held its annual Survey and GIS Summit, August 5-6 in San Diego, California, with about 400 people attending. Among them was Tom Gibson, editor of GIS Monitor's sister publication, Professional Surveyor Magazine, who filed this report.
While the UC makes for a vibrant happening with the hordes of people it draws, the Summit may have more relevance for surveyors. The two events comprise a yin and yang experience, as the Summit plays out in a quieter, more intimate setting.
Saturday at the Summit was all plenary sessions with several talks and presentations. Brent Jones, surveying industry manager for ESRI, started the ball rolling by stating that the average age of surveyors is 57. He couched that with a little humor by adding, "Of course, I don't see anyone over 45 in here." Nonetheless, his statement brought home a point that would resurface throughout the day: the surveying industry is failing to draw young people to its ranks.
The main theme of the Summit, however, was the gap between GIS and surveying and whether it's real or perceived. Jones, a relative newcomer to ESRI, commented, "I thought surveyors didn't know much about GIS. I learned I couldn't have been further from the truth." He continued, "The gap exists more in our minds than it does in the real business world."
---
Early next year, GeoEye will launch GeoEye-1, a 4,200-pound satellite that, it claims, "will offer unprecedented spatial resolution by simultaneously acquiring 0.41-meter panchromatic and 1.64-meter multispectral imagery" and be able to "collect 700,000 square kilometers of imagery in a single day, downlink imagery in real-time to international ground station customers, and store 1.2 terabytes of data on its solid-state recorders."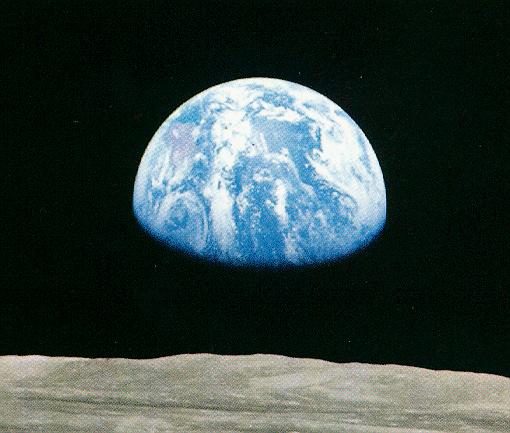 Earthrise, as photographed by the crew of Apollo 8
I propose that GeoEye add to GeoEye-1 a relatively low-resolution camera, devote a small portion of its downlink bandwidth to a continuous feed from that camera, and serve the feed over the Internet. Anyone could then view the imagery from this space-based Web cam, just as we now routinely view feeds from ground-based ones.
---
In the August 11 issue I reported that this year's ESRI International User Conference was attended by about 15,000 people. The correct, final figure is 12,827.
---
Please note: I have culled the following news items from press releases and have not independently verified them.
---
---
Advertise with Us
You can reach more than 23,000 GIS professionals every issue by sponsoring GIS Monitor. For more information, email us.
---
Contact
Please send comments and suggestions to:
Matteo Luccio, Editor
GIS Monitor
Ultimate Map/GIS Directory — Your search is over!
GIS Monitor is published by:
GITC America, Inc.
100 Tuscanny Drive, Suite B-1
Frederick, MD 21702 USA
Tel: +1 (301) 682-6101
Fax: + 1 (301) 682-6105
---
Subscribe/Unsubscribe
If you wish to subscribe or unsubscribe visit our subscription page.