2006 December 14
If, for some reason, you cannot read this document, please visit:
http://www.gismonitor.com/news/newsletter/archive/archives.php?issue=20061214
---
This week I report on an Autodesk seminar on CAD and GIS that I attended at Portland Precision Instruments (PPI) and the conversation I had afterward with the two presenters and a PPI application developer. (This will be the last time that I focus on the relationship between CAD and GIS this year. I promise!) This discussion of Autodesk's geospatial products is peppered with references to the industry's "800 pound gorilla." I also bring you a letter from a reader and a tidbit from popular culture. Plus, my usual roundup of news from press releases.
For an article in next week's issue, I would like to hear from anyone involved in, or with informed opinions on, the proposal to establish a federal advisory committee for the NSDI. Just send me a message with "NSDI governance" in the subject line and I will send you my questions.
— Matteo
---

---
Autodesk's Infrastructure Solutions Division (ISD), the company's GIS branch, is promoting Map 3D as the best way to "bridge the CAD-GIS gap." Map, it claims, allows organizations to transition seamlessly from the world of CAD to that of GIS — maintaining the precision of the former, accessing data created in the latter, and using tools from both, without retraining or replacing staff.
According to Peter Southwood, an ISD Geospatial Technical Specialist, Map is successfully "revisiting" such traditional functions as drawing clean-up tools, standards, classifications, and multi-user access to the same AutoCAD drawings. The product builds on Autodesk's feature data object (FDO) technology, which allows users to read and write data in SDF, SHP, ArcSDE, MySQL, ODBC, OGR, GDAL, WMS, and WFS formats.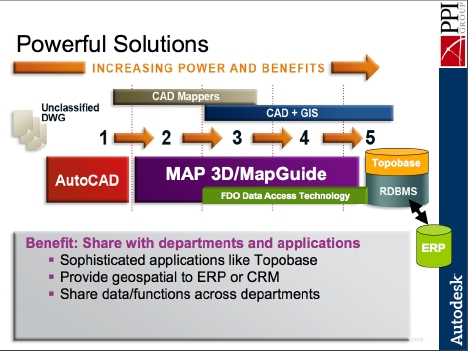 Courtesy of Autodesk and PPI.
Southwood, who has been with ISD for ten years, has 25 years of experience in the CAD/GIS industry, including a stint as lead application engineer for Autodesk Asia Pacific. He was in Portland, Oregon, this week, for his first "road show," as he called it, with Portland Precision Instruments (PPI), which recently set up a new geospatial group. Southwood presented a three-hour seminar jointly with Mike Dana, a PPI Geospatial Solutions Analyst. Dana, who holds an M.S. degree in geography and has been in the geospatial industry for 12 years, describes himself as an "ESRI user until 2006." He handles account management, "trying to listen to people's business model and to see whether we've got some ideas that might help them out geospatially, product-wise," he says.
---
---
Dr. Thomas H. Mace, of the NASA Dryden Flight Research Center in Edwards, California, sent me this message, specifying that it represents his own opinion, not necessarily NASA's:
I read with some interest Cruver's piece in GIS Monitor on spatial thinking. It reminded me of a lecture that Professor Arthur Robinson used to give about "literacy, numeracy, and graphicacy" in his course on small scale cartography at the University of Wisconsin-Madison. His main point was that we educate people in the Western world reasonably well to read, write, and perform simple arithmetic, but we fail miserably in educating the general public to understand and use graphical representations of reality (maps). Of course, the GIS-era words are different, but the point seems to remain. It's unfortunate that after over thirty years and the proliferation of spatial data over the Internet, the problem he articulated still remains. I'm not sure Google Earth will fix that. I think we still need some old fashioned teachers, like Robbie.
---
Geospatial technology is penetrating popular culture in ever new ways. GPS receivers are now even being used as metaphors for any kind of guide. In his blurb for The New York Times Practical Guide To Practically Everything, edited by Amy D. Bernstein and Peter W. Bernstein, which appears in a full-page ad for the book in The New York Times, Tom Brokaw, author of The Greatest Generation and former anchor of NBC News, wrote: "This handy guide is a wide-ranging and lively GPS system for the many bewildering choices and questions we all have every day."
---
Please note: I have culled the following news items from press releases and have not independently verified them.
---
---
Advertise with Us
You can reach more than 23,000 GIS professionals every issue by sponsoring GIS Monitor. For more information, email us.
---
Contact
Please send comments and suggestions to:
Matteo Luccio, Editor
GIS Monitor
Ultimate Map/GIS Directory — Your search is over!
GIS Monitor is published by:
Reed Business Geo, Inc.
100 Tuscanny Drive, Suite B-1
Frederick, MD 21702 USA
Tel: +1 (301) 682-6101
Fax: + 1 (301) 682-6105
---
Subscribe/Unsubscribe
If you wish to subscribe or unsubscribe visit our subscription page.