2006 October 12
If, for some reason, you cannot read this document, please visit:
http://www.gismonitor.com/news/newsletter/archive/archives.php?issue=20061012
---
Editor's Introduction
This week I visited the offices of Visual Learning Systems (VLS) in Missoula, Montana, and interviewed the company's president. In this issue I also bring you a few other tidbits and my usual round-up of news items from press releases. Tomorrow I will be in Portland, Oregon, at the Government Open Source Conference 06; I will report on that conference in next week's issue.
— Matteo
---

---
Visual Learning Systems Ships LiDAR Analyst 4.1
Ten days ago, Visual Learning Systems (VLS) began shipping version 4.1 of its LIDAR Analyst automated feature extraction software for ArcGIS. According to the company, the product's new capabilities include the extraction of complex 3D roof geometry; faster and cleaner extractions of 3D buildings; enhanced bare earth extraction, modification, and DEM editing tools; revamped tree and forest region extraction workflow; the ability to read, classify, and write .LAS format point cloud files; smart 3D editing tools for buildings; the ability to edit and crop point cloud files; and automated attribution of features—such as height, area, perimeter, and crown width.
Yesterday, at VLS' offices in Missoula, Montana, I discussed the company's history, technology, and vision with its co-founder and president, Dr. David Opitz. Then Bill Veteto, a GIS analyst, demonstrated for me various capabilities of the company's products.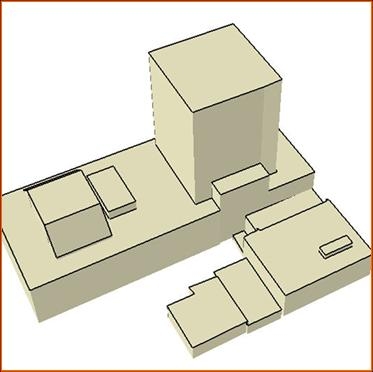 Extracted 3D shapefile
Opitz, a native of Montana, did his graduate work at the University of Wisconsin, specializing in artificial intelligence and machine learning, then started his career as a professor of computer science at the University of Montana in Missoula, where he ran a machine learning research lab. One of his early research projects, funded by NASA, was to automate the identification of volcanoes and craters on Venus. Opitz then joined with Stuart Blundell, who had a GIS company in Helena, Montana; together they worked at commercializing this technology and won a few SBIR (Small Business Innovation Research) contracts from NASA's Jet Propulsion Laboratory (JPL) and the Department of Defense. In Phase I contracts the company demonstrated its ability to find such features as roads, buildings, and land cover and that led to Phase II funding from NASA to create Feature Analyst, which then became its base project.
After a couple of years as a two-person start-up, in 2001 VLS began a Phase II project with NASA, hired its first batch of employees—graduate students who had done their master's thesis with Opitz—and began to write code. "We were able to take lessons learned," Opitz told me, "and then start over again with the software from scratch in terms of the engineering." This was necessary, he explains, because of the difference between basic research, which explores various paths, and commercialization, which requires clean code with more narrowly defined goals.
I asked Opitz how his approach differed from that of other vendors of imagery analysis software. "We came in with a machine learning approach. That was our background and remote sensing and GIS were basically new words for me. When I looked at the problem, it was a matter of pattern recognition—how to set up the inputs and the representation of the problem." Traditional image processing automation, called a standard supervised classifier, requires the user to provide training examples, which it then uses to 'learn' how to classify the rest of the image. According to Opitz, however, that approach "was not very effective," because it only looked at one pixel and used "a very rudimentary algorithm" that compared its color to that of nearby pixels using only the mean and standard deviation.
This method yielded very poor results when trying to differentiate, for example, between different types of grass or cement. "What's the difference," Opitz asks rhetorically, "between a cement roof top and a cement parking lot, sidewalk, or road?" For this reason, VLS developed software that also takes into account an object's shape, texture, pattern, shadow, and spatial association. Feedback from customers, such as the U.S. Forest Service, then helped VLS perfect its software.
In mid-2002, VLS released its next approach, which was an extension to ArcGIS 8, and "got fairly good traction," Opitz says. This version featured multi-class classification and included several clean-up tools that enabled users to do what the automated process was not able to do. By the end of 2003, the company's new focus was on 3D data, which it handles differently from 2D data, regardless of the sensor used to collect it. VLS received a contract from the Advanced LIDAR Exploitation System (ALES)—a consortium of U.S. federal agencies, including the Army and the Geological Survey, that needed a way to extract features from LIDAR data—to create LIDAR Analyst, which it released in 2004. By identifying and then "flattening out" trees, shrubs, and man-made objects, such as buildings, it allows users to map the "bare Earth" with a 10-centimeter resolution and 1-meter pixel width, according to Opitz—sufficient to identify curbs and, therefore, roads.
VLS has "a big military focus," as well as "a fairly broad non-military focus," according to Opitz. It received a contract in 2001 from the National Imagery and Mapping Agency (NIMA), which then carried over into contracts from the new National Geospatial-Intelligence Agency (NGA). LIDAR is not used for battlefield forward reconnaissance because it requires the aerial platform that carries the sensor to fly low and slow, which would make it an easy target of air-to-ground fire. However, says Opitz, "there is a lot of LIDAR in homeland security—flying over the big cities and things like that."
According to Opitz, LIDAR Analyst creates bare Earth and 3D models with an accuracy of more than 95 percent. Spectrally, he explains, it is very tough to find buildings, because of the shadows on the rooftops. "So, even if [a roof] is [all made of] the same material, there's a lot of different colors and reflectances that come through. It's not like there's only one rooftop material, there's thousands and they go across the whole spectrum and a lot of the rooftop materials that you see are also used on the ground, especially in an urban environment." Once you have a z value from LIDAR, however, identifying roofs is "a trivial problem."

Building shaded by a hill
As you learn, for example, how to distinguish a tower from a tree, Opitz explains, "You can just hard-code a lot of those techniques in." That is how VLS is advancing toward its ultimate goal: to (nearly) completely automate image analysis and feature extraction. The company is also working to integrate Feature Analyst and LIDAR Analyst. "We are coming from raw sensor data products into vectors in a GIS platform, whether 2D or 3D," says Opitz. "So, LIDAR Analyst is going to give us the features like bare Earth, which you can't do with Feature Analyst. It will also automate buildings and trees, and then we are putting in the other features." However, he points out, "you can still use LIDAR for Feature Analyst to get other things, like ditches."
Analysts can then overlay the output from these two products in a GIS. In the modeling and simulation world, LIDAR Analyst can provide the base part of the geometry of the image, while spectral imagery provides the texture of walls and roofs. "All of a sudden," says Opitz, "now you are automating the whole modeling and simulation database," which otherwise is "just incredibly expensive" to acquire.
Five or six hundred organizations, according to Opitz, have purchased Feature Analyst, including more than 100 universities, many local governments, the Forest Service, and many environmental organizations and companies. "Probably half" of the company's contracts, he says, are with the military. "Army uses it for production, right now, in Iraq. We are in all of the armed forces, we are in a lot of intelligence agencies. We're in production for the NGA—one of the first, if not only, [projects] to come from the research part into production."
I asked Opitz about the impact on VLS of its recent acquisition by Overwatch Systems, which makes Remote View, and ELT (Electronic Light Table). "Together, [these two products] probably comprise more than 95 percent of the systems active for the image analyst—rather than the geospatial analyst," says Opitz. "The image analyst is the person who gets an intelligence image, looks through there, marks a few things, types text on it, and ships it off to a product. So, it's mainly a military intelligence-type tool. Between those two products, they've sewn up the whole market. Feature Analyst could fit into that fairly well."
Opitz describes Overwatch as "a company funded to go out and buy companies." The first geospatial company it bought was Sensor Systems, the maker of Remote View. This product, Opitz says, is "on every station at NGA and at intelligence agencies." VLS is now building an extension to Remote View. Another Overwatch company, IT Spatial, builds databases but also has a product called Urban Analyst. "They have a good 3D engine, that we are going to put into ours, because you cannot do that very well in any of the products that we have. They also have many different functionalities in there, like text and video. We have all of our stuff integrated under one product. We are going to brand Urban Analyst as a VLS product and, together, have our suite and process all the way from your raw collections to being able to analyze in 3D, the stuff you can't do in ArcGIS."
VLS, Opitz says, will also integrate into its products Remote View—which, he says, is "far and away the most efficient system out there for viewing images. You can have a 10 GB image, you can click, click, click and then, boom, it is right there. Pull up any other image processing system you want, it can't match Remote View's speed. We are going to take a lot of that technique that they have into ours, so that we can be a lot faster on our extraction."
---
Book: A to Z GIS
A to Z GIS: An illustrated dictionary of geographic information systems, edited by Tasha Wade and Shelly Sommer (Redlands, California: ESRI Press, 2006), 268 pages.
With short, clear, and authoritative definitions of more than 1,800 terms written by more than 150 subject-matter experts, this small book is so useful it is addictive! Designed to be "a comprehensive technical dictionary for GIS students and professionals alike," according to the preface, the editors' goal was to "create definitions that are technically accurate yet not intimidating to the GIS novice." Nearly 400 beautiful color illustrations enhance the book's clarity and visual attractiveness.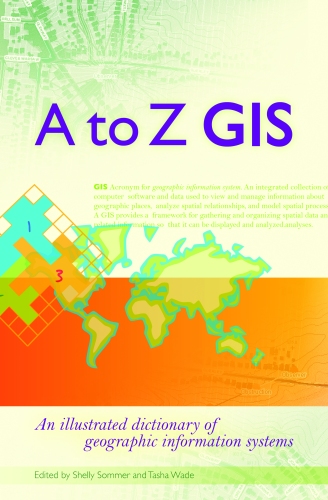 An appendix supplements the main text with five encyclopedia-style articles: "Cartographic text in ArcGIS software: Annotation, labeling, and graphic text," by Craig Williams, ESRI product engineer; "Geometry: Creating map features with points, lines, and polygons," by Rob Burke, ESRI instructor; "How features and feature attributes are stored," by Burke; "An overview of layers in ArcGIS," by Jeff Shaner and Anthony Burgon, ESRI product engineers; "Projected and geographic coordinate systems: What is the difference?" by Melita Kennedy, ESRI product engineer; "Remote sensing," by Timothy Kearns, ESRI product engineer; and "The benefits of using topology in GIS," by Burke.
It will not surprise those who know my background that the very first term I looked up upon receiving the book was GPS: Acronym for Global Positioning System. A system of geosynchronous, radio-emitting and -receiving satellites used for determining positions on the earth. The orbiting satellites transmit signals that allow a GPS receiver anywhere on earth to calculate its own location through triangulation. Developed and operated by the U.S. Department of Defense, the system is used in navigation, mapping, surveying, and other applications in which precise positioning is necessary. See also GLONASS.
Unfortunately, I was very disappointed to find a few errors in this short paragraph. Never mind that, as a picky editor, I objected to the very first word, because only abbreviations that can be pronounced as a word—such as BLOB (for binary large object) or CAD (for computer-aided design)—are acronyms. More substantively, GPS satellites are not geosynchronous—a term that happens to be defined on the opposite page from the GPS entry, as follows: "Positioned in an orbit moving west to east with an orbital period equal to the earth's rotational period." GPS satellites circle Earth in 11 hours and 58 minutes, not 24 hours. GPS is used not for determining positions only "on the earth," but "on or near the earth" (aircraft use GPS). GPS does not rely on triangulation (the way, say, an RDF does) but on trilateration. Different physics, geometry, and math.
These errors made me wonder about the accuracy of the entries for subjects with which I am less familiar.
---
Briefly Noted
I have come across many incorrect references to GPS, GIS, and related technologies in the popular press over the years. (One of the most common: Global Positioning Satellite.) However, this mishmash, from an article in the New York Times takes the cake: "global imaging system maps made with aerial photographs"!!
---
Department of Corrections
My article, last week, about eRide, contained a few errors. First, eRide and Furuno are not "jointly developing" a GPS receiver; rather, Furuno is a licensee and partner of eRide. Second, the GPS receiver in question, while contained in a single package, is multi-chip, not single-chip. Third, Furuno will start worldwide distribution of eRide products, not just of this GPS receiver. Fourth, "In addition to conventional static GPS positioning" should have been "In addition to autonomous (as opposed to assisted) GPS positioning." Fifth, at Trimble Labs Paul McBurney worked with a team of engineers, but did not manage it. I regret these errors and will replace the version of this article in our archive with a new one that incorporates these corrections and a few additional ones.
---
News Briefs
Please note: I have culled the following news items from press releases and have not independently verified them.
---
---
Advertise with Us
You can reach more than 23,000 GIS professionals every issue by sponsoring GIS Monitor. For more information, email us.
---
Contact
Please send comments and suggestions to:
Matteo Luccio, Editor
GIS Monitor
Ultimate Map/GIS Directory — Your search is over!
GIS Monitor is published by:
GITC America, Inc.
100 Tuscanny Drive, Suite B-1
Frederick, MD 21702 USA
Tel: +1 (301) 682-6101
Fax: + 1 (301) 682-6105
---
Subscribe/Unsubscribe
If you wish to subscribe or unsubscribe visit our subscription page.